​​​​​​​Corn Prices Rally To Highest Since 2013 On Cold Blast Slowing US Seeding
​​​​​​​Corn Prices Rally To Highest Since 2013 On Cold Blast Slowing US Seeding
Chicago corn futures rallied to 2013 levels Wednesday as concerns about cold weather slowing US seeding caught traders' attention, according to Reuters. 
Temperatures across the Corn Belt, mainly in the midwestern US, roughly covering western Indiana, Illinois, Iowa, Missouri, eastern Nebraska, and east Kansas, will experience well below average temperatures through this weekend. On a separate note, we covered how the cold spell has led to another Texas power crisis.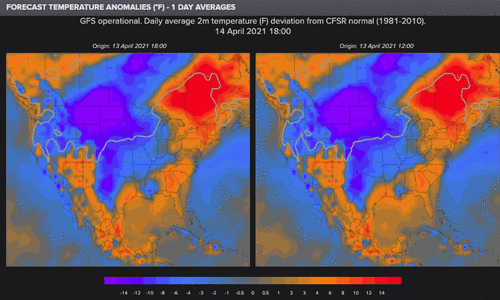 The cold blast has likely delayed seeding across the Corn Belt as farmers wait for warmer temperatures. Planting corn in cooler climates is still possible, but colder soil can take corn kernels much longer to germinate and increases the risk of seedling death. 
 Here's the difference between planting corn early and late.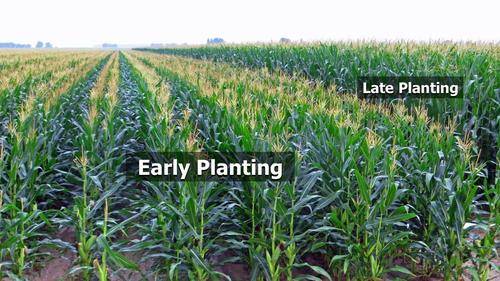 Corn prices today hit the highest level since June 19, 2013. Prices have nearly doubled since August 2020.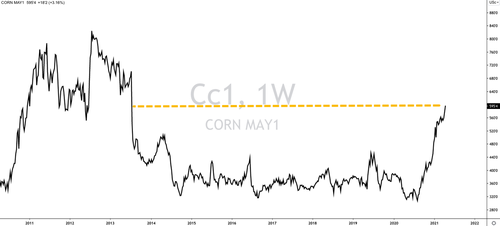 The latest estimates from the US Department of Agriculture (USDA) show farmers could face another year of high corn prices after initial planting estimates came in below expectations. This is happening as US exports of corn nears a record high following increased demand from China. 
While US farmers celebrate, food prices are undeniably soaring faster than inflation and incomes around the world.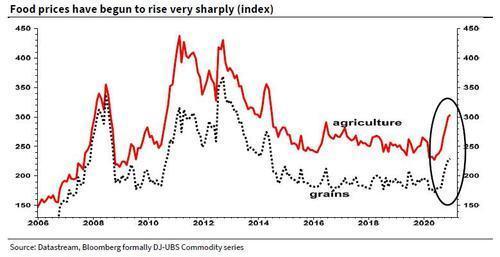 … prompting a very worried Albert Edwards to warn about rapid food inflation could result in socio-disturbances unless food prices stabilize and revert to much lower levels (see "Why Albert Edwards Is Starting To Panic About Soaring Food Prices.") The first places where unrest could happen due to higher food prices are in emerging market countries.  
In the meantime, soaring corn exports and prices are a blessing for US farmers who have had their farm incomes collapse in recent years. 
Tyler Durden
Wed, 04/14/2021 – 18:40