12 Words For Q2 2021
By Nicholas Colas of DataTrek Research
Q2 2021 will determine how much of the rally to fresh highs for US/global equities is sustainable. We know how we got here: lots of profitable "stay at home" trades plus a more recent cyclical rally. The path forward needs a very specific formula to keep the rally alive: further fiscal stimulus, higher long-term rates, a clear perspective on US consumer "reopening" behavior, and not too much bad news on the tax front. We're still bullish on US large cap stocks, primarily due to outsized earnings leverage from penny-pinching companies.
* * *
As we consider how much the world has changed in the last 12 months and what that means for investing in Q2 2021, consider that:
The S&P 500 is +17 percent versus its February 2020 high

The Russell 2000 is +29 percent versus its January 2020 high

The MSCI EAFE index is +8 percent versus its January 2020 high

The MSCI Emerging Markets index is +14 percent versus its January 2020 high

And 10-year Treasury yields are in line with their January – February 2020 levels of 1.6 – 1.8 percent. It's not lower discount rates powering those comparisons.
As the good book says, "From everyone who has been given much, much will be demanded". Q2 2021 is when the bill really comes due for global equities given the obvious optimism imbedded in the returns listed above. Investor confidence is a fragile thing, and never more so than when valuations are high after a big move higher.
Serious business, all this, but we'll try to lighten up the discussion as we run through the 5 topics we see dominating Q2's investment environment.
* * *
#1: The word of the quarter will be "trillion". Since so many big numbers sound alike in English it's easy to forget the relative scale of each. Here's one way to think about that:
A million seconds = 12 days

A billion seconds = 32 years

A trillion seconds = 31,710 years
President Biden will deliver his infrastructure plan, and its price tag will certainly have a multiple "T" in front of the "rillion". Also, the Fed's bond buying program will continue apace in Q2. The central bank's balance sheet stands at $7.7 tn today and will certainly top $8 tn before any signs of tapering.
The offsetting negative for Q2 will be the beginning of the political discussion about how to pay for "t-rillions" of fiscal stimulus. We have always been of the opinion that markets never believed President Trump's corporate tax cuts would be permanent. Raising them to the old levels would therefore not change our bullish outlook. Changes in individual tax rates, especially those related to capital gains, are another matter. Given the outstanding gains of the last few years, especially in speculative tech stocks, changes in cap gains would certainly cause taxable account selling with no near-term offset in demand.
Takeaway: we're still bullish on US equities given 1) large scale fiscal stimulus and 2) high incremental margins from post-pandemic, penny-pinching public companies. We do, however, encourage you to take a hard look at any really big winners you've had over the past 2-3 years. Changes to the tax code, or even whispers thereof, could cause further weakness in those names.
* * *
#2: The phrase of the quarter will be "yield curve". History shows the US Treasury yield curve initially steepens in economic recoveries because the Fed lowers rates and, only later, because 10-year yields start to rise. The first bit happened last year. The second part is happening now.
Q2 2021 should see further increases in 10-year Treasury yields due to rising inflation (more on that in a minute). Remember that just 2 years ago 10-years yielded 2.8 percent. While the global economy was in much better shape than today, we do have multiple "T-rillion" of stimulus to absorb. And, of course, fund.
Takeaway: in every recovery since 1990 the difference between 3-month and 10-year Treasuries has been at least 3 percent points, and while we doubt we'll see a 3.0 percent note yield in Q2, next quarter should continue our journey to that destination. This will be positive for cyclical stocks, which as we've seen in Q1 very much like to see the bond market confirm a durable economic expansion before rallying.
* * *
#3: The question of the quarter will be "what's the US consumer doing?" In many ways, this is the single most important issue for Q2 2021. Last year we knew exactly how the American consumer was spending money: items for the home, tech hardware, and tech-enabled shopping and entertainment. This largely carried over into Q1 2021 due to seasonal factors.
Starting in Q2 and for the rest of 2021 markets will have to evaluate just how much/quickly US consumers really are going back to old pre-pandemic spending patterns. As Jessica has been chronicling, thus far they've been spending money on home renovations (very 2020, that) but also eyeing summer and Holiday 2021 trips (so 2019…). So, which is it? Is the US really reopening or are consumers comfortable simply staying home the rest of the year and replaying their 2020 experience but with friends and family allowed to come over?
Takeaway: we've mentioned this before, but it really bothers us that Home Depot is making new highs here (as it did, again, today) – this is not the sign of a market which believes Q1 2021 is the start of a big domestic economy reopening.
* * *
#4: The one phrase no one will use in Q2 2021: "global synchronized recovery". European vaccine rollouts are still too slow, and regional lockdowns are still common. Everything we see from our regular review of Chinese traffic data says that economy is nowhere near back to 2019 levels. Latin America's pandemic experience, especially in Brazil, is still very difficult. And in terms of just equity markets, the Chinese government's crackdown on local Big Tech will clearly be an issue in Q2. That will continue to weigh on domestic equities there as well as the MSCI Emerging Markets index.
Takeaway: this is why we're so focused on the US consumer (prior point), for they are the anchor tenant of a Q2 bull case.
* * *
#5: Lastly, inflation will be the most-discussed topic in Q2. The chart below shows the Consumer Price Index for the last 5 years, indexed to 100 on the May 2020 observation. As you can see, the February 2021 CPI was 2.8 percent above the May 2020 reading.
Takeaway: this is the "easy comp" effect Chair Powell has mentioned, and it will absolutely be a factor in Q2 2021's CPI readings. As much as "everyone knows this", actually seeing a 3 pct CPI print in Q2 may surprise some.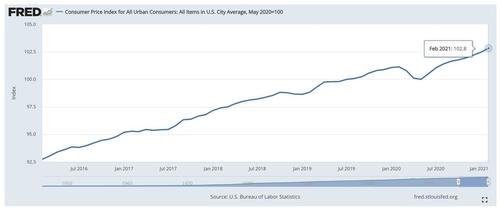 Final thought: we adhere to the old trader's adage that daily stock moves largely reflect the market's view of the economic and profit outlook 6 months in the future. That makes Q2 2021 really "about" Q4 2021. As you formulate your own near-term market perspective, consider what datapoints best inform the trajectory between now and wherever we end up on December 31st.
Tyler Durden
Wed, 04/07/2021 – 14:23