2 Dead, 10 Shot In Virginia Beach During "Chaotic Night Of Violence"
2 Dead, 10 Shot In Virginia Beach During "Chaotic Night Of Violence"
In what appears to be the third mass shooting in the US in under three weeks, 10 people have been shot, 2 fatally, after what the NYT described as "a chaotic night of violence" in Virginia Beach.
It's the first shooting incident to grab national headlines in the city since an engineer slaughtered a dozen of his colleagues back in 2019 (an investigation into that incident had only just wrapped a few days ago). Police Chief Paul Neudigate told reporters Saturday morning that 8 people appeared to have been shot during a single incident, while 2 more were shot during other incidents.
In total, 2 of the victims succumbed to their wounds.
Details so far are sparse, but the chief confirmed that officers responded to the first seen around 2300ET Friday night. While officers were responding to the first shooting, they heard shots fired about a block away. As the rushed to confront the shooter, a uniformed police officer engaged one of the suspects in a firefight, killing them.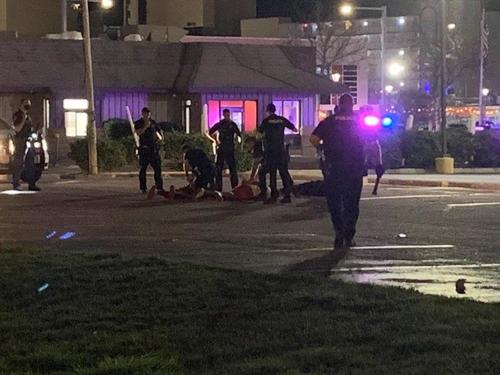 The department's twitter account shared a warning about the shootings around 0100ET.
VBPD is investigating a shooting involving several victims with possibly life-threatening injuries. Large police presence at the oceanfront between 17th and 22nd St. Please avoid the area at this time. More to follow as it becomes available. @CityofVaBeach

— Virginia Beach PD (@VBPD) March 27, 2021
VBPD actively investigating oceanfront shooting with multiple gunshot wound victims and 1 deceased. Officer involved shooting with 1 deceased. @CityofVaBeach https://t.co/09uGbn9rOT

— Virginia Beach PD (@VBPD) March 27, 2021
Although the timeline was left unclear, police also said a second victim was shot and killed in a third shooting incident that appeared to be unrelated to the others Neudigate said. A police officer was struck by a car while responding to the incident, though the officer's wounds were non-life-threatening.
"What you can see is that we have a very chaotic incident, a very chaotic night in the beach," Chief Neudigate said. "Many different crime scenes."
Several people were in custody, the chief told reporters. But their exact connection to the violence was unclear.
In a Twitter post just after 1 a.m. on Saturday, the department said that it was investigating a shooting in which several victims had "possibly life-threatening injuries," and that there was a large police presence along a section of the city's oceanfront.
"Please avoid the area at this time," it said.
A person who answered the phone at the department said that no one was available to comment. Virginia Beach was the site of a mass shooting in May 2019, which we mentioned above. In that incident, 12 people were killed and several others injured before the shooter was killed during a gun-battle with police. 
On social media, some disputed whether any of the incidents qualified as an "active shooter" situation, saying that the shooters were simply two people with a personal beef, and terrible aim.
People the Virginia Beach shooting WAS NOT A ACTIVE SHOOTER it was two idiots fighting that wanted to shoot each other but unfortunately have horrible aim and shot innocent people. NOT A ACTIVE SHOOTER. Just groups fighting turned shooting

— 🏳️‍🌈🏴🏳️=🇺🇸 (@tony3879) March 27, 2021
Whether that is an accurate characterization, or not, will need to wait for more information from the department.
Of course, while two dead from gun violence in a single evening is extremely unusual in Virginia Beach, if the same incident unfolded on the South Side of Chicago, it would barely make the news.
Tyler Durden
Sat, 03/27/2021 – 11:25