2020 Existing Home Sales Highest Since 2006 In "Unhealthy Market"
2020 Existing Home Sales Highest Since 2006 In "Unhealthy Market"
Despite the usual seasonal slowdown expected, Existing Home Sales rose modestly in December (+0.7% MoM vs -1.9% MoM exp), bucking the trend of downturn into year-end…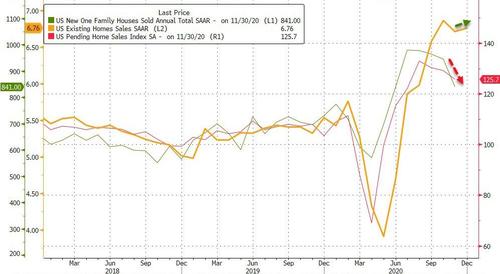 Source: Bloomberg
For the full year, existing-home sales climbed to 5.64 million, up from 5.34 million in each of the prior two years.
This is the highest year-end level for existing home sales since 2006…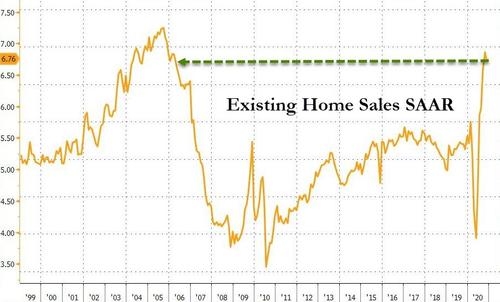 Source: Bloomberg
The median selling price rose 12.9% in December from a year earlier on an unadjusted basis to $309,800, reflecting more purchases of higher-end properties.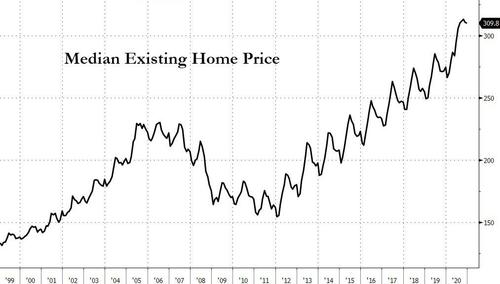 "Homeowners are smiling because they're seeing price increases," Lawrence Yun, NAR's chief economist, said on a call with reporters.
"The frustration is coming from the first-time buyers who don't have any housing equity and they're trying to save up for a down payment.

"Today's market is unhealthy, people are making hurried decisions and prices are rising way above income growth," Yun said.
Additionally, available inventory declined 23% from a year earlier to 1.07 million units, the NAR said. It would take 1.9 months to sell all the homes on the market at the current pace, also a record low.
Tyler Durden
Fri, 01/22/2021 – 10:10