24 Arrested In 4th Night Of Unrest In Minnesota City Following Police Shooting
24 Arrested In 4th Night Of Unrest In Minnesota City Following Police Shooting
Authored by Zachary Stieber via The Epoch Times,
About two dozen people, most from outside Brooklyn Center, were arrested in the Minnesota city late Wednesday as unrest continued in the wake of a fatal shooting of a 20-year-old man.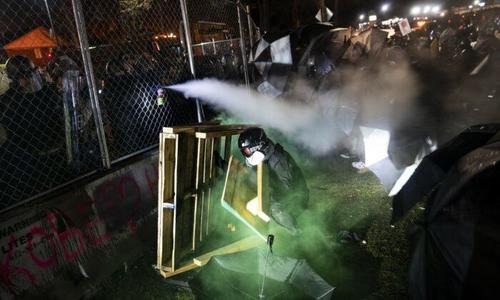 Demonstrators gathered around the Brooklyn Center Police Department and erected makeshift barricades before lobbing bricks, bottles, and other projectiles at law enforcement officers.
Eventually, the mix of state and local officers, bolstered by National Guard members, ordered the crowd to disperse.
"We were very thankful that there was not a strong entrenchment mentality of the people that were there at the event. The group largely scattered. It was almost uneventful," Minnesota State Patrol Col. Matt Langer told reporters in an early morning briefing on Thursday.
The arrests were among those who remained and were largely for curfew violations or riot.
In addition to the crowd not swelling to the size seen the night prior, Langer said "the anxiety, the tension, and the stress seemed to be lower even though emotions are still running high."
Sixty people were arrested the previous night in a riot.
Officials vowed to keep protecting Brooklyn Center, a suburb of Minneapolis, from those intent on destruction.
"We will stop violence and criminal activity. We will not abandon the city and the citizens of Brooklyn Center," Hennepin Sheriff David Hutchinson said.
John Harrington, commissioner of the Minnesota Department of Public Safety, received calls from people on the ground who conveyed frustration that their desire to remain peaceful was being ignored by agitators.
"They were out on the ground and they were calling to say that they wanted the peace kept. They wanted the looting to stop. That they did not want to see their city burn," Harrington said.
"And that they were a bit frustrated that when they've tried to have conversations with some of the folks that were there at Brooklyn Center Police Department, that they didn't feel like their messages were being listened to, were being heard. The crowd presented significant public safety challenges as they pulled on the fence, shot pyrotechnics, lobbed bricks and bottles over the fence."
Most of those arrested on Wednesday had addresses outside of Brooklyn Center.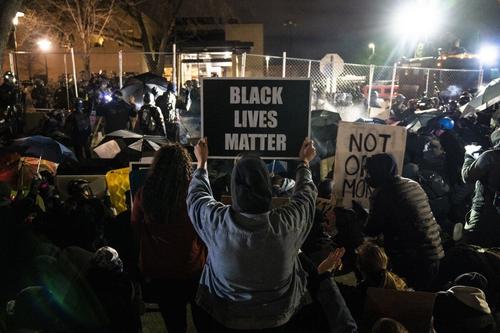 People take part in a demonstration outside the Brooklyn Center Police Department in Brooklyn Center, Minn., on April 14, 2021. (John Minchillo/AP Photo)
No looting occurred for the second night in a row in Brooklyn Center. Officials in St. Paul and Minneapolis also reported no stores were looted.
Demonstrators are upset that Daunte Wright, a 20-year-old black man, was shot after resisting arrest and trying to flee from officers over the weekend. Wright was pulled over for a traffic violation and officers tried taking him into custody on an outstanding warrant. Body camera footage showed Wright slipped from the grasp of an officer and went into his car. After a struggle, former officer Kim Potter shot him.
The death was later ruled a homicide, with the gunshot wound to the chest the cause.
Potter, 48, resigned two days after the shooting. She was charged with second-degree manslaughter the following day.
Jaylani Hussein, the executive director of the Minnesota chapter of the Council on American-Islamic Relations, said on Wednesday that Potter should face murder charges.
"What do we want? Murder charges! What she did was murder," he told people outside the police department.

"How is it possible Mohamed Noor got murder charges and not her?"
Potter was released from jail around 5:40 p.m. on $100,000 bail.
The former officer is scheduled to appear in court on Thursday.
Tyler Durden
Thu, 04/15/2021 – 10:52