5 States Report Half Of New US COVID Cases As Governors Demand More Jabs
5 States Report Half Of New US COVID Cases As Governors Demand More Jabs
As Texas watches COVID cases fall despite having scrapped all mandatory restrictions on businesses, masks and movement, a phenomenon that has befuddled Dr. Anthony Fauci, Johns Hopkins reports that roughly half of the new cases being reported in the US are coming from just 5 states, almost all of them controlled by Democrats: New York, Michigan, Florida, Pennsylvania and New Jersey.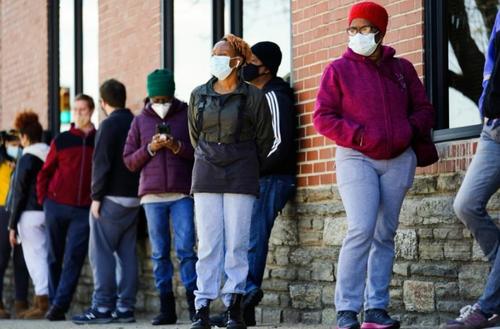 Together, these states accounted for 44% of the nation's new COVID infections, or nearly 197,500 new cases over 7 days. Total US infections during the same period was 452,000. In total, the US reported just under 63K total cases over the last 24 hours, while deaths retreated to just 353.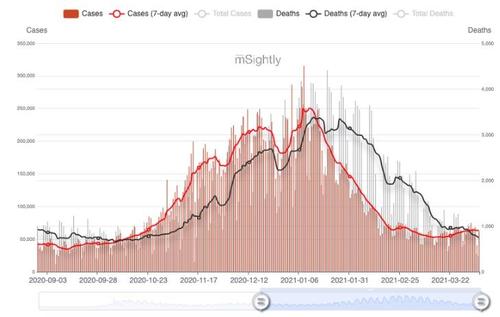 Source: mSightly
Some warned that high levels of so-called "variants" – mutated COVID strains believed to be more infectious – have reportedly been driving infection rates among the young. But although cases have accelerated, deaths have continued to fall, a byproduct of the fact that most senior citizens, who are the most vulnerable to the virus, have already been vaccinated. In response, some have demanded that the federal government ship more vaccines to the troubled states.
The spike in cases has been especially pronounced in Michigan, where the seven-day average of daily new infections reached 6,719 cases Sunday — more than double what it was two weeks earlier. Only New York reported higher case numbers. And California and Texas, which have vastly larger populations than Michigan, are reporting less than half its number of daily infections.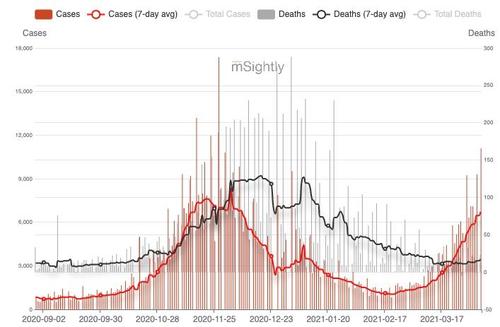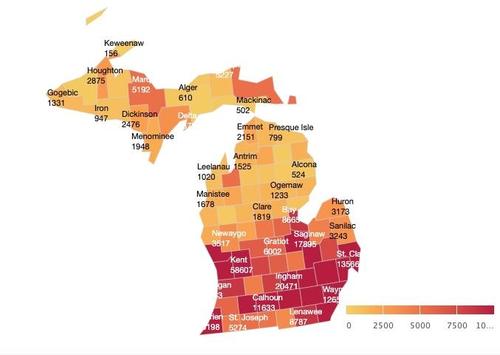 Source: mSightly
In New York City, vaccination appointments are still hard to come by. Bill de Blasio has publicly harangued the federal government about the need for a bigger vaccine allotment almost daily.
"We still need supply, supply, supply," de Blasio said, before adding, "But things are really getting better."
Meanwhile, cases are creeping higher as Gov. Cuomo continues reopening the state.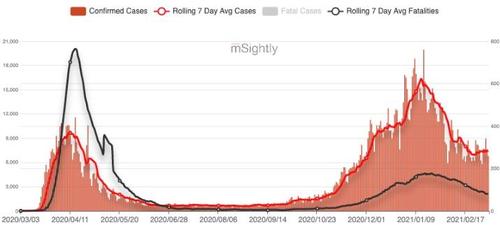 Source: mSightly
In the Garden State, where the 7-day rolling average of daily new infections has risen over the past two weeks, from 4.05K daily cases to 4.25K, Democratic Gov. Phil Murphy said he is constantly talking to the White House about demand for the coronavirus vaccine, though he stopped short of saying he was lobbying for more vaccines because of the state's high infection rate.
Vaccine shipments to the state were up 12% over the past week, Murphy said Monday, though he questioned whether that's enough, as states hope that JNJ's recent takeover of a factory in nearby Baltimore will help speed the production of badly needed doses.
"We constantly look at, OK, we know we're going up, but are we going up at the rate we should be, particularly given the amount of cases we have?" Murphy said.
New mutations are clearly one of the drivers in the increase, said Dr. Kirsten Bibbins-Domingo, chair of the department of epidemiology and biostatistics at the University of California at San Francisco in an interview with the Associated Press. Failure to suppress the rise in cases will lead to more people getting sick and dying, she said, and drive increases in other parts of the country.
"More vaccine needs to be where the virus is," Bibbins-Domingo said, adding that people should get over the "scarcity mindset" that has them thinking surging vaccine into one place will hurt people elsewhere.
Unfortunately, given the latest obstacles facing the AstraZeneca jab, global supplies could be facing a major shortfall as worries about rare blood clots could derail the jab's approval in the US.
As Oxford abandons a trial of AstraZeneca's jab on minors, a new Axios/Ipsos survey found that American attitudes toward the vaccine are growing more lax. For example, only half (48%) of Americans said they intend to get their children vaccinated against the virus as soon as the jabs become available. Meanwhile, one in five Americans consistently say they are unlikely to get vaccinated, a number that Forbes recently described as problematic.
Tyler Durden
Wed, 04/07/2021 – 09:45