6 Killed, Including 1 Cop In Boulder Grocery Store Shooting; Suspect In Custody
6 Killed, Including 1 Cop In Boulder Grocery Store Shooting; Suspect In Custody
In what is being billed as the second major mass shooting in the US since the country's COVID-plagued economy started to reopen in earnest, six people – including a police officer – were killed inside a Colorado grocery store on Monday afternoon.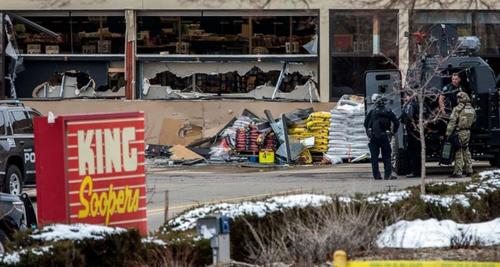 Speaking during a press briefing held just minutes after SWAT police confronted another armed suspect inside an apartment near a high school in Boulder, police confirmed details from the earlier shooting, including the fact that a cop had been killed by the shooter, who was taken into custody.
Video of SWAT officers confronting the second suspect, reportedly named Thomas Hanger, is already circulating on social media. People nearby were warned to shelter in place.
SWAT Teams Are now Arriving Inplace And Now surrounded with Gun Pointed Up Where the 2nd Armed individual inside is located he on 17th street near a high school.

A police officer is among those killed in a shooting at a Colorado supermarket, according to multiple reports. pic.twitter.com/rrCoyMglPm

— 👑 Queen Nat 👑 (@QueenNat_35) March 23, 2021
Monday's attack took place outside a King Soopers grocery store in Boulder. In addition to the shooter, a second person of interest, who was injured, was taken into custody at the scene, according to Boulder Police Department Commander Kerry Yamaguchi.
BREAKING: Multiple people killed in shooting at Colorado grocery store, including one Boulder police officer, authorities confirm. https://t.co/Wlv0hSDM8l pic.twitter.com/UfpEoUw3PN

— ABC News (@ABC) March 23, 2021
Officers A law enforcement source told ABC News officers were responding to a report of someone being shot in the parking lot, and when they arrived at the scene, the suspect opened fire on them using a long gun. Back up in the form of other agencies, including the SWAT team, quickly arrived. ABC News also confirmed that the death toll is at six. Officers are waiting until family members have been notified to release a final death toll, along with names for the victims.
"Without that quick response, we don't know if there would have been more loss of life," Yamaguchi said.
The commander and Boulder District Attorney Michael Michael Dougherty said at the news conference that they will be releasing more information on the deceased victims, including the exact number of victims soon, as they are still notifying families.
Video from the attack, including one shot showing the suspected shooter being taken into custody, have been circulating online.
Mass #shooting in #Boulder #Colorado Grocery store #Activeshooter #Breaking #VoteMando for California Governor and make our state safer! pic.twitter.com/UzRrYvLVJt

— Mando California Governor (@Mando4G) March 23, 2021
#massshooting: At least six people dead in mass shooting in Boulder, Colorado.
This appears to be shooter. #Colorado #Shooting #BoulderColorado#shooting#atlantaspa#AtlantaMassacre pic.twitter.com/oYuRW5cP0u

— Eyad Aljaghbeer – إياد الجغبير (@eyadaljaghbeer) March 23, 2021
Watch the full evening press briefing from the Boulder police below:
The shooting notably follows roughly one week after another shooting in Georgia directed at three massage parlors and spa, where 8 victims, including Asian women who worked at the spas, were killed. That attack prompted the media to declare that mass killings, which had disappeared from the headlines during the pandemic, have returned in the US.
Tyler Durden
Mon, 03/22/2021 – 21:41