ADP Employment Data Disappoints In March, Service Sector Jobs Soar
ADP Employment Data Disappoints In March, Service Sector Jobs Soar
With some economists forecasting a stunning 1.8 million jobs for Friday's payrolls print, all eyes are on ADP's employment data (for all its noise), which is estimated to come in at +550k after last month's disappointing +117k. However, ADP disappointed with the addition of 'just' 517k jobs.
This is the 3rd straight month of gains since the drop in December.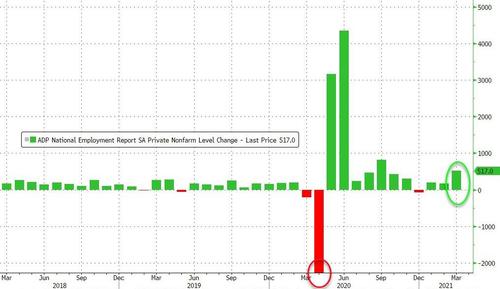 Source: Bloomberg
"We saw marked improvement in March's labor market data, reporting the strongest gain since September 2020," said Nela Richardson, chief economist, ADP.
All segments (size-wise) saw employment gains with small- and medium-sized businesses seeing the biggest pick ups.

Job gains at service-providing firms dominated goods-producing firms (+437k vs +80k)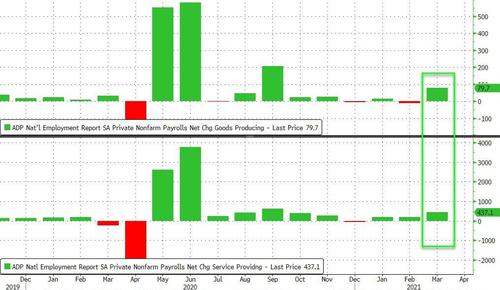 "Job growth in the service sector significantly outpaced its recent monthly average, led with notable increase by the leisure and hospitality industry. This sector has the most opportunity to improve as the economy continues to gradually reopen and the vaccine is made more widely available. We are continuing to keep a close watch on the hardest hit sectors but the groundwork is being laid for a further boost in the monthly pace of hiring in the months ahead."
So will we see 1.8mm jobs added on Friday?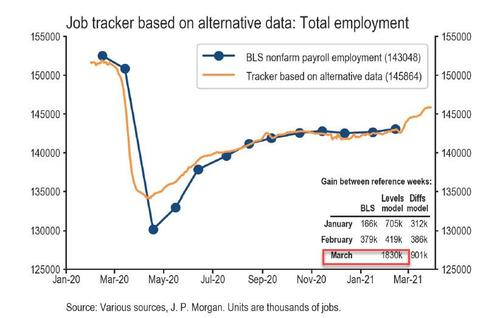 Tyler Durden
Wed, 03/31/2021 – 08:24