Alibaba, Tencent Surge After Treasury Excludes Them From Updated List Of Chinese Military Companies
Alibaba, Tencent Surge After Treasury Excludes Them From Updated List Of Chinese Military Companies
Amid rising market fears that Trump is set to throw a growing number of Chinese companies under the bus and ban US investors from putting money into such Chinese megacap giants as Alibaba and Tencent along with various Chinese telecom companies following a Dow Jones report from Wednesday that both Alibaba and Tencent would be included in the Treasury ban list, moments ago the Treasury released its updated list of Chinese Military Companies.
What is notable is that while the list of 36 companies did include such previously mentioned telecom giants as China Mobile and China Telecom, it did not include Tencent and Alibaba. The news helped spark a surge in ADRs of the two companies and boosted broader risk sentiment, which however also pushed the 10Y to session highs which in turn is now depressing stocks.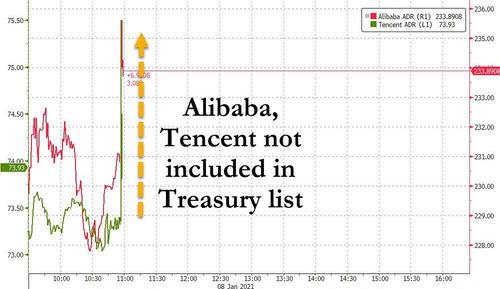 The full list of Chinese military companies as tagged by the Treasury is below (pdf link).
Tyler Durden
Fri, 01/08/2021 – 11:16