Alibaba, Tencent Tumble On Report US Considers Their Addition To China Stock Ban
Alibaba, Tencent Tumble On Report US Considers Their Addition To China Stock Ban
Trump may be on his way out but he is not done burning bridges with China, and moments ago Chinese tech giants Alibaba and Tencent tumbled…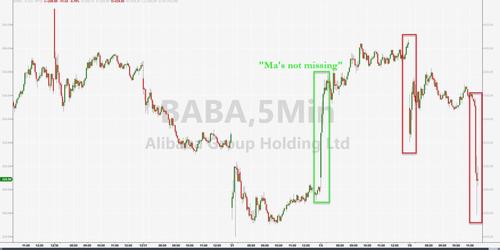 … following a Dow Jones report that US officials are now considering barring Americans from investing in the stock of Alibaba and Tencent.
Tencent and Alibaba are China's two most-valuable publicly listed companies with a combined market capitalization of over $1.3 trillion, and their shares are held by countless U.S. mutual funds and investors. If enacted, the de facto capital control would be a staggering escalation by the exiting Trump administration on its efforts to unwind U.S. investors' holdings in major Chinese companies.
According to the report, State Department and Department of Defense officials "held conversations on expanding a blacklist of companies that are prohibited to U.S. investments because of claimed ties to China's military and security services." The U.S. announced an original blacklist in November with 31 companies back in November.
Knowing that barring two of China's most visible companies would have profound consequences, the departments have debated with the Treasury Department whether adding these firms could have wide capital-markets ramifications, Bloomberg sources said.
While the plan is still under deliberation and may not go through as agencies debate its impact on markets, traders have been quick in dumping not only the two Chinese mega corps but also the broader Nasdaq Golden Dragon index which sunk in kneejerk response.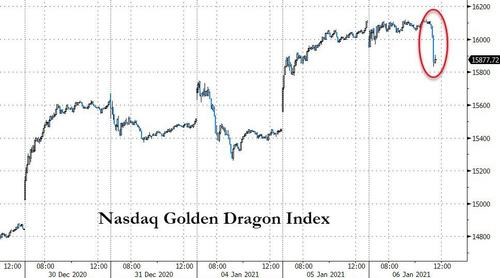 In response to Dow Jones request for response, China's Ministry of Commerce did not respond while the Chinese embassy in the U.S. referred to a December comment by the Ministry of Foreign Affairs that said "China firmly opposes the wanton suppression of Chinese companies by the United States," and "the Chinese government will continue to safeguard Chinese companies' legitimate and lawful rights and interests."
Tyler Durden
Wed, 01/06/2021 – 14:39