AmEx Stock Slumps After Feds Announce Probe Of 'Aggressive' Card Sales Practices
AmEx Stock Slumps After Feds Announce Probe Of 'Aggressive' Card Sales Practices
American Express, which, like other credit-card issuers, is facing headwinds from the COVID-inspired decline in consumer spending, is also facing an investigation by the Treasury Department into whether it used aggressive or misleading tactics to sell cards to businesses.
Dow Jones reports that investigators are looking into whether any customers were harmed by the company's tactics.
"We have robust compliance policies and controls in place, and do not tolerate misconduct," an AmEx spokeswoman said.
Shares plunged on the news.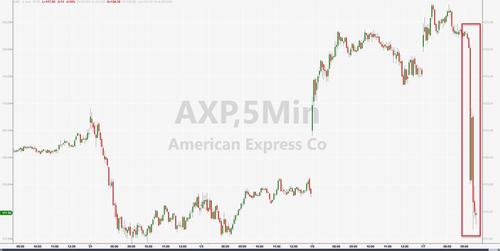 * * *
As we reported earlier, while millions of Americans clamor for another stimulus check and more enhanced unemployment benefits as they try to keep their heads above water (all due to the fact that COVID-19 has left entire industries and their workers bereft) millions of others who managed to hang on to their jobs have accomplished something unheard of in more than a decade: they actually paid down credit card debt.
As it turns out, being unable to congregate with friends at restaurants and other activities has effectively forced Americans to save more than they have in years. And while some have tried their hand at investing, plowing their money into stocks, bitcoin, gold and even Pokemon cards, many have also seized the opportunity to save, or pay down debt.
US consumer credit data reported last month exposed another unexpected decline in credit card debt, which shrank by $5.5BN to $979.6BN, the lowest since May 2017 and the 7th drop in the past 8 months.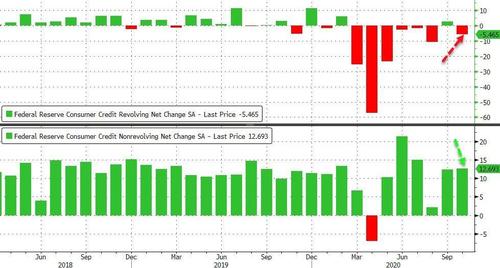 As credit card companies try to coax Americans back to spending beyond their means, American Express is reportedly planning to add perks to its popular Platinum cards to try to squeeze more revenue out of its customers.
Here's more from Bloomberg:
For a limited time, the company will offer as much as $180 in credits for purchases made through PayPal with the $550-a-year consumer Platinum card, and up to $1,700 in credits for virtual personal training with luxury-gym chain Equinox, car rentals with Avis Budget Group Inc., purchases on Home Depot Inc.'s website and spending with other retailers.

The new perks follow changes made last year to offer credits for spending on streaming and wireless-phone services. Roughly three-quarters of U.S. Platinum customers took advantage of those benefits, which helped drive attrition levels lower last year.

"That worked really well for us — we saw loyalty remained strong, and attrition levels were even lower than they were pre-Covid," Rachel Stocks, executive vice president of global premium products and benefits, said in an interview. "So we still want to make sure we're delivering value for them as they're spending time at home."

As part of the changes, customers with the firm's $595-a-year business Platinum card will also now earn five membership rewards points per dollar spent on wireless, shipping, advertising, gas and office supplies.

"The types of spending that we're offering rewards for, these are the types of spending that businesses utilize every day to operate their business," said Courtney Kelso, senior vice president and general manager for U.S. commercial card and global commercial services.
AmEx is in a particularly difficult spot due to its extensive business partnerships with airlines and other travel-oriented businesses. But the core problem – that customers have grown so accustomed to generous perks – is something that the entire industry will struggle with.
For years, consumers flocked to pricey premium cards offered by AmEx and rivals including JPMorgan Chase & Co. and Citigroup Inc. For AmEx, interest in the cards was so high that net card fees remain the fastest-growing part of revenue.

Now, those same banks have to offer new perks and credits to keep consumers happy for fear they'll abandon the cards or downgrade to no-fee alternatives.

Those extra investments have come as the average return on assets for credit-card portfolios have been cut by more than half due to rising losses, according to consultancy R.K. Hammer.

AmEx on Tuesday promised to announce in coming weeks new perks for customers of some of its biggest co-brand cards, such as those with Delta Air Lines Inc., Marriott International Inc. and Hilton Worldwide Holdings Inc.

AmEx has been hit hard by the coronavirus pandemic, given its longtime ties to travel cards. Spending on the firm's cards was down about 20% in the third quarter, though that was an improvement from the 33% drop in the previous three months.
The upshot of this enhanced competition is that customers will get more bang for their buck – that is, until interest rates start creeping higher once again, giving card issuers an excuse to jack up borrowing costs (if that ever happens).
Tyler Durden
Thu, 01/07/2021 – 12:50