"An Absolute Car Crash" – Deliveroo Shares Tumble 31% In London IPO
"An Absolute Car Crash" – Deliveroo Shares Tumble 31% In London IPO
In what some might take to be the latest sign of exhaustion in global equity markets, shares of Deliveroo tumbled 31% in their market debut Wednesday after pricing at the lower end of their range.
Despite pricing near the bottom of its range, Deliveroo's opening valuation of about £7.6 billion ($10.5 billion) was the highest in London since resources group Glencore's 2011 IPO, according to Dealogic data.
But traders quickly wiped more than £2 billion ($2.8 billion) off its market cap as shares plunged. It's a start contrast to the debut of DoorDash, which IPO'd in the US back in December. Its shares soared more than 86% at the open. One equity capital markets banker who was not involved in the deal described the debut to the FT as "absolute car crash". In recent days, Deliveroo and its bankers had continued to insist that the offering had seen "very significant demand" from investors, even as its debu tprice range started to slip.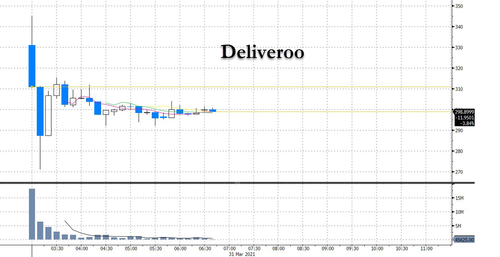 Of course, after the offering failed so spectacularly, a flurry of Wall Street analyst reports hit the tape offering explanations for the flop. Despite the lingering hype for 'stay at home' stocks (although the restrictions in England have started to unwind, it will be months before people and businesses can function normally), analysts cited 'ESG concerns' as the primary reason for the epic flop.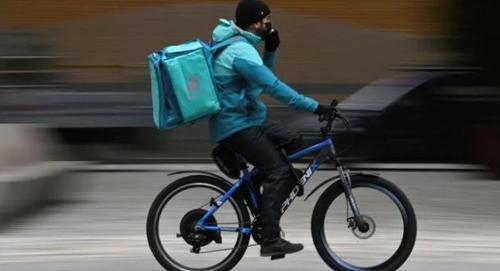 Institutional investors are apparently worried about "the sustainability of food delivery growth post-pandemic" as concerns about labor-market reforms saddling it with more costs eat away at investor interest. The firm also faces stiff competition from rivals like Just Eat Takeaway and Uber Eats.
After a series of legal entanglements involving Uber, investors fear food-delivery startups face rulings requiring them to treat drivers like full-time workers. Following a critical union vote at an Amazon fulfillment center in Bessemer, Ala., it's clear that the movement for workers rights in the digital age isn't going away.
Investors also balked at Deliveroo's ownership structure, specifically the outsize voting power held by Deliveroo CEO Will Shu. While exceedingly common in Silicon Valley, the dual-class share structure will prevent the company from being included int he FTSE 100 index (for now, at least – although Chancellor Rishi Sunak is working on tweaking these rules).
The selloff in Deliveroo shares spilled over to other delivery stocks, including Just Eat Takeaway and Delivery Hero. Shares of the former fell as much as 2.9%, while Delivery Hero slipped as much as 2.2%. Investors will be keeping a close eye on shares of Uber, GrubHub and Doordash to see if the selling pressure spreads to the US.
Deliveroo sold shares worth £1.5 billion ($1.76 billion) in the offering, raising gross proceeds of about £1 billion (almost $1.4 billion), with the money intended to finance growth initiatives such as its Editions network of delivery kitchens, while existing investors cashed out £500 million ($690 million).
Shu claimed in a statement that Deliveroo is exactly the type of locally grown tech startup that London capital markets are desperate to keep.
But that didn't stop a group of institutional investors from sitting out the offering. As Neil Campling from Mirabaud Securities told Bloomberg: "ESG is one of the largest pools of capital and ESG funds will avoid such controversial issuances given the concerns on workers rights etc. in the gig/app economy," Campling said. Expanding on these concerns, another analyst pointed out that if Deliveroo is forced to offer more traditional employee benefits, like company pension contributions, then its already thin margins would struggle to climb and the road to profitability would look "very tough indeed". To be clear, the company lost £224 million last year even as its revenue jumped 54%.
If that's true, then we suspect London capital markets won't be seeing any more of these companies going public in the City.
Tyler Durden
Wed, 03/31/2021 – 07:00