Another Big One? New Storm Expected On Christmas Week 
Another Big One? New Storm Expected On Christmas Week 
Tyler Durden
Fri, 12/18/2020 – 14:40
Tens of millions of people are still digging out from the wicked snowstorm that dumped feet of snow across some parts of the Northeast. Ahead of Christmas week, weather models are suggesting another storm is possible. 
According to ABC News, a new storm will traverse the U.S. from the West Coast to the central U.S. by Wednesday. Snow will be primarily to the north and rain and thunderstorms in the South and Ohio Valley.
By Christmas Eve, the system will move east with heavy rain and thunderstorms. With the colder air, the rain will turn to snow from the Great Lakes to the southern Appalachians.
Meteorologists from BAMWX pointed out this week "another big one" is possible for Christmas week. 
"Current 500mb pattern day of today's storm on the left. A LOT of similarities for the #Christmas storm on the charts via the EPS day 8. The smoothed-out ensemble means cant see some of the details the op sees but you get the point. Another big one possible…," BAMWX said. 
BAMWX discusses next week's storm in more depth:
Let's talk about a possible Christmas Winter Storm. Share and join ❄️ https://t.co/73pEkaTyfT

— BAMWX (@bamwxcom) December 17, 2020
"For the 48hr period from 7 pm 12-23 to 7 pm Christmas Day the blend of models 75th percentile shows us that we have some ensemble support for the snow of some kind," the weather consultancy group said.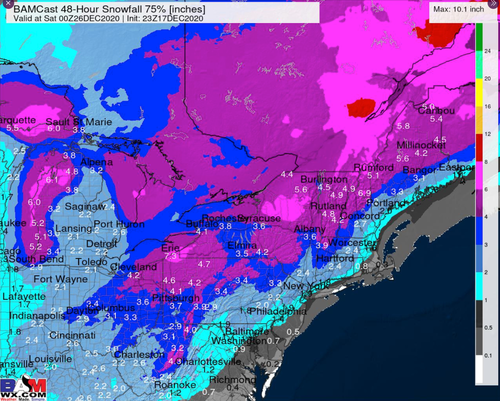 Natural gas demand is expected to rise across the US-Lower 48 as heating degree days are expected to surge above trend, signaling colder weather is ahead for next week that will force Americans to turn up their thermostats.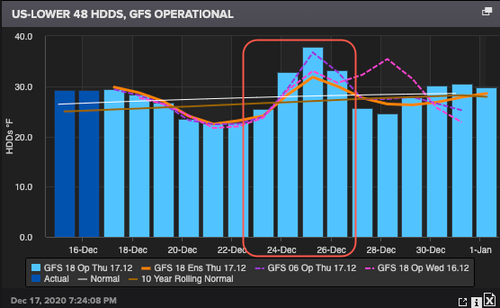 Weather models are expected to change over the coming days – nothing is certain at the moment.