Another Mega Short Squeeze On Deck
Another Mega Short Squeeze On Deck
At the end of the first week of March which saw an eruption in violent market turbulence in the aftermath of the sharp spike in bond yields and the catastrophic 7Y auction …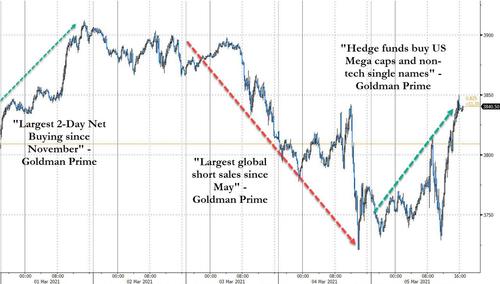 … we pointed out an observation from Goldman's Prime Broker desk, which noted that halfway through the week, Goldman traders saw the "largest global short sales since May" with the GS Prime book was net sold yesterday (-0.9 SDs vs. the average daily net flow of the past year), driven by short sales outpacing long buys 1.7 to 1." In fact, the mid-week puke wasn't so much selling as short-selling, as "modest net selling (-0.5 SDs) was driven by short sales outpacing long buys 1.5 to 1."

This prompted us to predict that what was coming would be a "mega squeeze" in stocks.
Sure enough just a few days later, on March 10, when stocks did explode higher in the second week of March, Goldman's Prime Brokerage Service observed that Tuesday's eruption was the result of "risk unwind in Macro Products vs. large net buying in Single Names" led by TMT and Consumer Disc stocks, with the Goldman Prime book net bought for a fifth straight day in which "trading flows were risk-off with short covers outpacing long sales 4 to 1."  And just to make sure there is no confusion, Goldman prime said that "yesterday's de-grossing activity – short covers and long sales combined – was the largest since late January (-2.0 SDs)."
Furthermore, Bloomberg added that short covering in unprofitable tech firms helped the group halt seven straight days of selling and score the third-biggest net buying of the year. In fact, in the first two days of that week, Goldman basket of the most-shorted tech stocks soared 7%, more than double the return of the Russell 3000.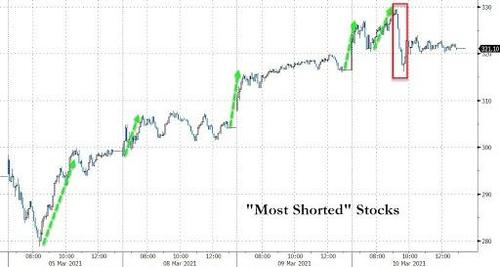 Commenting on the move, Andrew Brenner, the head of international fixed-income at NatAlliance Securities in New York told Bloomberg that "we see yesterday's move as short covering without legs." Ok fine, but tell that to any Nasdaq shorts whose legs – and everything else – was steamrolled in the historic move higher.
We concluded our post by saying that "with the latest iteration of shorts now out of the picture, it's time for a new cohort of bears to take their place, and we wouldn't be surprised if we see renewed weakness in the Nasdaq as a flood of new shorts hammers the tech index only to then suffer another massive squeeze and so on, rinse, repeat."
Well, one again that is indeed what happened because while the Nasdaq did move sharply higher for a few days, it closed on Friday precisely at the March 10 short squeeze high as every squeeze higher has been met with a fresh burst of shorting.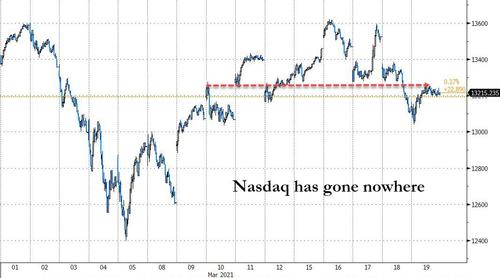 We bring all this up because we now have the latest Goldman Prime data and – drumroll – we appear to be headed for another mega squeeze!
As Goldman's hedge fund client-facing desk wrote after the close on Friday, in a reversal of last week's buying activity, "the GS Prime book saw the largest $ net selling since Dec '18 (-2.5 SDs), driven by short sales and long sales (3 to 1)." The bank then reveals that all regions and sectors saw increased shorting on the week with "Single Names/Macro Products were both net sold and made up 70%/30% of the $ net selling. With the exception of Asia which was net bought driven by long buying in Japan, all regions were net sold led by North America and Europe." Finally, broken down by industry, "10 of 11 global sectors were net sold led by Consumer Disc, Comm Svcs, Info Tech, and Materials, while Financials was the only net bought sector."
But what is most notable is that like two weeks ago, Goldman Prime reveals that "the largest net selling in US TMT Mega Caps since Mar '20 driven by short sales" and the aggregate long/short ratio (MV) in FAAMG dropped -34% week/week on the GS Prime book to 10.41, which is the lowest level since Mar '20 and in the 19th percentile vs. the past five years.
One final – and perhaps remarkable observation in light of the juggernaut that FAAMG had been for much of 2020 – the TMT Mega Caps (FAAMGs) collectively now make up 13.5% of the overall US net exposure in Single Names, down from 13.9% at the end of last week and 14.6% at the start of this year, according to GS Prime. The current level is in the 16th percentile vs. the past year and in the 55th percentile vs. the past five years. In short: traders are rapidly rotating away from the best performing sector of 2020.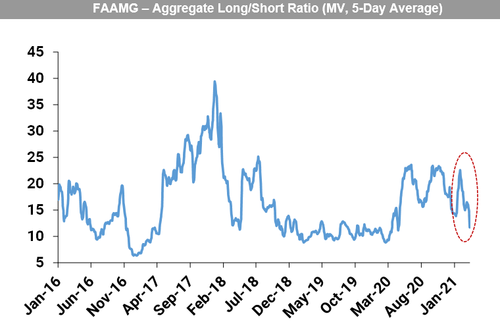 Adding insult to injury the latest Goldman Prime data also shows that hedge funds haven't generated any net alpha since the start of 2020 (!) for one simple reason: while the longs are modestly in the green, it is the collective shorts that keep steamrolling the "2 and 20" space, and every time hedge fund layer bearish, an initial spike in covering leads to a furious cascade of closing out of bearish positions perhaps as a result of the market's muscle memory where every attempt to go short has lead to pain and suffering for the bears leading to the lowest marketwide net short in history!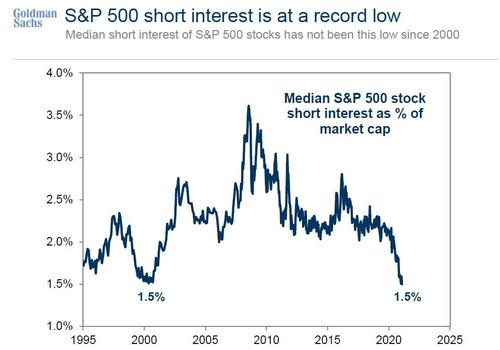 What does all this mean? Well, as a result of last week's aggressive attempt to pile on shorts – the most since Dec 2018 when stocks collapsed due to Powell's final rate hike which was seen as a huge policy mistake – we are once again facing the threat of a massive short squeeze, one exacerbated by the fact that hedge funds are now once again red for the year, as shown by the black line below…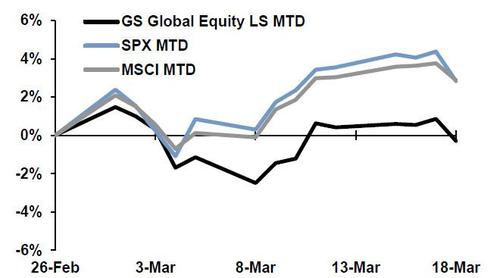 … making them extremely jittery and likely to close out any potentially devastating shorts at the sign of even the smallest of bullish catalysts. Well, with not one, not two but three appearances by Fed Chair Powell eager to make up for his latest FOMC fiasco that sent yields to fresh 2021 highs, there will be ample triggers for another mega squeeze in the week ahead, and we are confident that in just a few days we will be once again discussing the latest "mega squeeze" leading to another historic market meltup with the full blessing of the Federal Reserve.
Tyler Durden
Sun, 03/21/2021 – 11:15