AOC: Calling The Border Crisis A 'Surge' Pushes 'White Supremacist Philosophy'
AOC: Calling The Border Crisis A 'Surge' Pushes 'White Supremacist Philosophy'
Authored by Annaliese Levy via saraacarter.com (emphasis ours)
Rep. Alexandria Ocasio-Cortez (AOC), D-N.Y., has criticized the use of the word "surge" to describe the border crisis because it "consciously is trying to invoke a militaristic frame."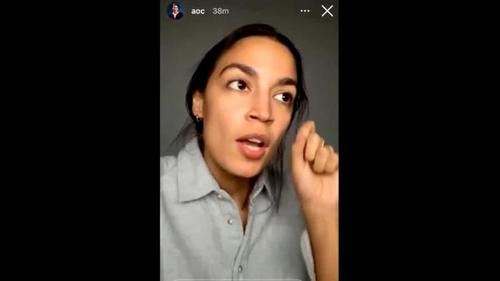 "They wanna say, 'But what about the surge?" Ocasio-Cortez said to her Instagram followers during a live broadcast on Tuesday. "Well, first of all, just gut check, stop. Anyone who's using the term 'surge' around you consciously is trying to invoke a militaristic frame."
The Democratic "squad" member went on to say that anyone using the term "surge" is pushing a "white supremacist idea-philosophy."
"And that's a problem because this is not a surge, these are children and they are not insurgents and we are not being invaded, which by the way is a White supremacist idea-philosophy, the idea that if another is coming in the population that this is an invasion of who we are."
AOC on Instagram Live talking about the border:

"Anyone who is using the term 'surge' around you consciously is trying to invoke a militaristic frame… This is not a surge. These are children and they are not insurgents."
pic.twitter.com/vUjraUSNHr

— Daily Caller (@DailyCaller) March 31, 2021
Ocasio Cortez's statements sparked outrage online, with many calling her out since she has yet to visit the southern border.
Fox News contributor Lara Trump slammed Ocasio Cortez on Monday for her "total hypocrisy."
"It's total hypocrisy," she said.

"The way they covered this under the Trump administration versus the Biden administration is total hypocrisy. Where is the outrage from the folks on the left? Where is AOC down there doing a photo op?"
Ocasio Cortez, who has been vocally opposed to the Trump administration's immigration policies, has been quiet regarding President Joe Biden's handling of the border crisis.
She previously accused Trump of housing migrants in "concentration camps."
What's happening at our Border is a human rights crisis. But Trump is not in Office and ultimately, the Dems want to turn these folks into voters, so the media will remain silent and AOC will casually blame white supremacy.

— Eric Matheny 🎙 (@EricMMatheny) March 31, 2021
ZH: We would note that then-candidate Joe Biden called for a 'border surge' – while major news outlets have regularly used this 'white supremacist' language: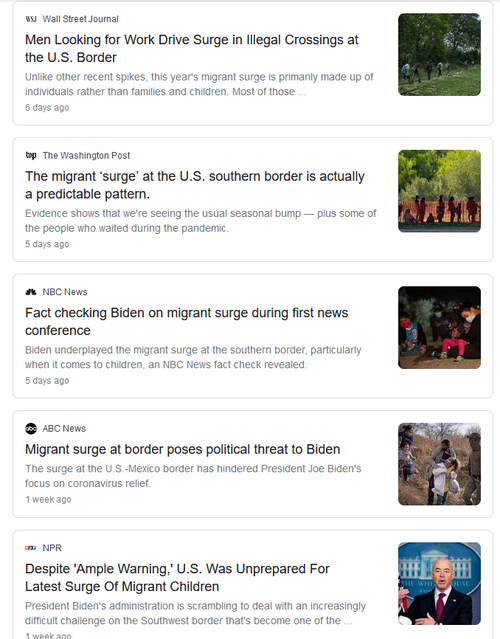 Lots of white supremacists at the networks we suppose…
https://t.co/loOp5JlMLa pic.twitter.com/YDR7OSxPlu

— Chet Cannon (@Chet_Cannon) March 31, 2021
Tyler Durden
Wed, 03/31/2021 – 12:05