ARK Funds Blow Past BlackRock, State Street, In YTD Inflows
ARK Funds Blow Past BlackRock, State Street, In YTD Inflows
The monstrous inflows into Cathie Wood's ARK Invest don't seem to be slowing up as we put the first few weeks of 2021 behind us.
We have been following ARK's funds closely since late 2020, noting that the firm's inflows were rising spectacularly, and questioning whether or not the law of large numbers would eventually catch up to it. 
While there has been numerous small bumps in the road over the last few weeks, ARK is still making its way through the first quarter of 2021 in grand fashion. ETF expert Eric Balchunas, whose coverage of ARK we have followed closely, noted on Twitter Thursday that ARK took in another $1 billion on Wednesday, causing their firm to pass BlackRock and State Street YTD in inflows.
ARK is now second only to Vanguard, Balchunas noted.
ARK WATCH: The ARK Fam took in another $1b yest w/ all 7 of their ETFs taking in cash. They've now passed both BlackRock & State Street in YTD flows, second to only Vanguard, and are on a $136b/year pace. pic.twitter.com/JRqVeCt6GJ

— Eric Balchunas (@EricBalchunas) January 21, 2021
He says the firm is on a pace to see $136 billion in inflows for the year. It's a figure that we believe is as optimistic as it is unlikely. 
"[Vanguard] and cheap beta is where the REAL money goes, ARK is still relatively tiny, it's just crazy fascinating given the level of odds overcome," Balchunas said. He even tossed around the idea of Wood filing to become a closed end fund. "It's [possible]," Balchunas said, responding to the suggestion. 
We noted about 10 days ago that short interest in ARK funds had "exploded" after ARK's banner 2020. Short interest as a percentage of shares outstanding for the firm's flagship $21 billion ARK Innovation ETF spiked to an all time high of 1.9% from just 0.3% one month ago, according to data from IHS Markit Ltd. and Bloomberg. 
Shorts were also piling into the firm's other ETFs, including its $9.4 billion Genomic Revolution ETF and its $5.9 billion Ark Next Generation ETF. ARKK rose almost 150% in 2020 and brought in $9.6 billion in new money. 
The fund's success in 2020 was largely tied to the parabolic move in Tesla.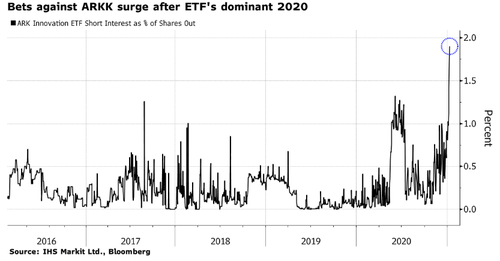 Dave Nadig of ETF Trends told Bloomberg: "You can't expect any shortable asset to have the kind of meteoric rise ARKK has had and not attract almost mechanical short-selling. There are, quite literally, traders who have screens for 'ETFs that went up X far over Y time' to use as contrarian short indicators."
Blachunas commented at the time: "The Ark phenomenon is the first time ever that a rock-star portfolio manager has been shortable. Typically, they're in a mutual fund or a hedge fund, which you can't short. This is breaking new ground in a way."
We noted days ago that ARK funds had seen a record inflows over $1 billion a week ago. The massive volume in ARK's funds has continued from 2020 into 2021, as Balchunas had predicted late last year when he pointed out several reason the fund could actually become a victim of its own bloated size.
In late December, Cathie Wood entered into an agreement with Resolute Investment Managers that will allow her to remain the firm's majority shareholder. The firm is going to retain Resolute's distribution services as part of the deal. Wood purchased the option for an undisclosed sum and it was financed through a "multi-tranche term loan financing facility provided by Eldridge Corporate Funding LLC," according to Bloomberg. 
Gene Needles, Resolute's chief executive officer, said at the time: "Cathie Wood and her team have done an exemplary job building ARK Invest from the ground up, and we look forward to supporting the firm's momentum for years to come. We're pleased to continue being an instrumental part of ARK's growth, a role we have fulfilled since acquiring a minority investment in the company in 2016."
Recall, late last year we published a report highlighting Balchunas' take on how ARK Funds could wind up becoming victims of their own success. 
Tyler Durden
Fri, 01/22/2021 – 15:10