Berlin Halts AstraZeneca Jab As Germany Weighs Limiting It To Older Patients
Berlin Halts AstraZeneca Jab As Germany Weighs Limiting It To Older Patients
The spread of SARS-CoV-2 and the confirmed "mutant" strains has accelerated (though daily numbers remain well below their record highs reached in late January) over the past month, and just after the European Union finally reached a deal with the UK to try and ensure vaccine "reciprocity" (at least for developed, wealthy, western countries). But more than a week after troubled vaccine-maker AstraZeneca released a revised analysis of its Phase 3 research following a squabble with an obscure US regulator, German Capital Berlin has just announced that it's banning jabs going to patients over the age of 60.
The reason? New research from a team of German scientists suggesting that there is indeed a link between the AstraZeneca jabs and the dangerous blood clots that have killed a small handful of patients in Europe. To arrive at this conclusion, the team examined 9 cases of the rare blood clots isolated in Austria and Germany. The 9 patients (8 female; median age, 36 [range, 22—49) presented with thrombosis beginning 4 to 16 days post-vaccination: 7 patients had cerebral venous thrombosis (CVT), 1 had pulmonary embolism, and 1 had splanchnic vein thrombosis and CVT. Ultimately, 4 patients died.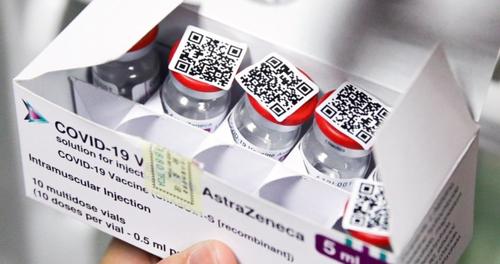 Researchers concluded that "the AZD1222 vaccine is "associated with development of a prothrombotic disorder". Dilek Kalayci, the city's top health official, said that both Germany's independent STIKO vaccine commission, which is supported by the RKI public-health institute, and the Federal Institute for Vaccines will make new recommendations on how to proceed. Those could be published as soon as Tuesday.
What's more, regional German health ministers will also discuss the Astra vaccine with federal government officials during a special meeting later on Tuesday. RKI spokeswoman Susanne Glasmacher confirmed that the vaccine commission is parsing the latest research about the vaccine's health risks. Meanwhile, Germany's vaccine authority STIKO recommended use of AstraZeneca vaccine only for men and women older than 60. Initially, when German regulators first approved the AstraZeneca jab, they limited it to those under 65.
"We have to wait for the recommendations but we wanted to take this step as a precaution," Kalayci said at a news conference, adding that pending appointments will be canceled. "This vaccine does prevent severe symptoms, and that is very valuable, but we have to be careful with it nonetheless."
Of course, the EMA acknowledged these side-effect risks during its safety review earlier this month. Both the EMA and WHO have insisted that the potential benefits of the vaccines far outweigh the risks.
Vaccination rates in EU nations remain well below those in the US, which is on the cusp of doling out some 3MM jabs per day, the fastest rate in the world.
Other European nations, including Norway, where the blood clots have become a major news story after three health-care workers all came down with the clots, and one died, have added, or refused to drop, restrictions following the EMA assessment. Even Canada has suspended plans to give the Astra jab to younger people over the blood-clotting risks.  Denmark announced last week plans to extend its halt for the AstraZeneca shot pending the results of a local investigation. France has also moved to impose age restrictions, while Sweden – like Germany –  is considering withholding the AstraZeneca jab from anyone under the age 55, according to an interview in the Swedish newspaper Dagens Nyheter.
During the interview, Tegnell explained that the decision was one of risk-cost benefit. Younger people must weigh the risks of side effects with the risk posed by the disease, and make a choice. "If you are under 50-55 years old, the risks are very small when it comes to the disease, so then maybe you should think about the risk-benefit balance."
Read the full research report below:
ebd0055b-50ad-4a8e-9d42-b967d0d8b132 by Joseph Adinolfi Jr. on Scribd
Tyler Durden
Tue, 03/30/2021 – 11:50