Biden Expected To Soon Release CIA Report On Who Killed Khashoggi, Will 'Embarrass' MbS
Biden Expected To Soon Release CIA Report On Who Killed Khashoggi, Will 'Embarrass' MbS
Despite nervousness in Riyadh over the potential restoration of the Iran nuclear deal and the fact that Joe Biden in 2019 referred to the Saudi kingdom as a "pariah", Saudi authorities are touting this week that Saudi Arabia is prepared for "excellent relations" with the new Biden administration.
The kingdom's foreign minister, Prince Faisal bin Farhan Al Saud, told Al Arabiya in a new interview, "I am optimistic. Saudi Arabia has built solid, historical relations where it worked with different administrations. We will continue to do that as well with President Biden."
However, the 2018 murder of journalist Jamal Khashoggi still hangs heavy over de fact ruler Crown Prince Mohammed bin Salman, which many in the West have accused of personally ordering the grisly slaying which took place by state operatives at the Saudi consulate in Istanbul.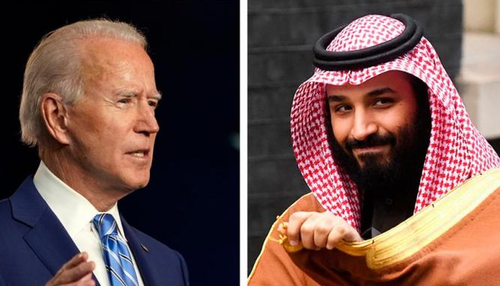 Trump had long been criticized for his overly "warm" relations with MbS and forgiving approach to the whole saga. MbS had remained isolated from Western allies for about a year, but any coldness towards him was soon dropped and he went back to being hailed as a 'reformer'.
As Bloomberg reports, a US intelligence report hitherto hidden from public eye could soon be released as a major "reckoning" which will thrust MbS under the spotlight again for the murder:
Joe Biden's nominee for national intelligence director has pledged to release a report on who was responsible for the murder of Saudi critic Jamal Khashoggi, a decision that could embarrass the kingdom's crown prince and strain its relationship with its key ally.

Avril Haines, who would be the nation's first woman to oversee U.S. intelligence agencies, made the promise at her confirmation hearing on Tuesday. Congress required the national intelligence director to release an unclassified report to legislators on the killing, but the Trump administration didn't follow through.
The intelligence findings, authored by the CIA, are expected to point the finger straight to the top, similar to a separate United Nations investigation.
According to numerous US media reports late in 2018, the CIA concluded that Crown Prince Mohammed bin Salman, known as MBS, was responsible for the murderhttps://t.co/gI5y9dpSIj

— Middle East Eye (@MiddleEastEye) January 23, 2021
One regional analyst told Bloomberg of the report that while "much will depend on the details of the report," Prince Mohammed would be sensitive to any reopening of the Khashoggi files, which "shifts the focus away from his investment and modernization plans."
Tyler Durden
Sat, 01/23/2021 – 12:37