Biden Migrant Crisis: ICE Secures Hotel Rooms For Migrants; Admin Plans Flying Illegals To Canadian Border
Biden Migrant Crisis: ICE Secures Hotel Rooms For Migrants; Admin Plans Flying Illegals To Canadian Border
Biden's migrant crisis along the southern US border has reached epic proportions.
As we reported on Thursday, not long after Biden said he would "reverse Trump's immigration policies" and vowed to give illegal aliens "a pathway to citizenship", the ensuing chaos at the border has resulted in over 13,000 unaccompanied migrant children detained in federal custody (a third of whom have been sitting in the same 'cages' built by the Obama-Biden administration) and 3,000 of whom have been held beyond the 72-hour legal limit. In a desperate attempt to ease the crisis, Biden did a complete U-turn and told migrants to stop coming, after begging Mexico's president to help stem the flood of illegal migrants
According to the New York Times, after Biden halted construction on the border wall (leaving gaping holes at construction sites), stopped turning away children, and proposed a pathway to citizenship, the surge in migrants – i.e., future democrat voters – has overwhelmed the Biden administration's ability to process them. Faced with a crisis of his own making, Biden reportedly asked Mexican President Andrés Manuel López Obrador 'whether more could be done to help solve the problem.'
Biden and AMLO even discussed the possibility of the United States sending Mexico some of its surplus vaccine supply, a senior Mexican official told the Times, which notes that "Mexico has publicly asked the Biden administration to send it doses of the AstraZeneca vaccine, which has not been approved for use in the United States."
According to Mexican officials, efforts to secure vaccines are separate from immigration talks, but they have acknowledged that a shipment of doses would "help" relations.
"Both governments cooperate on the basis of an orderly, safe and regular migration system," said Roberto Velasco, director general for the North America region at Mexico's foreign ministry, though he added that there is no quid pro quo for the vaccines.
In other words, not only did Biden's reckless promises to accept all immigrants backfire spectacularly, he is now is forced to beg and bribe Mexico with promises of a vaccine that nobody wants to prevent the migrant crisis that he started from getting even worse.
But perhaps because the president lacks faith in his own diplomatic skills (justifiably so as demonstrated by last week's catastrophic US-China summit), on Friday the Biden administration was reportedly considering flying migrants who illegally cross the US-Mexico border to near the US-Canada border for processing as a way to ease pressure on overwhelmed facilities in Texas, the WaPo reported.
The tactic is under consideration amid an unprecedented surge in border crossings resulting from Biden's policies and reform legislation that would create a path to citizenship for most illegal immigrants.
Some data: the number of migrant family members caught crossing the southwest border more than doubled between January and February — rising from 7,000 to nearly 19,000, according to the most recently released agency data. And while border officials continue to use a Trump-era order to quickly return many families to Mexico. But Mexico has limited capacity to take in migrant families and won't accept some with young children, according to administration officials. In total, the CBP reports that there was a record for February 100K "land encounters" along the border in February.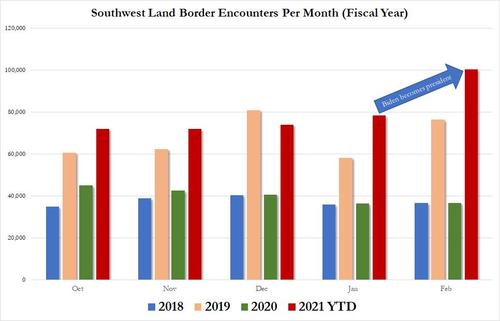 42% of families were expelled to Mexico last month — down from 64% in January and 91% in October, according to the data. More than 13,000 family members who crossed the U.S. border illegally have been allowed into the country since the start of January, many released into border communities.
In any case, in a move that is sure to delight Canada, Department of Homeland Security officials told the Washington Post that the administration is considering air lifts to the northern border due to large numbers of unaccompanied children and families crossing in the south. Officials told the Washington Post that on Friday morning 1,000 people who were either unaccompanied minors or in family units crossed the Rio Grande into Texas, and that another 1,000 still were awaiting processing from Thursday night.
But wait, there's more.
In an apparent backup plan, Axios reports that the Biden administration has awarded an $86 million contract for hotel rooms near the border to hold around 1,200 migrant family members who cross the U.S.-Mexico border on behalf of ICE.
The contract through Endeavors, a Texas-based nonprofit, is for six months but could be extended and expanded. The hotels will be near border areas, including in Arizona and Texas.
ICE, which oversees the custody of migrant adults and families who cross the border illegally after they are apprehended by border patrol agents, is already transforming its family detention facilities into rapid-processing centers with the goal of releasing families within 72 hours. 
While immigration agencies have used hotels in the past, unlike border patrol stations, they but do not have to follow the same safety protocols that official government detention spaces do, and as such could result in fresh covid "superspreader" events amid news that many of the migrants have covid. This is happening just as many predict that the US will be able to emerge from the covid pandemic within months, and for the conspiratorialy minded this latest development would provide the government with just the right catalyst to spark a new covid wave… which would naturally transform into trillions more of Universal Basic Income stimmy checks down the line, just as big government wants it.
Finally, some have asked whether it would not be more practical, not to mention more patriotic to spend millions on hotel rooms for the 60,000 homeless American veterans, than the thousands of illegal immigrants who are only here because of the admin's latest Plaxico.
I'll just leave this here. pic.twitter.com/e1o3AfPhAb

— Rising serpent 🇺🇸 (@rising_serpent) March 20, 2021
Tyler Durden
Sat, 03/20/2021 – 14:30