Biden To Propose 5-Year Extension On Last Major Nuke Treaty With Russia
Biden To Propose 5-Year Extension On Last Major Nuke Treaty With Russia
It was no secret that the Russians were waiting out the Trump administration, anticipating that Trump's declared desire to pull out of the New START treaty which limits the number of strategic nuclear weapons maintained by the former Cold War rivals would be a moot point should Biden take the White House.
During prior negotiations this past fall, Putin was willing to offer an extension on the landmark nuclear treaty of at least one year without any preconditions ahead of its February 2021 expiration. At the same time Biden on the campaign was on record as clearly indicated he'd be ready to agree to an unconditional 5-year extension.
And now on day two of the Biden administration that's just what the US side is proposing: an immediate five-year extension of New START, or New Strategic Arms Reduction Treaty.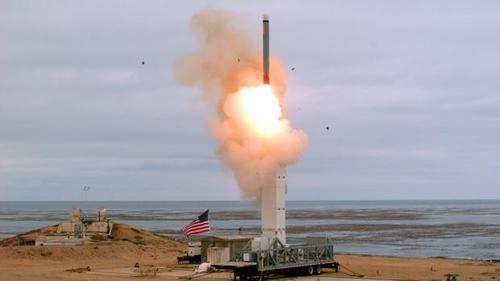 "Biden's national security adviser Jake Sullivan planned to convey the extension proposal to Russia's ambassador to the U.S., Anatoly Antonov, on Thursday afternoon, said one official, who spoke on condition of anonymity to discuss a matter not yet publicly announced by the administration," according to the Associated Press. "A second U.S. official, also speaking on condition of anonymity, confirmed the proposal but offered no details."
Amid Trump's prior pull out of the Intermediate-Range Nuclear Forces Treaty (INF) as well as 'Open Skies' there was growing concern that a new Cold War style arms race would be unleashed between the US and Russia. To some degree it already has – given Russia's advancing and very public hypersonic weapons program and testing of the past couple years. There's also the Pentagon for the first time resuming testing of INF-banned ground-launched ballistic missiles as of late 2019 under Trump's watch.
Putin too voiced such a concern on multiple occasions. "It would be extremely tragic, if the treaty ceases to exist, without being replaced with another fundamental document of this kind," he said in October 2020 comments. "For all these years, the New START worked, worked perfectly, performed its fundamental role of a limiter, curbing the arms race," Putin had underscored at the time.
Biden's reported offer to extend New START another 5 years also comes as a relief to America's NATO allies, as AP notes:
The move, providing an early signal of Biden's intent to pursue arms control, is almost certain to be welcomed both by Russia and key American allies. NATO Secretary-General Jens Stoltenberg on Thursday called on the United States and Russia to extend the treaty and to later broaden it.

"We should not end up in a situation with no limitation on nuclear warheads, and New START will expire within days," Stoltenberg told reporters in Brussels. Stoltenberg underlined that "an extension of the New START is not the end, it's the beginning of our efforts to further strengthen arms control."
However, it's anything but a done deal, given the Biden team is preparing to impose "costs" on the Kremlin elsewhere:
Biden is ordering DNI Avril Haines to provide a full intelligence assessment of Russia's alleged interference in the 2020 election, use of chemical weapons against Alexei Navalny, and bounties on US soldiers in Afghanistan, and SolarWinds officials said. 2/

— John Hudson (@John_Hudson) January 21, 2021
In the past months Russia's Defense Ministry appeared to have ramped up its ballistic and hypersonic missile tests – possibly as a "message" to Washington and as leverage toward pressuring Washington to not let New START unravel.
"Russia is not interested in triggering an arms race or deploying missiles where there are none," Putin had also said in recent years.
Tyler Durden
Fri, 01/22/2021 – 22:40