Biden's Big Week Buoys Big-Tech & Bullion, Batters Bitcoin & Black Gold
Biden's Big Week Buoys Big-Tech & Bullion, Batters Bitcoin & Black Gold
A mixed bag this holiday-shortened week. Biden's big week saw big-tech stocks soar as bitcoin was battered, gold gained along with bonds, oil slipped lower along with the dollar, and growth/value stocks defended a crucial line in the sand as COVID cases, hospitalizations and deaths improved dramatically.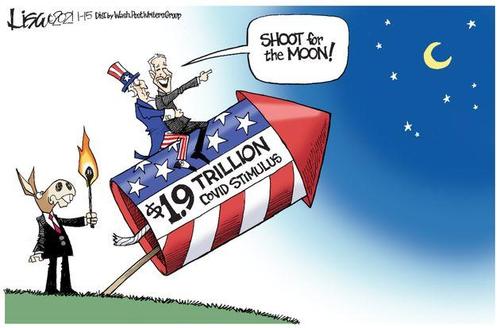 That's the ticket!
Nasdaq was the week's biggest gainer (its best week since the election)…NOTE the utter panic buying of Small Caps into the close today!!!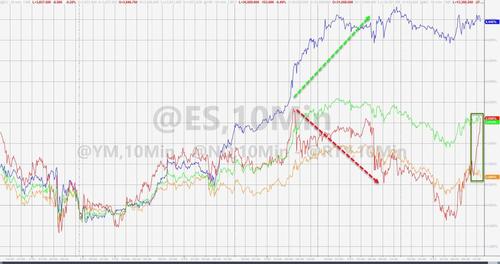 This was good for a laugh today (if you weren't short)…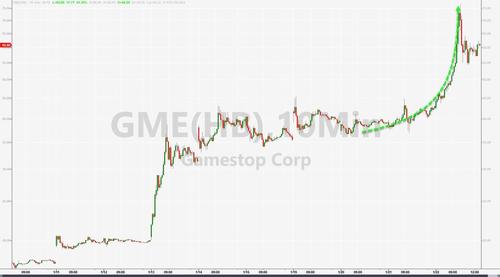 That is a record high… for Gamestop!!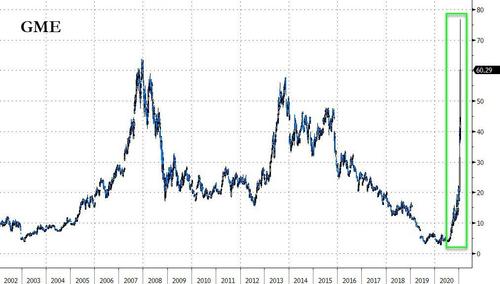 Source: Bloomberg
At one point, Gamestop was the most actively traded U.S. company with a market value above $200 million, data compiled by Bloomberg show, as millions of shares exchanged hands every few minutes.
And this is just f**king insanity!!!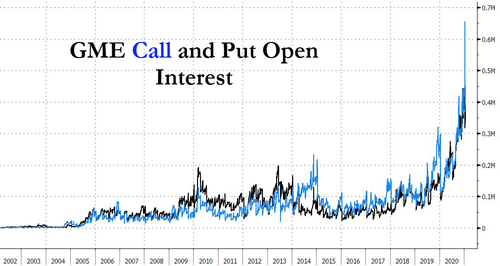 Source: Bloomberg
And if you really want to laugh, there's this!!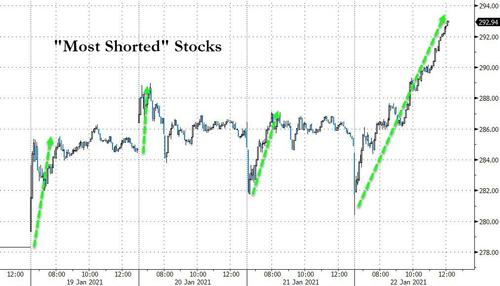 Source: Bloomberg
That is a 5% surge off the lows today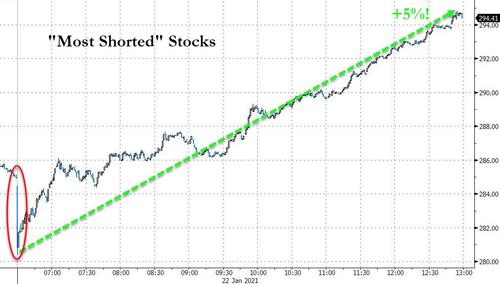 Source: Bloomberg
As we explained…
How to win this market:

Go long every stock with a market cap between $50MM and $2BN and Short Interest > 50% of float (as first laid out in 2013).https://t.co/8wpkGLMeiW

— zerohedge (@zerohedge) January 22, 2021
Growth/Value was rescued from a critical support level once again, with Growth's late-week gains erasing all Value's relative YTD gains…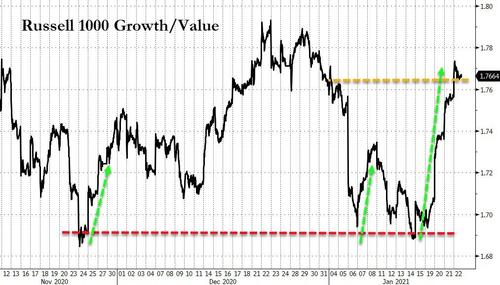 Source: Bloomberg
Serious swings in Value/Momentum this week also…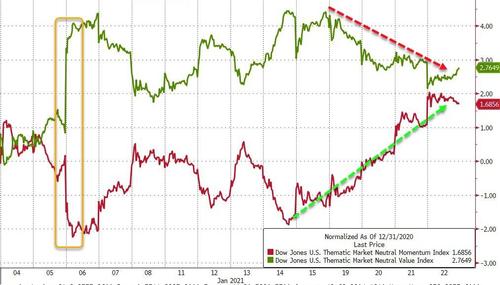 Source: Bloomberg
Is 2021 going to be a 2010 redux?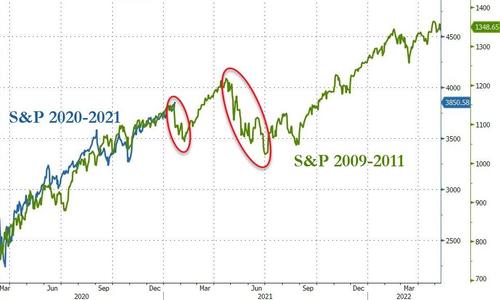 Source: Bloomberg
Bonds were mixed also on the week with long-end yields up by around 2bps and short-end down around 1-2bps…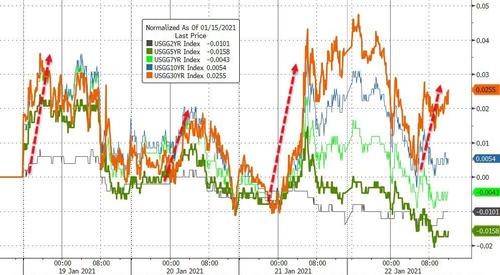 Source: Bloomberg
10Y Yields continued to trade in a tight range since the first few days of the year…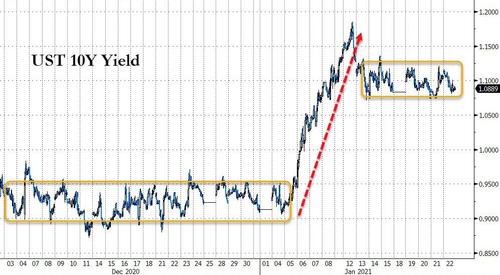 Source: Bloomberg
The brief rebound in the dollar to start the year is over…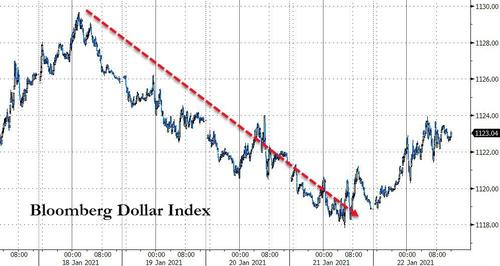 Source: Bloomberg
Ethereum closed higher on the week but the rest of the big cryptos were lower…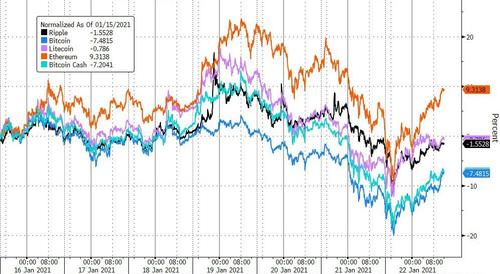 Source: Bloomberg
Lots of headlines about Bitcoin's drop (worst week since September) but few noted that BTC bounced back by 17% today off unch YTD…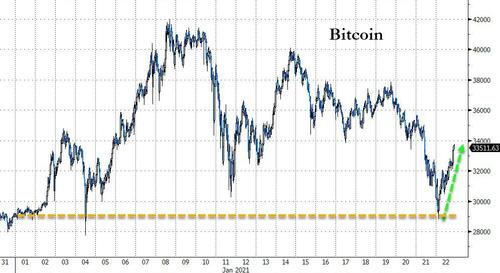 Source: Bloomberg
Gold was monkeyhammered a few times this week but was bid each time to end with its best week of the year…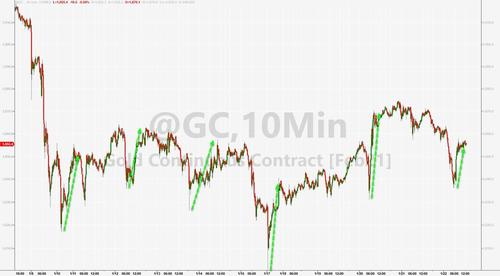 Gold's outperformance of Bitcoin this week erased the cryptocurrency's relative gains YTD. But as the chart shows, when it got close to unch YTD, Bitcoin sudenly became bid…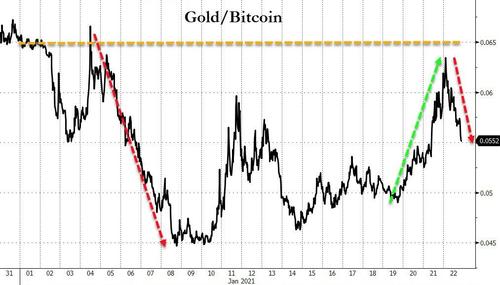 Source: Bloomberg
Oil prices were lower on the week, but WTI seemed to find support around $52…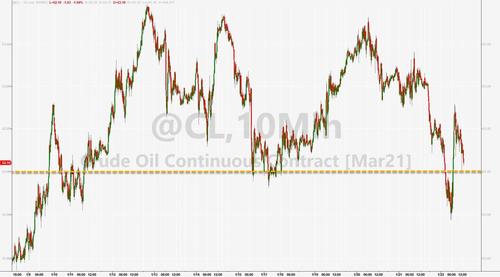 Finally, as we noted earlier, the incredible surge in "puts sold to open"…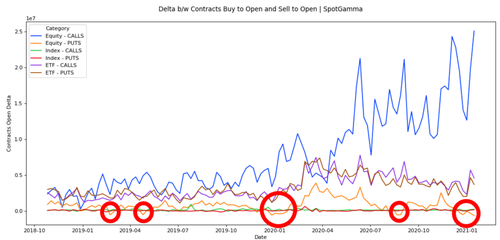 Offer an ominous sign of short-term returns…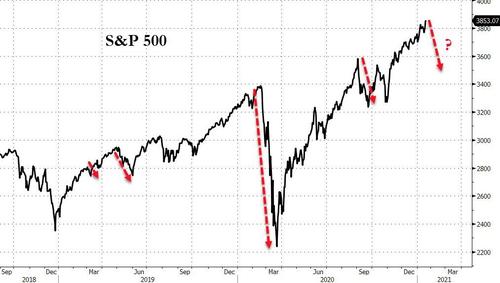 Source: Bloomberg
And as today's opex went off, the put-call ratio spiked dramatically…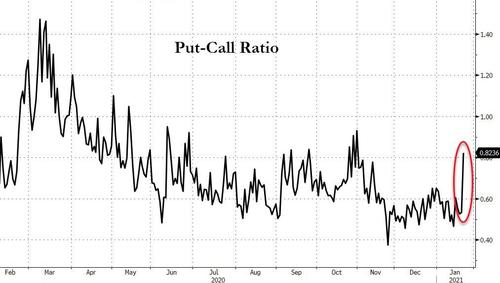 Source: Bloomberg
And while Biden seemed to claim that things are about to get worse, it appears like things are getting better… fast!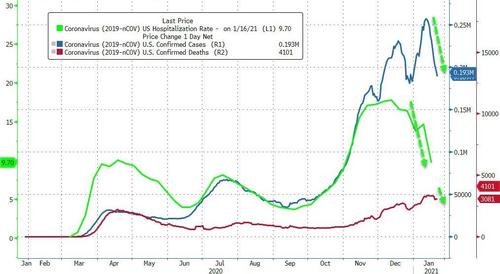 Source: Bloomberg
Tyler Durden
Fri, 01/22/2021 – 16:00