Black Gold, Bitcoin, & Bond Yields Bounce As Dollar Dives Ahead Of 'Blue Wave' Bête Noire
Black Gold, Bitcoin, & Bond Yields Bounce As Dollar Dives Ahead Of 'Blue Wave' Bête Noire
Oil prices made all the headlines today as the Saudis agreed (in a somewhat desperate move) to allow Russia (and Kazakhstan) to increase output modestly while they slashed production by a stunning 1mm b/d (to its lowest since 2009). That surprise sent WTI above $50 for the first time since February…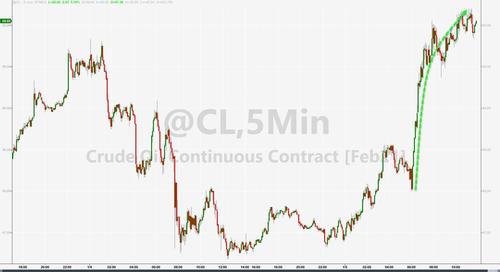 Did Russia just drink Saudi's milkshake?
We are sure Shale drillers are pleased too…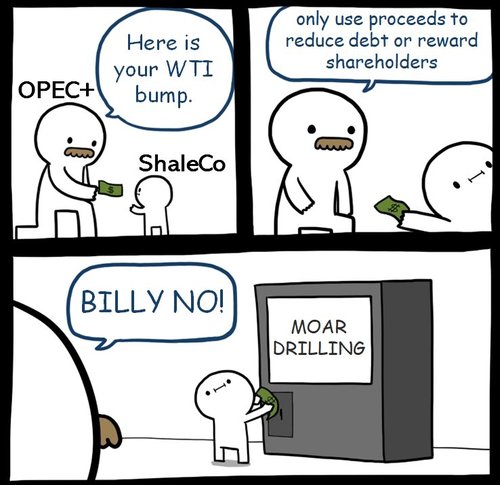 h/t @MOAR_Drilling
ISM surged to highest since Aug 2018 but, as we detailed earlier, this was highly misleading as Supplier Delivery Times are surging due to supply chain disruptions and not demand… as export orders sink…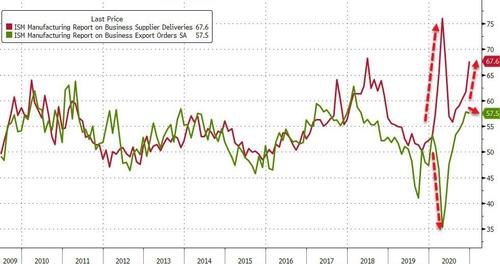 Source: Bloomberg
The odds of a "blue wave" ebbed a little today…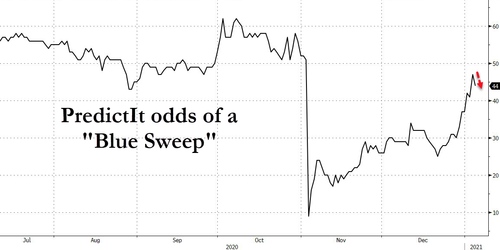 Source: Bloomberg
Crypto also surged on the day, extending ETH's YTD gains to almost 50% and BTC up 16%…Ripple is unch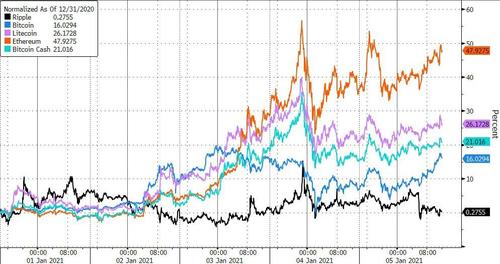 Source: Bloomberg
With Bitcoin back above $34k…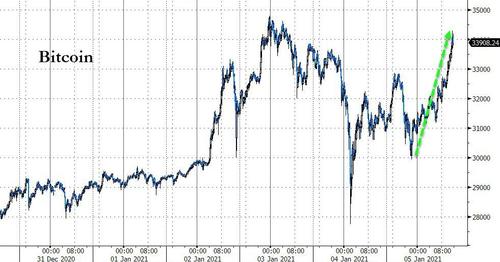 Source: Bloomberg
Ethereum also spiked back above $1100…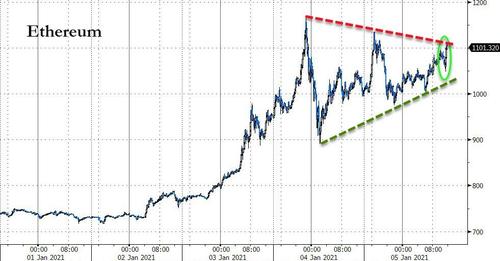 Source: Bloomberg
Overnight futures just could not hold a bid but as soon as the cash market opened, a sudden jolt of buying ensued. That extended modestly and then at 1400ET stocks took another leg higher (no obvious catalyst) which ramped the S&P (along with Small Caps and The Dow) in the green for 2021… The rest of the day was a battle to maintain that green close in 2021 – which they lost as all majors ended the day in the red still for 2021…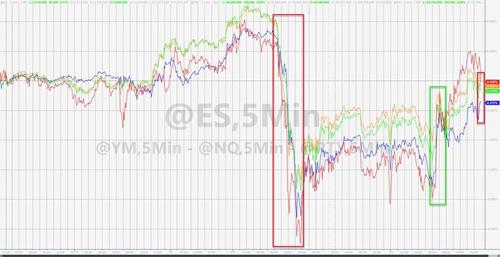 There appears to be no differential in the markets for now (value and growth both rising and falling together). Still feels like year-start inflow rebalancing…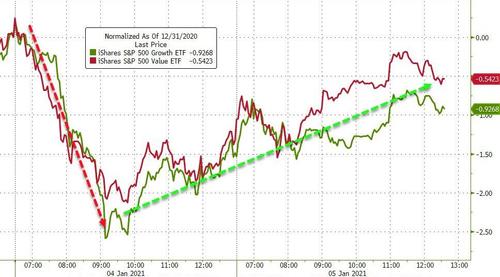 Source: Bloomberg
Energy stocks surged (as oil gained) with Staples and Utes the laggards…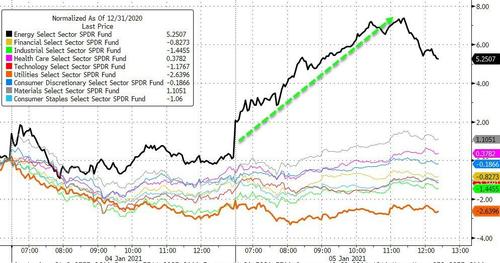 Source: Bloomberg
Taper chatter from Fed's Bostick helped spark the move higher in bond yields (long-end up around 4-5bps)…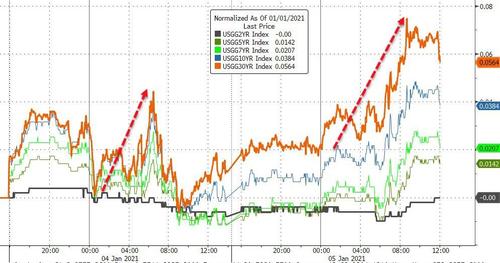 Source: Bloomberg
But, as we noted previously, 10Y remains in a very tight range…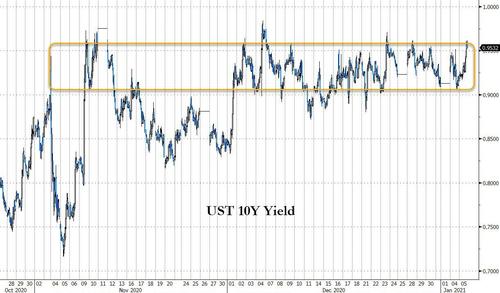 Source: Bloomberg
The curve steepened with 5s30s at four year highs…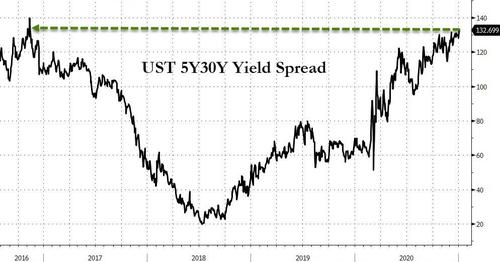 Source: Bloomberg
The dollar continued its inexorable slide…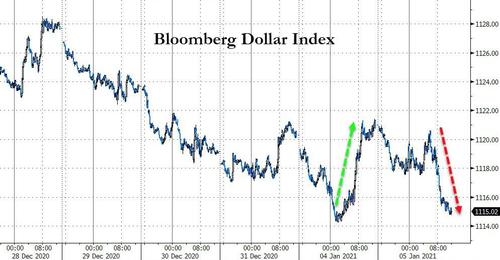 Source: Bloomberg
Closing at its lowest since Feb 2018 (within a tick or two of breaking that critical support)…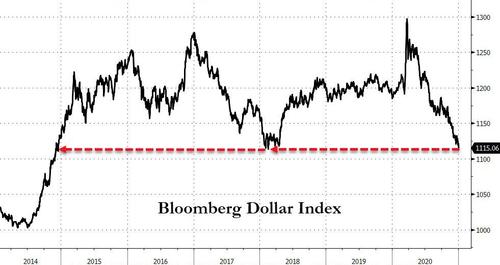 Source: Bloomberg
Yuan made the big headlines as it entered the Danger Zone of Devaluation…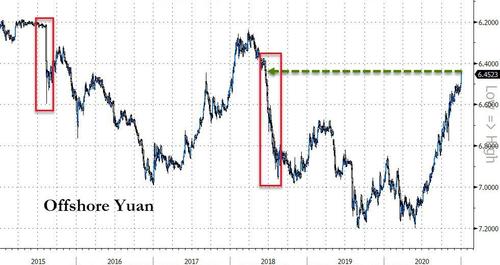 Source: Bloomberg
And overnight saw a sudden spike bashed lower as Bloomberg reported that a few big Chinese state banks actively offloaded the currency against the greenback after the yuan hit 6.43, according to five traders who asked not to be identified as they were not authorized to comment on the market. While the lenders could be taking profits on long-yuan positions, they could also be acting on behalf of the authorities to rein in the appreciation.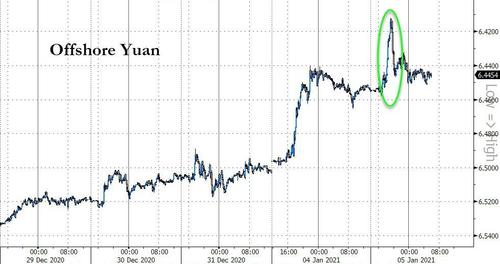 Source: Bloomberg
Gold futures pushed up above $1950, almost erasing all of the post-vaccine losses…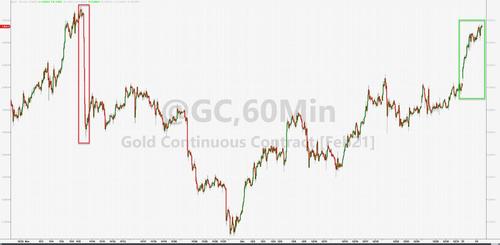 Meanwhile Silver futs are well above pre-vaccine highs…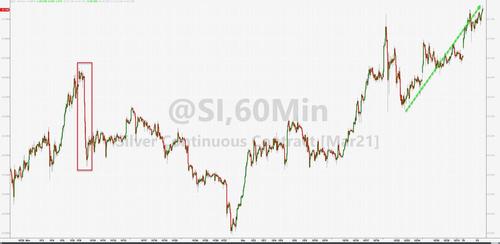 And so the Gold/Silver ratio limped lower…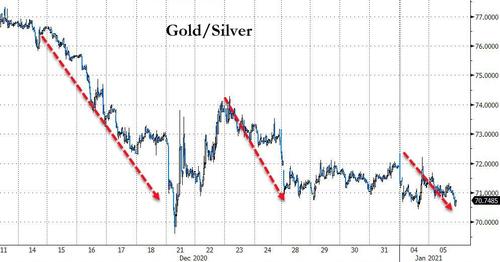 Source: Bloomberg
Copper surged to 7 year highs…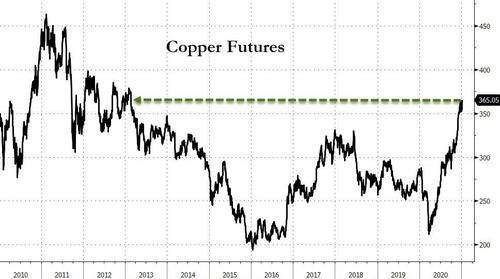 Source: Bloomberg
Also of note amid the China devaluation chatter is that the Yuan (relative to gold) has weakened to pre-June plunge levels…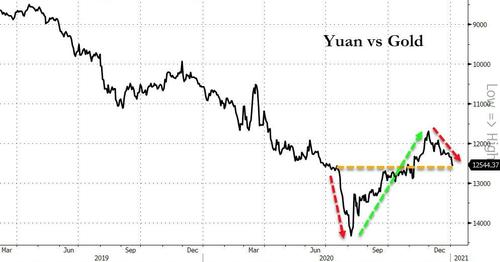 Source: Bloomberg
Finally, is the "flu" season almost over?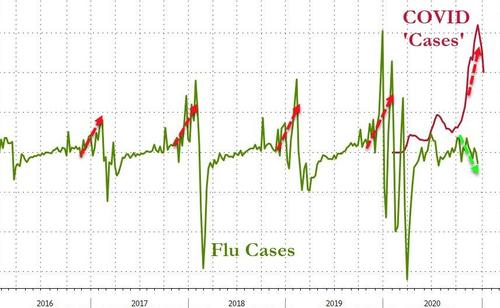 Source: Bloomberg
What are Gold and Bitcoin saying about the future of the dollar against fiat…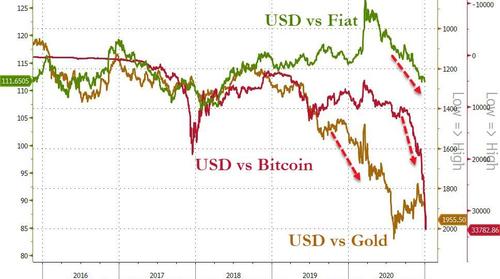 Source: Bloomberg
Tyler Durden
Tue, 01/05/2021 – 16:01