Blinken Urges Collective Action Against 'Aggressive' China In First Address To NATO 
Blinken Urges Collective Action Against 'Aggressive' China In First Address To NATO 
Secretary of State Antony Blinken went after China and other "autocratic states" during his first official European engagement Wednesday, addressing a meeting of NATO officials in Brussels. While urging a "collective" response to the China threat, he at the same time told his audience at NATO headquarters that the US doesn't plan to force allies into an "us-or-them" choice when it comes to confronting Beijing (akin to the US longstanding policy on Iran sanctions in which countries are punished for dealing with Tehran).
"The United States won't force our allies into an 'us-or-them' choice with China," he said, and emphasized "there's no question that China's coercive behavior threatens our collective security and prosperity." He added: "But that doesn't mean countries can't work with China where possible. The United States will. We can't afford not to – especially on challenges like climate change and health security."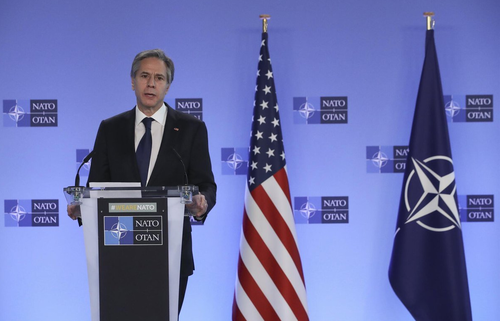 He had earlier told officials in some introductory remarks upon arriving in Brussels, "Whether it is tackling some of the new challenges like climate or the cyber realm, the rise of autocratic states and the challenges that they pose, we have a profound interest in doing it together, doing it collectively, relying on collective security, and that's what Nato is all about," Blinken said. He urged that NATO should be "focused on some of the challenges that China poses to the rules-based international order."
"We will rely on innovation, not ultimatums," he said while calling on the West to outcompete with China, as opposed to military confrontation.
In the "us-or-them" part of his speech, and the question of whether allies will be coerced in going along with Washington's position, he further sought to assure: "We know that our allies have complex relationships with China that won't always align perfectly with ours. But we need to navigate these challenges together."
And according to Bloomberg on the question of greater shared defense spending which was so much a theme of the prior Trump administration, Blinken is "is offering some wiggle room to allies that haven't boosted defense spending as much as the US wants."
Blinken and NATO pledge fealty while Russian and Chinese ministers team up | Just The News https://t.co/LFa8mFk526

— John Solomon (@jsolomonReports) March 24, 2021
Earlier in the day prior to Blinken's keynote address, NATO Secretary General Jens Stoltenberg told reporters that the Atlantic military alliance must adapt to the growing "threat" from China, warning that its rise has "dire consequences" for the security of its members. "China is a country that doesn't share our values," he emphasized. "They actually try and undermine the international rules-based order."
To some degree Western allies including the US, UK, European Union, and Canada on Monday demonstrated precisely the kind of "collective" security action that Blinken is calling for in confronting Beijing, given the coordinated rollout of sanctions on select top Chinese officials for human rights abuses in Xinjiang against the Muslim Uighur minority. Beijing has promised to retaliate, which has already included counter-sanctions against an expansive list of EU entities and individuals. 
Likely similar sanctions are imminent against Britain, Canada, and the United States as well, according to prior threats out of China's Foreign Ministry.
Tyler Durden
Wed, 03/24/2021 – 13:00