BofA: The Uber-Dovish Fed Backfired And Vigilantes Are Now Bullying Powell Into YCC – Three Ways To Trade This
BofA: The Uber-Dovish Fed Backfired And Vigilantes Are Now Bullying Powell Into YCC – Three Ways To Trade This
Anyone expecting a major bank to discuss a deflationary scenario will have to wait for at least a year; they certainly won't get it here.
In his latest Flow Show report, BofA CIO Michael Hartnett first looks at the biggest driver behind the ongoing reflationary wave, and writes that globally delivered covid vaccines (400 million) are already far outpacing covid cases (122 million)…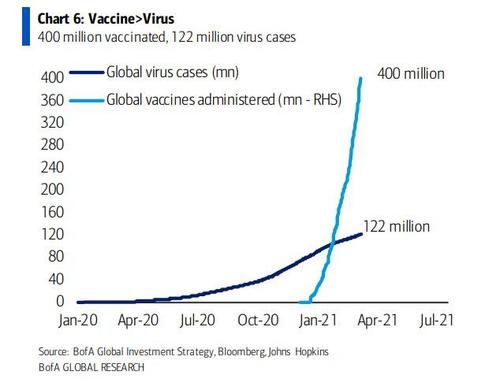 … which is why clients are even talking about a vaccine "glut" by the autumn offsetting the spring shortage in Europe and Emerging Markets, and the resulting disorderly bond yield rise is negative for Q2 economic growth.
Then there is the elephant in the room: the unprecedented fiscal excess unleashed by most DM countries and the US in particular. Having earlier touched on the Fed's "Catch 21", namely the soaring US budget & current account deficits, which will surpass $4TN in '21, and $2TN in '22 (with forecasts excluding a potential $1.5-2tn in additional infrastructure spend)…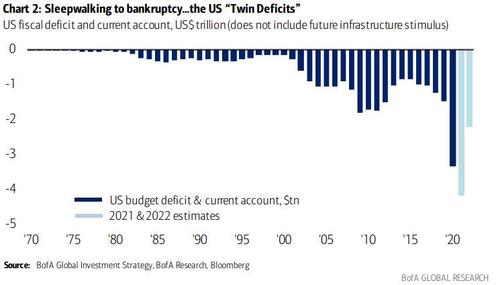 … Hartnett notes that issuance YTD is Treasuries $861bn, IG/HY bonds $514bn, stocks $178bn (incl SPACs), all on pace for record highs, so bond & equity supply is annualizing a record $7.6TN. Also note that US Treasury issuance ($4.45tn) this year will easily exceed the GDP of Germany, so it's "little wonder 30-year UST off to 2nd worst start in past 100 years."
The combination of the "end of covid" as noted in the latest BofA Fund Manager Survey, now that runaway inflation and taper tantrums are both bigger risks than the vaccine rollout…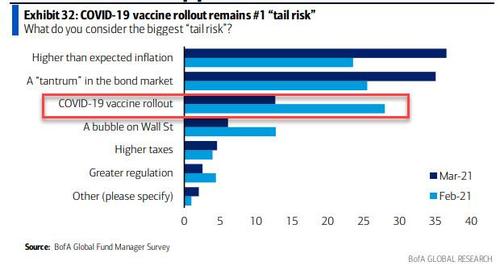 … with the relentless flood of fiscal stimulus leads Hartnett to make the stunning conclusion that "we are in midst of strongest macro data of our lives" as the boom phase currently is set to dominate the upcoming bust for a long time:
Philly Fed survey manufacturing highest since Mar'73; Philly & NY price surveys show inflation pressures early March; US small businesses reporting 'jobs hard to fill' highest in 50 years; US house prices +19%, China exports up +60% Y/Y; Baltic shipping rates +95% YTD;
And yet despite this record economic overheating, one where inflation is already out of control as  supply chains are broken and shortages of most goods are prevalent…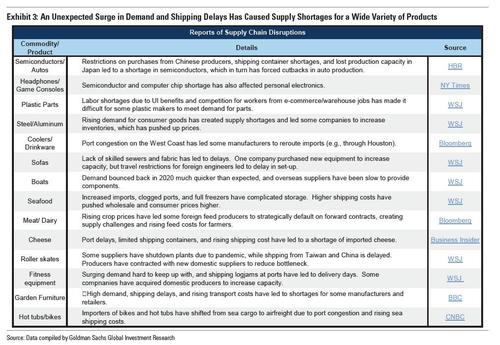 … the Fed is convinced that this inferno of soaring prices will be transitory, and has remained uber-dovish, promising on Wednesday not to hike rates though 2023. However, according to Hartnett, this "uber-dovish Fed posture has backfired", with the bond vigilantes "moving quickly to bully US central bank into Yield Curve Control" which the BofA CIO says is likely once the yield on the 5Y surpasses 1¼%.
Meanwhile EM's are already tightening to curb runaway inflation (Brazil & Turkey just hiked this week) resulting in 8 global rate hikes YTD (vs 5 cuts); And not just EMs – Norway was the 1st DM central bank to signal hike, and no matter how deep in the sand the Fed, ECB and BOE stick their heads, global financial conditions are starting to tighten – just look at spreads, vol and so on…
Which brings us to three views from Hartnett: a short-term, a medium-term and a longer term:
1) Short-term: Cyclicals have soared in anticipation of boom & "Goldilocks" plays e.g. tech, credit & EM on back foot; immediate risk is disorderly yield jump hurts cyclicals. Indeed, the oil price plunge may have been the first sign of potential regime shift to higher yields – lower growth. Here Hartnett says to watch HYG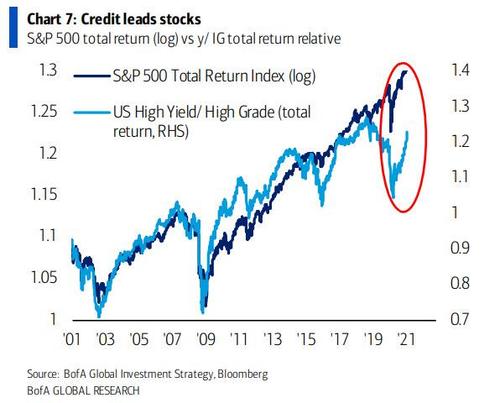 …  BKX utilities & staples are good defensive hedges.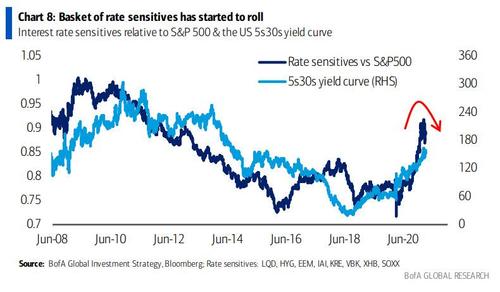 2. Medium-term: Ominously, the BofA CIO predicts low/volatile asset returns in '21 driven by 3P's of peak Positioning, Profits, Policy in H1, and 3R's of rising Rates, Regulation, Redistribution in H2. His advice how to trade the medium-term: own volatility.
3. Longer-term: 2020 marked the secular low point for inflation and interest rates; 40-year bull market in bonds is officially over…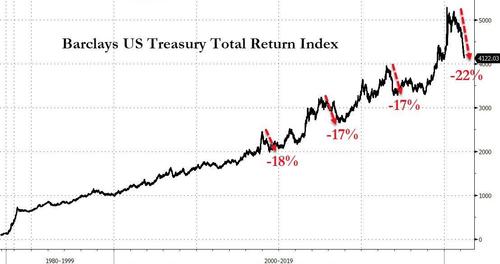 … with the following long-term asset allocation implications: bullish real assets, commodities, volatility, small cap, value & EAFE/EM stocks, bearish bonds, US dollar, large cap growth.
To Hartnett's reco we would just throw in bitcoin. Why? Because in the "longer-term" central banks will launch digital currencies to reflate at any cost even if it means the loss of the reserve currency to terminally debase fiat, and force billions into the parallel monetary system that is crypto. Incidentally, it was Hartnett who earlier today explained why bitcoin is 2021's safe haven (read "The Fed's "Catch 21": BofA Explains Why Bitcoin Is 2021's Safe Haven"). And yes, those who were long bitcoin heading into this year. are blowing out all other asset classes as Hartnett himself shows with his latest "Scores of the Doors: bitcoin 99.9%, oil 23.3%, global stocks 4.0%, US$ 2.1%, cash 0.0%, HY bonds -0.2%, IG bonds -4.8%, government bonds -5.2%, gold -8.9% YTD."
Tyler Durden
Fri, 03/19/2021 – 20:00