"Boycott Georgia" – Furious Dems React As Gov. Kemp Signs "Election Integrity" Bill
"Boycott Georgia" – Furious Dems React As Gov. Kemp Signs "Election Integrity" Bill
Democrats are furious after Georgia Gov. Brian Kemp last night signed an election bill that requires strengthening voting rules in the Peach State by limiting the number of ballot drop boxes, establishing photo ID requirements for absentee voters, and prohibiting distribution of food and drinks to voters waiting in line.
Just an hour before the signing, the GOP-controlled Georgia General Assembly passed the bill on a party-line vote as Democrats, including elected representatives from around the state, gathered to protest. The backlash was intense, and during the scuffle, at least one lawmaker was arrested, with video of her being led away by police going viral.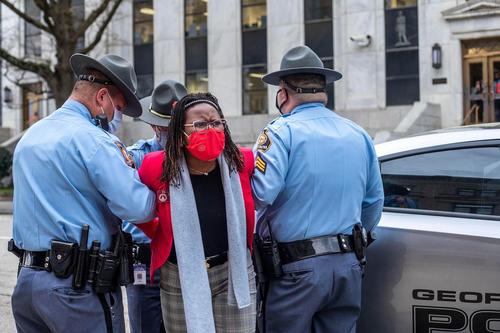 The bill is just one of dozens being considered in state capitols around the country in the wake of last year's presidential election, where signs of irregularities in states like PA, MI and even GA were repeatedly ignored by Democrats. Recently, the Washington Post recanted a story where it claimed that President Trump had personally pressured Georgia election officials, drawing a heated response from Trump himself.
According to a summary from the Hill, the bill includes sweeping changes to the state's voting rules and procedures.
It would require voters to provide a driver's license or state-issued ID card number to request and submit absentee ballots, and it would curtail the use of ballot drop boxes, limiting their placement to early-voting locations and making them accessible only while the precinct is open.

The legislation also gives the Georgia State Elections Board the ability to effectively take over county elections boards in areas that it determines are in need of oversight. The secretary of state would also be removed as chair of the State Elections Board, a proposal that critics say would strip the state's top elections official of a key power.

The bill also takes aim at the state's absentee-ballot request period, setting the deadline for voters to request absentee ballots at 11 days before an election. It also calls for prohibiting people from giving food or drinks to voters waiting in line to cast their ballots.
Democrats slammed the bill, and others like it that are circulating in other states, as retaliation to the GOP's recent string of losses in critical Senate races (along with the presidential race, as we noted above). Twin victories for Democrats in GA special elections on Jan. 5 helped stoke support for the law, as Democrats relied on aggressive get-out-the-vote campaigns, absentee voting and millions in out-of-state dollars to clinch narrow victories for Raphael Warnock and Jon Ossoff.
Stacey Abrams, former gubernatorial candidate who has burnished her reputation as a national "voting rights" advocater, predicted a swift passage for the bill, accusing Republican lawmakers of trying to limit public review and awareness of the proposals.
From passage of the #SB202 voter suppression bill targeted at Black and brown voters to the arrest of a Black legislator who was advocating for the voting rights of her constituents, today was a reminder of Georgia's dark past. We must fight for the future of our democracy #gapol pic.twitter.com/IZWZGAX9RT

— Stacey Abrams (@staceyabrams) March 26, 2021
During the chaotic protests held at the capitol Thursday evening as lawmakers in the assembly passed the bill, Georgia State Representative Park Cannon was arrested during a protest at the state capitol last night.
"I am a legislator": Georgia State Representative Park Cannon identified herself as a lawmaker as she was arrested Thursday night after protesting a voting bill that voting rights groups believe will make it harder for communities of color to cast their ballots. pic.twitter.com/lTVRnGV3vt

— CBS News (@CBSNews) March 26, 2021
Per the Hill, Cannon was cuffed Thursday after she repeatedly knocked on Gov. Kemp's office door while he signed the bill.
After the arrest, Sen. Warnock visited Cannon in her holding cell at the Fulton County jail, and told reporters during an impromptu briefing out front that her arrest shouldn't have happened. "She did not deserve this," he said, adding that she was "shaken" by what happened.
Calls to boycott the state of Georgia – a playbook used by progressives a few years back after North Carolina passed a "transphobic" bathroom bill – have already started circulating on twitter.
It is time for businesses and sports teams to boycott Georgia. This is racist voter suppression.

— Norman Ornstein (@NormOrnstein) March 26, 2021
We imagine these calls will be amplified Friday morning by a legion of social media influencers urging their followers to join the boycott.
Tyler Durden
Fri, 03/26/2021 – 07:00