Breakthrough US-Iran Nuclear Talks Will Finally Be Held Tuesday In Vienna
Breakthrough US-Iran Nuclear Talks Will Finally Be Held Tuesday In Vienna
The long-awaited and until now seemingly elusive sit-down between Biden administration and Iranian officials looks to finally happen, as it's being widely reported Friday that a meeting is set for next Tuesday in Vienna along with all major signatories to the JCPOA.
"Representatives of Iran and world powers will meet next Tuesday in Vienna to discuss the troubled 2015 nuclear deal, Iranian and European officials said after holding virtual talks on Friday aimed at reviving the accord," Reuters reports. "Iran, China, Russia, France, Germany and Britain – all parties to the 2015 deal – discussed on Friday the possible return of the United States to the agreement and how to ensure its full and effective implementation by all sides."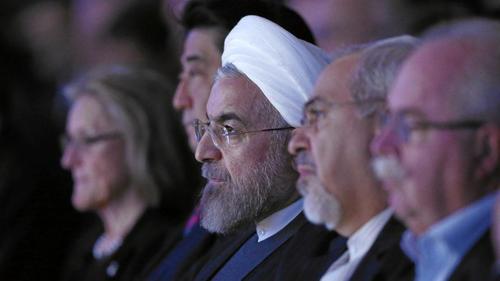 The Iranian side called this week's negotiations "frank and serious" talks after just within the past days repeatedly slamming the White House's apparent lack of "serious effort" to restore the terms of the 2015  JCPOA.
As The Wall Street Journal has reviewed of the past 2-months of failed attempts to achieve restoration of the nuclear deal, Tehran has demanded full US compliance to what it agreed to in 2015 before, which means dropping the Trump-era sanctions, which so far the Biden team has balked at. The US side has reportedly offered various means of softening the sanctions, such as the unfreezing of Iranian assets in order to purchase humanitarian goods. 
Iran hasn't budged, and all the while has ramped up its uranium enrichment activity while further threatening to boot IAEA inspectors from the country. Thus it's looking like the US side has progressively crumbled in the face of Tehran's 'counter-pressure' campaign (the response to US 'maximum pressure') as the window for Biden's promised restoration of the nuclear deal was closing fast. 
One anonymous US official told the WSJ, "At this point, it sounds that they are less interested in initial gestures than in defining what a comprehensive return to compliance would look like," and added further: "We have no problem with that as it is consistent with our own initial view."
The official continued: "So far, it has not been entirely clear how Iran intends to proceed as they have shifted the goal posts in terms of their preferences. I think that reflects distrust of us, no doubt, but also disunity within their system."
By no means does the expected Tuesday meeting in Vienna signal any kind of done deal, but indeed merely the start of face-to-face talks that signals finally both sides are ready to get serious in moving forward. Iran, however, has lately said the ball is in Washington's court, given it's the US that broke it's participation in 2018 under Trump, while Iran only stepped up its uranium enrichment activities (in breach of the deal) long after the fact of US exit.
Tyler Durden
Fri, 04/02/2021 – 09:21