California Gov Lifts COVID Stay-At-Home Order; Dr. Fauci Worries Jabs Won't Stop Mutant Strains: Live Updates
California Gov Lifts COVID Stay-At-Home Order; Dr. Fauci Worries Jabs Won't Stop Mutant Strains: Live Updates
Summary:
California Gov is lifting stay at home orders
Dr. Fauci criticizes US COVID approach, worries vaccines wont' stop mutations
US cases, deaths, hospitalizations decline
Biden signs COVID travel bans
BoJo approves border crackdown
South Africa approves AZ vaccine for vaccinations
Moderna developing booster shot to fight South African strain
Macron expected to announce 3rd French lockdown
Oxford plans first trial of new COVID drug
* * *
It's already mid-morning on Monday and it's already turning out to be an interesting week for COVID-19 news. Following a WEF panel earlier this morning where Dr. Fauci heaped blame for any failures in fighting COVID on President Trump, California Gov Gavin Newsom on Monday said he plans to lift some regional stay at home orders.
Newsom is expected on Monday to lift regional coronavirus stay-at-home orders across California, a change that could allow restaurants and gyms in many counties to reopen outdoor dining and any other services.
All counties would return to the colored tier system that assigns local risk levels based on case numbers and rates of positive COVID cases. Most counties will go into the "widespread" risk tier, which permits hair salons to offer limited services indoors but restricts many other nonessential businesses . The change is expected to take effect immediately after Newsom's announcement.
It's not yet clear whether the decision will lead to easing of stay-at-home rules in Los Angeles County, which has become a national hotbed of the coronavirus, with hospitals overwhelmed by patients. In less than one month, more than 5K people have died of COVID-19 in the county alone.
In the US, cases, hospitalizations and new deaths have been falling across the board.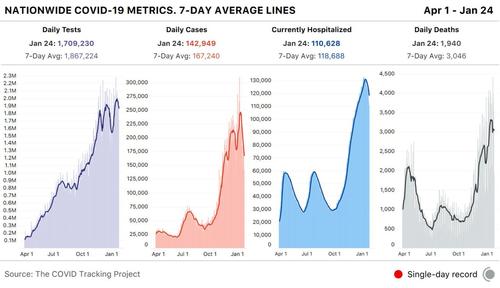 Last week, Dr. Fauci led the US delegation back to the WHO like a conquering hero, announcing that under the Biden Administration, the US would cooperate with the organization's plan to distribute vaccine doses globally, while halting President Trump's attempt to leave the UN-funded NGO.
Well, on Monday, Dr. Fauci joined a panel led by Bloomberg News CEO John Micklethwaite and a handful of other experts at the (virtual) WEF to discuss the global response to the COVID pandemic one year after the virus came bursting out of Wuhan, infecting the rest of the world.
Oddly, the WEF decided to name its panel "the Great Reset", as if the same people weren't still running the global response to the COVID-19 pandemic. But the subtext was clear: With President Trump gone, the world can get back to the fundamentals of battling COVID-19.
really can't make this up pic.twitter.com/3sUCb10Qgx

— zerohedge (@zerohedge) January 25, 2021
In the latest attempt to slander President Trump, the good doctor said during Monday's forum that the US's response to COVID-19 didn't have a "science" focus, which "cost it dearly", Dr. Fauci said, in the latest attempt to insinuate that President Trump – and Trump alone – is responsible for the 400K+ confirmed COVID deaths.
Fauci complained that the Trump administration had "a considerable amount of mixed messaging on what needed to be done from top down." Like when Dr. Fauci first told people not to wear masks, before changing his mind? Or when he opposed travel bans, before changing his mind on that also?
Or, how about more recently, when he flip-flopped for banning travelers from South Africa?
When it comes to the South African strain, Dr. Fauci warned that the decline in vaccine efficacy could pose serious problems in the future.
He then blamed the fact that these public health issues had become "politically charged". When public health issues become politically charged, like wearing a mask or not becomes a political statement, "you can't imagine how destructive it is to any unified health message," Dr. Fauci said.
The Pandemic "shed a very bright light" on America's weaknesses, he added, without going into too much details.
Moving on, Dr. Fauci said he was worried about what might happen if people start to delay the second dose of their COVID vaccines, with Dr. Fauci insisting that the vaccines won't achieve full efficacy without both doses.
Readers can watch the entire panel below:
Looking ahead, Dr. Fauci said the big question looking forward is figuring out whether the vaccines that have been developed in the West will be effective in stopping mutated versions of the vaccine. But the most important thing is that patients receive both doses of the vaccine, since full efficacy won't kick in until the booster dose has been delivered.
Here's some more COVID news for overnight and Monday morning:
US President Biden will sign an order on Monday to ban entry to most non-US citizens who have travelled to UK, Ireland, Brazil and South Africa. It was also reported that the CDC will sign an order requiring mask use on all flights, trains and ride-sharing vehicles, while it will not grant waivers for airlines seeking exemptions from COVID-19 testing requirements for all international flights. (Newswires)
Pfizer (PFE) will ship fewer COVID-19 vaccine vials to account for 'extra' doses in each vial and will account a 6th dose in each vial towards its prior commitment of supplying 200mln doses by end-July after it received FDA approval to change the vaccine's formal authorization language to acknowledge an additional dose for a total 6 doses per vial. (New York Times)
UK PM Johnson is to approve a new border crackdown on Tuesday which could ban entry into the UK for nationals of COVID-19 hotpots, while there are also proposals for those arriving from hotspots including British citizens to be escorted to isolation hotels upon arrival where they will need to quarantine at their own expense.
Oxford University researchers are planning the first, large high-quality trial of ivermectin which is a low-cost drug that claimed to reduce deaths by 80% among patients in hospitals, although other scientists were sceptical of the data which was from a combination of 11 prior trials and said that more results would be required before it could be considered as a treatment. (The Times)
French President Macron may announce a 3rd national lockdown on Wednesday night which could take effect from the end of the week and last at least 3 weeks, amid concerns of a new wave of COVID-19 infections driven by the UK variant. (Journal du Dimanche)
* * *
In other news, while the world frets about the South African COVID variat, the country's health regulators have just approved AstraZeneca's vaccine for use in the country, marking the first vaccine approved in South Africa. Meanwhile, Moderna announced earlier that it's developing a booster shot to battle the South African strain after it found that its vaccine isn't as effective against the strain.
Tyler Durden
Mon, 01/25/2021 – 11:32