Canadian National Sparks Bidding War With $30 Billion Offer For Kansas City Southern
Canadian National Sparks Bidding War With $30 Billion Offer For Kansas City Southern
As worries about fragile global supply chains stoke fears about rising prices and inflationary pressures, Canadian National Railway is planning to make a $30 billion bid for Kansas City Southern, which had already agreed to sell itself to Canadian Pacific. The bid will likely kick off a bidding war amid another wave of consolidation in the freight.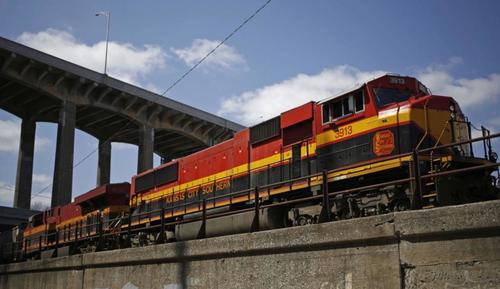 Canadian National plans to offer $325 for each Kansas City Southern share Tuesday, including $200 a share in cash and 1.059 Canadian National shares, the people said. Shares of KSU surged 20% on the news, as the Canadian National offer represents a 20% premium over the previous offer made by Canadian Pacific.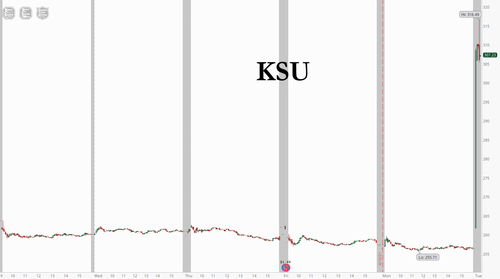 According to WSJ's sources, Canadian National believes a combined firm would generate incremental cash flow—in the form of earnings before interest, taxes, depreciation and amortization—of around $1 billion.
Canadian Pacific, meanwhile, offered shareholders $90 and 0.489 share of Canadian Pacific stock for each share of Kansas City Southern, which would give KC Southern shareholders 25% ownership of Canadian Pacific's outstanding stock.Their formula values KC Southern stock at $275 a share, a 23% premium from Friday's closing price. Under those terms, the Canadian railroad also said it would assume $3.8 billion in outstanding Kansas City Southern debt. The companies said the transaction has an enterprise value of roughly $29 billion.
Kansas City Southern is the smallest of the five major freight railroads in the US, and plays a key role in US-Mexico trade, with a network across both countries. Its trains bring autos and other industrial products up from factories south of the border into Texas and the Midwest and haul American farm goods back to Mexico. It also runs a rail link along the Panama Canal. But a merger with either rival will create a massive firm with operations sprawling across North America.
Either deal would create the first freight-rail network linking the US, Mexico and Canada by connecting ports in all three countries. Consolidation in the rail freight industry raises some interesting questions, as decreased competition will give a combined carrier more power to raise prices. But after the shortages and supply disruptions caused by COVID, and other more prosaic issues – surprisingly frosty winter weather in Texas, a megaship stuck in the Suez Canal – increased scale could give shippers – who play a critical role in American commerce – more flexibility and durability in the face of disruptions.
Tyler Durden
Tue, 04/20/2021 – 07:13