Carnival: "We May Have No Choice" But To Move Cruise Ships Outside US To Resume Operations
Carnival: "We May Have No Choice" But To Move Cruise Ships Outside US To Resume Operations
Following last month's CDC announcement that its new "conditional sailing order" barred cruise ships from departing the US, or sailing through its waters through Nov. 1, Carnival Cruise Line released a press release around 1400 ET Tuesday, saying it may have no other choice but to move its cruise ships outside US homeports to resume operations. 
Christine Duffy, president of Carnival Cruise Line, said: 
 "While we have not made plans to move Carnival Cruise Line ships outside of our US homeports, we may have no choice but to do so in order to resume our operations which have been on 'pause' for over a year. We appreciate the continued patience and support from our loyal guests, travel advisors and business partners as we work on a return-to-service solution."
Duffy continued: 
"We know that this is very disappointing to our guests who continue to be eager to sail, and we remain committed to working with the Administration and the CDC to find a workable solution that best serves the interest of public health. We are asking that the cruise industry be treated on par with the approach being taken with other travel and tourism sectors, as well as US society at large." 
Carnival shares popped and dropped on the news.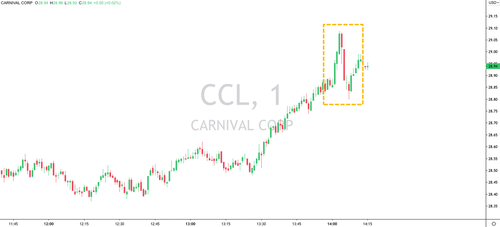 Listen to the Carnival crew singing the "goodbye song." 
So much for the grand reopening of the cruise ship industry this year – at least baby boomers bought RVs where they can now travel across the country. 
Tyler Durden
Tue, 04/06/2021 – 15:44