"Chilling Video" – Miami Ambush Caught On Camera As Multiple Shooters Wound Six 
"Chilling Video" – Miami Ambush Caught On Camera As Multiple Shooters Wound Six 
The COVID-19 pandemic and the resulting downturn in the economy has unleashed a socio-economic bomb across many metro areas. Small and medium-sized companies have shuttered operations, the labor market continues to deteriorate, and violent crime is surging.
All of this has led to a mass exodus of city dwellers from metro areas, escaping inner cities for quiet suburbs, or better yet, rural communities. 
As a reminder of why people are fleeing metro areas in droves, CBS Miami released a security video of an intense shootout near Northwest 25th Avenue and 36th Street.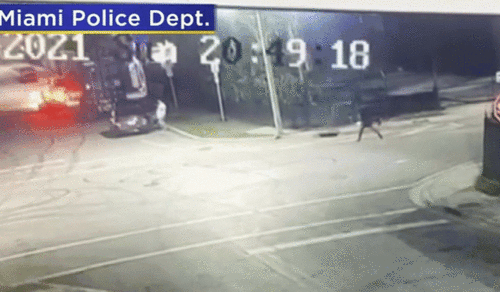 Miami Police said six people were injured in the incident when multiple shooters ambushed them. 
The full video shows three people exiting a gray Dodge Charger approach the Honda, and then begin to unleash a hail of bullets. 
"It's a very chilling video," Miami Police Officer Kenia Fallat.
"When the barrage of bullets took place, they just started running for their lives," said Fallat.
Police tell CBS Miami they have no suspects nor a motive behind the shooting. 
One of the shooters appears to fire a semi-automatic or even an automatic rifle judging by the large muzzle flashes – this type of urban warfare is generally found on the streets of a third world country – not the United States. 
Tyler Durden
Fri, 01/08/2021 – 18:45