China Boasts That Uyghur Women Are No Longer "Baby Making Machines" After It "Eradicated Extremism"
China Boasts That Uyghur Women Are No Longer "Baby Making Machines" After It "Eradicated Extremism"
The Chinese government may be holding over 1 million Turkic Muslim Uyghurs in internment camps – where they're subject to forced labor, arbitrary detention, torture, physical and sexual abuse, and family separation – but according to CCP, by "eradicating extremism, the minds of Uygur women in Xinjiang were emancipated and gender equality and reproductive health were promoted."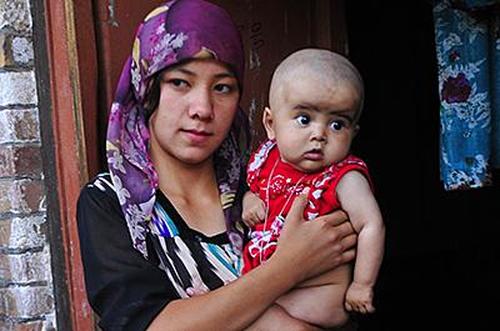 Because of this, they are "no longer baby-making machines," and are "more confident and independent."
Study shows that in the process of eradicating extremism, the minds of Uygur women in Xinjiang were emancipated and gender equality and reproductive health were promoted, making them no longer baby-making machines. They are more confident and independent. https://t.co/lykDhByEiL

— Chinese Embassy in US (@ChineseEmbinUS) January 7, 2021
According to China Daily, these changes were not caused by "forced sterilization" (despite Uighur women testifying that officials in re-education camps forced them to take unknown drugs, drink 'white liquid' that rendered them unconscious, and injected them with a substance that halted menstruation) – instead, they say that a 'significant drop in the natural population growth rate' is due to the promotion of reproductive health and family planning policies.
In 2017, Xinjiang revised its Regulations on Population and Family Planning, stipulating that all ethnic groups should implement a unified family planning policy allowing couples in urban areas to have two children, and those in rural areas three.

The research center's report said safe, effective and appropriate contraceptive measures are now available to couples of childbearing age in Xinjiang, and their personal decisions on whether to use those measures — which include tubal ligation and the insertion of intrauterine devices — are fully respected. -China Daily
An investigation by the Associated Press suggests otherwise.
While individual women have spoken out before about forced birth control, the practice is far more widespread and systematic than previously known, according to an AP investigation based on government statistics, state documents and interviews with 30 ex-detainees, family members and a former detention camp instructor. The campaign over the past four years in the far west region of Xinjiang is leading to what some experts are calling a form of "demographic genocide."

The state regularly subjects minority women to pregnancy checks, and forces intrauterine devices, sterilization and even abortion on hundreds of thousands, the interviews and data show. Even while the use of IUDs and sterilization has fallen nationwide, it is rising sharply in Xinjiang.

The population control measures are backed by mass detention both as a threat and as a punishment for failure to comply. Having too many children is a major reason people are sent to detention camps, the AP found, with the parents of three or more ripped away from their families unless they can pay huge fines. Police raid homes, terrifying parents as they search for hidden children. -AP
Meanwhile, Twitter users aren't buying China's propaganda:
Hi 🙋🏽‍♀️ @jack this is blatant fake news & violent propaganda against millions of #Uyghur women & children.

Block this site- just as you banned Trump.
Block it-stop the abuse. @ipacglobal https://t.co/iosGYGOhoU

— Nus Ghani MP (@Nus_Ghani) January 7, 2021
"hey, hey, btw, we also jail and disappear Uyghur men but on the flip side, they don't have to worry about what to cook for dinner anymore"

— Bakhti Nishanov (@b_nishanov) January 7, 2021
That tweet just cost you 15 social credits, citizen!

— Allan (@AllanRicharz) January 7, 2021
Wow… i mean on a scale of 1 to 10 in terms of propaganda, this is about a WTF rating.
Claiming forced sterilization in a positive light like this is some next level nonsense.

— Floplag (@floplag) January 7, 2021
Tyler Durden
Thu, 01/07/2021 – 18:20