China Finds 63 COVID Cases, Orders First Lockdown In Hebei Since June; EU Approves Moderna Vaccine: Live Updates
China Finds 63 COVID Cases, Orders First Lockdown In Hebei Since June; EU Approves Moderna Vaccine: Live Updates
Summary:
Hebei on lockdown
EU regulator approves Moderna vaccine
China sees biggest outbreak since June
63 new cases found in Hebei
Tokyo reports new record
Japan state of emergency coming
Serbia starts giving "Sputnik V"
Iran records 82 deaths
Israel tightens lockdown
* * *
Just as the American press (including, notably, the NYT) was praising China's heavy handed response to the original outbreak of SARS-CoV-2, public health officials in Hebei, a province in northern China near Beijing, have imposed the first lockdown there since the summer after 60+ new cases were confirmed in a single day.
Authorities in the northern province of Hebei confirmed 63 new local infections on Tuesday, the highest daily tally in months. It prompted China's CDC to raise the alarm warning about a new outbreak. Among the confirmed cases, 19 were reported in the provincial capital of Shijiazhuang and one was found in the city of Xingtai, both about 300 kilomryrtd (or 186 miles) southwest of Beijing.
Of those cases, Hebei confirmed that 20 were locally transmitted while 43 were asymptomatic. The province hasn't recorded any locally transmitted infections since June.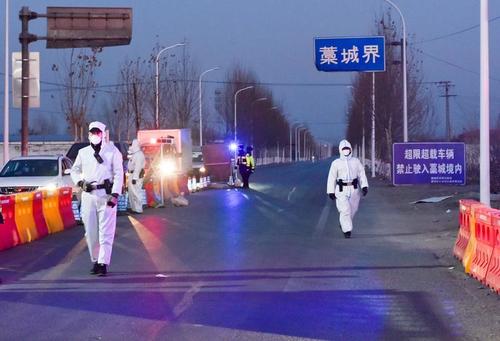 The latest flareup in China arrives as Americans are preoccupied with the Georgia Senate runoff, and myriad other human rights-related issues in China, like the systemic abuse of Uyghurs from China's far-flung Xinjiang Province. Typically, Chinese media insinuates that flareups like this are caused by contaminated packaging on imported foods, like meat and seafood (outbreaks at meatpacking plants have been disastrously common not just in the US, but in Europe, Asia and South America as well).
According to a report in a local paper, Ma Xiaowei, the director of the National Health Commission, was sent by Vice-Premier Sun Chunlan to Hebei to direct the province's "warlike" operations to suppress the virus. Media reports claime the province was facing lockdown conditions.
"Right now, Hebei faces a serious situation to get the pandemic under control and our responsibilities are heavy," Ma was quoted as saying while presiding over a meeting with Hebei government officials on Tuesday.
Passenger train service to Shijiazhuang, the largest city in the province, has already been suspended, and Ma stressed the need to step up control over population movement to ensure people from high-risk zones in Shijiazhuang didn't leave and mix with those from low-risk zones. Hebei Communist Party secretary Wang Dongfeng said on Tuesday the province had locked down key villages and neighbourhoods to "effectively prevent the spread of the pandemic" and safeguard neighbouring Beijing.
The first identified case of the outbreak was a 61-year-old woman in Xiaoguozhuan who was confirmed infected on January 2. It is not known how she contracted the virus.
Elsewhere in Asia, Tokyo reported just under 1.6K new cases, a new record, as authorities prepare to declare a state of emergency that would include not just Tokyo, but neighboring Chiba, Kanagawa and Saitama prefectures.
Starting on Friday, the Tokyo Metropolitan Government will ask restaurants and bars to close by 2000 local time, shortening business by two hours compared to the current request.
Back in the US, as a backlog of COVID cases confirmed over the holidays starts to unwind, new cases are moving back above 200K/day.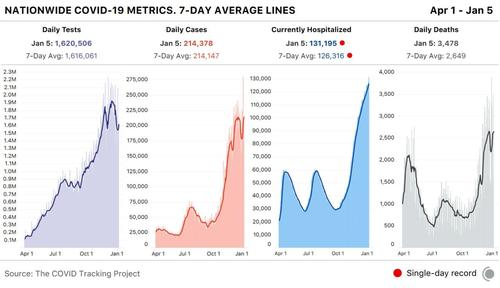 Thanks in large part to California, the American west is currently the hardest hit region as far.
Here's a breakdown of the other big COVID news from overnight and Wednesday morning:
Finally, in Europe, Germany saw its daily confirmed deaths top 1K for only the second time, and the EU's drug regulator, the European Medicines Agency, has just approved Moderna's COVID vaccine for emergency use.
Tyler Durden
Wed, 01/06/2021 – 07:30