China Locks Down City As 200 Cases Confirmed; Japan Orders COVID State Of Emergency: Live Updates
China Locks Down City As 200 Cases Confirmed; Japan Orders COVID State Of Emergency: Live Updates
Summary:
US reports record COVID deaths
US tops 21MM
China locks down city
Japan imposes state of emergency
WHO urges more European countries to lock down population
India reports 20.4K new cases
South Korea reports 870
Kansas Rep. tests positive
Southeast Asia outbreak worsens
London weeks away from running out of ICU beds
* * *
China's worst outbreak since June has prompted the CCP to further tighten restrictions in Hebei, with the entirety of the city of Shijiazhuang (the provincial capital, only a 3.5 hour car ride from Beijing) now on lockdown as authorities carry out another mass coronavirus testing campaign. All vehicles, and people, are barred from leaving and entering the city.
Health-care workers have confirmed nearly 200 new cases in the city over the past few days, prompting the lockdown, which is interrupting local officials' ability to enforce a the veneer of normalcy in Chinese life.
Health authorities in Tokyo confirmed 2.4K+ new cases yesterday as PM Yoshihide Suga finally declared a COVID state of emergency, asking bars and restaurants in Tokyo and three other Tokyo-adjacent prefectures to close early, and residents to stay home at night while workers telecommute. The state of emergency is expected to last for a month.
As a new COVID outbreak flares in China, Australia's Foreign Minister Marise Payne spoke out Thursday to ask Beijing to cooperate with an independent WHO investigation into the origins of the coronavirus pandemic. Beijing has refused to allow investigators into the Wuhan Institute of Virology and generally stymied the organization's search.
As the number of confirmed cases worldwide nears 88MM, the tally in the US has topped 21MM. The US reported a record number of new deaths in a single day, with more than 3.7K.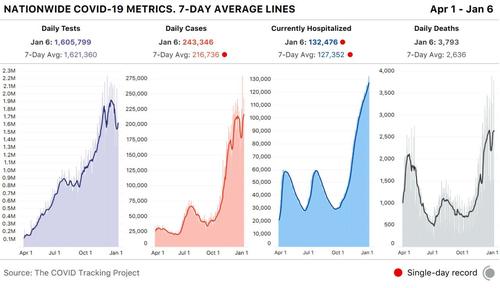 Hospitalizations are worsening across the country…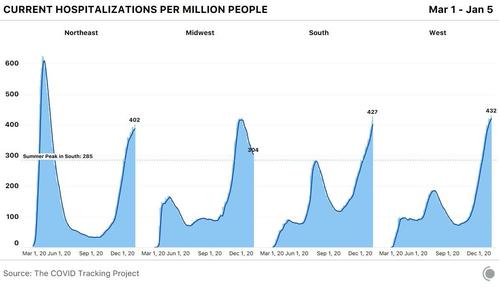 …but particularly in the South.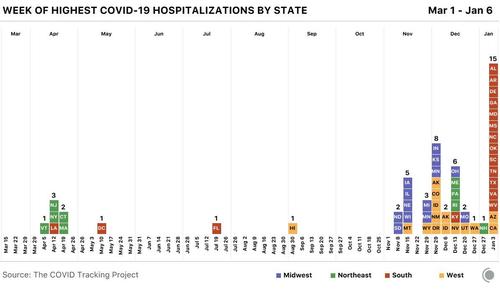 As Germany extends its lockdown measures and other European nations plot their own lockdown expansions, the WHO has officially urged the Continent's leaders to do more. More than 308,000 people in England received a vaccination from the country's health service in the week ended Jan. 3, which was more than the prior week, another sign that the UK and Germany are leading the push to vaccinate their populations in Europe. France continues to lag, as authorities contend with considerable levels of vaccine skepticism. ,
Here are some other COVID-linked stories from overnight and Thursday morning:
India reports 20,346 cases in the last 24 hours, up from 18,088 the previous day and breaking a five-day streak of fewer than 20,000 cases, bringing the country's total COVID-19 infections to nearly 10.4 million. Deaths climbed by 222 to 150,336 (Source: Nikkei).
South Korea reports 870 new cases, up from 838 a day ago. Total infections have reached 66,686 with 1,046 deaths (Source: Nikkei).
Rep. Jake LaTurner, a newly elected Republican Congressman from Kansas, has released a statement saying he got the result after he was in the Capitol building in Washington DC on Wednesday (Source: NY Post).
Ireland is now treating 1,022 Covid-10 hospitalized patients, authorities said, the highest figure since the pandemic began. Some 88 patients are in intensive care. About 94% of intensive care beds were occupied on Wednesday night, though hospitals still have so-called surge capacity in reserve (Source: Bloomberg).
Rates of infection are rising in Southeast Asia, with Malaysia recording 3,027 positive cases, setting a record for a second straight day. Indonesia also saw its biggest daily rise in cases (Source: Bloomberg).
Finally, in the latest round of warnings about overflowing hospitals, authorities in the UK claimed Thursday that London hospitals could run out of ICU beds for patients within two weeks as the number of COVID-19 cases soars, news service HSJ reported, citing a presentation by NHS England.
Tyler Durden
Thu, 01/07/2021 – 08:10