China Reports 1st COVID Death In Months As WHO Team Arrives In Wuhan
China Reports 1st COVID Death In Months As WHO Team Arrives In Wuhan
Just as a team of WHO scientists arrives to visit Wuhan and try to get to the bottom of how the global coronavirus pandemic started, officials in Beijing are ordering the most sweeping set of lockdowns since last spring, with 23MM people in three cities across Hebei province, which encircles the Beijing capital district.
The provincial capital Shijiazhuang as well as the cities of Xingtai and Langfang were all locked down. Amid the dozens of new cases, authorities reported a single death – the first in China in eight months. Meanwhile, China reported the most cases in 5 months on Wednesday. The resurgence is certainly poorly timed.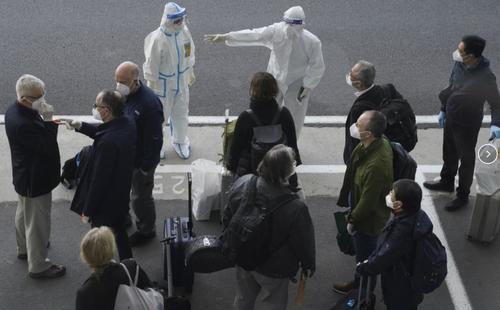 China has seen scattered outbreaks before, but it blamed many of those on packaging from imported meats and seafood. As of Tuesday, Hebei reported 326 confirmed cases plus 234 asymptomatic cases in the latest round of the outbreak. Most of the cases were found in a mass testing of 11 million people in Shijiazhuang. The city launched a second citywide round of testing.
Clearly worried about what international authorities would turn up, Chinese officials have used a variety of tactics to slow the international probe. After resisting demands from other countries that it allow independent investigators on to its soil to study the origin of the pathogen, China finally let two WHO experts visit in Juy but they weren't even allowed to visit Wuhan.
Now, after months of political wrangling, a full team will visit Wuhan today. Scientists believe the virus that has killed more than 1.9 million people since late 2019 jumped to humans from bats or other animals, most likely in China's southwest. The ruling Communist Party, stung by complaints it allowed the disease to spread, says the virus came from abroad.
The NYT said that China delayed approving a visit by a full team of experts for months, frustrating the health agency's leaders. When the visit seemed to be finalized earlier this month, it fell apart at the last minute when Beijing failed to provide visas for the visitors.
At this point, the "investigation" is going to be so tightly overseen by Beijing, the likelihood of discovering any bombshells is doubtful.
Tyler Durden
Thu, 01/14/2021 – 06:44