China Slaps Retaliatory Sanctions On UK MPs Over Xinjiang "Lies"
China Slaps Retaliatory Sanctions On UK MPs Over Xinjiang "Lies"
Entirely as expected and just on the heels of its retaliatory punitive measures slapped on the European Union this week, China's Foreign Ministry has announced new sanctions against the United Kingdom for its joining multiple countries led by the United States in imposing human rights related sanctions on Beijing officials, particularly related to abuse and persecution of Xinjiang's Muslim Uighur population. This resulted in the UK promptly summoning China's Charge d'Affaires in the hours after the announcement. 
The countermeasures target nine UK individuals and four entities, notably Britain's chairman of the foreign affairs committee Tom Tugendhat alongside other "anti-China" MPs and scholars. They were identified as having "spread lies and rumors about China's Xinjiang region," according to state media.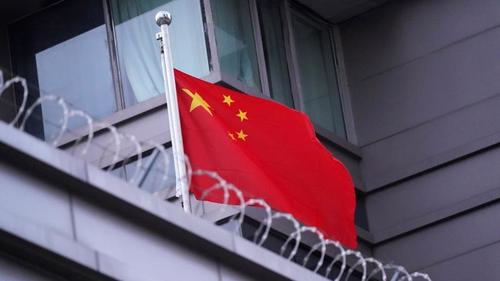 "As of today, the individuals concerned and their immediate family members are prohibited from entering the mainland, Hong Kong and Macao of China. Their property in China will be frozen, and Chinese citizens and institutions will be prohibited from doing business with them. China reserves the right to take further measures," the foreign ministry stated on Friday (local time).
The sanctioned individuals were identified as follows:
Beijing sanctioned nine persons, among them Tom Tugendhat, Iain Duncan Smith, Neil O'Brien, David Alton, Tim Loughton, Nusrat Ghani, Helena Kennedy, Geoffrey Nice and Joanne Nicola Smith Finley. The four entities that were subjected to Beijing sanctions are the China Research Group, the Conservative Party Human Rights Commission, the Uyghur Tribunal and the Essex Court Chambers.
State-run Global Times slammed the behavior of the above-named as constituting "serious interference in China's internal affairs and sovereignty" which has ultimately been "detrimental" to diplomacy.
The UK government had earlier described the necessity of its coordinated sanctions actions done with the EU, US, and Canada in a statement: "Acting together sends the clearest possible signal that the international community is united in its condemnation of China's human rights violations in Xinjiang and the need for Beijing to end its discriminatory and oppressive practices in the region."
China has announced its first ever sanctions against UK individuals, including 5 parliamentarians, for spreading 'lies and disinformation' #Uighurs https://t.co/7l5YXhO8xU

— WikiLeaks (@wikileaks) March 26, 2021
China's immediate response was to earlier call the Xinjiang allegations, which center on China's network of 'reeducation' camps and labor prisons, a mere "a pretext for interfering in China's internal affairs and frustrate China's development."
"People of all ethnic groups in Xinjiang, including the Uyghurs, enjoy each and every constitutional and lawful right. The fact that Xinjiang residents of various ethnic groups enjoy stability, security, development and progress, makes it one of the most successful human rights stories," Chinese Foreign Ministry spokeswoman Hua Chunying had claimed in an official statement.
China's Global Times is now indicating that Canada is next on China's retaliation target list, after multiple members of Canadian parliament have been extremely vocal in calling for greater punishment against Beijing, including the Boycotting of the 2022 Beijing Olympics. 
Tyler Durden
Fri, 03/26/2021 – 13:10