Chinese Consumers' Dining-Out-Doubts Remain Despite 'Crushing' The Virus
Chinese Consumers' Dining-Out-Doubts Remain Despite 'Crushing' The Virus
Tyler Durden
Mon, 12/14/2020 – 21:13
Having miraculously 'crushed' the virus and sparked a record-breaking rebound in PMIs, tonight's China data dump will confirm if renewed lockdowns elsewhere around the world have upset the massive-credit-impulse-driven recovery in China's economy.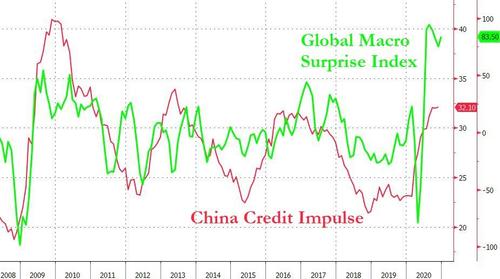 Source: Bloomberg
Despite a soaring yuan and rising defaults, analysts expected the v-shaped recovery to continue across all tonight's data…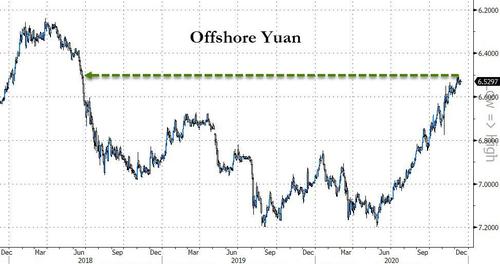 Source: Bloomberg
So, tonight we get everything but the big kahuna – GDP… However, most eyes will be on retail sales as while the consumer recovery is gaining momentum, it has been slower than expected given the virus was tamed months ago. As a reminder, sales fell short of expectations in October, but should have received a boost in November from the Singles Day bonanza on Nov. 11
China Industrial Production YTD YoY ROSE to +2.3% vs +2.3% exp vs +1.8% prior

China Retail Sales YTD YoY ROSE & BEAT -4.8% vs -4.9% exp vs -5.9% prior

China Fixed Assets Investment YTD YoY ROSE +2.6% vs +2.6% exp vs +1.8% prior

China Property Investment YTD YoY ROSE & BEAT +6.8% vs +6.7% exp vs +6.3% prior

China Surveyed Jobless Rate IMPROVED to 5.2% vs 5.2% exp vs 5.3% prior
Visualized, the "V" continues…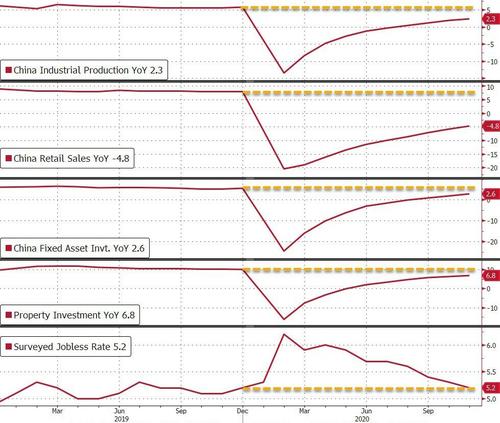 Source: Bloomberg
Bloomberg's Ailing Tan notes that China's rebound is largely being supported by a seasonal surge in exports ahead of year-end holidays, combined with a pick-up in domestic consumption and investment. The trade surplus widened to a monthly record in November, while exports jumped by the most since February 2018. China's retail sales rose 5.0% YoY – still below pre-COVID levels…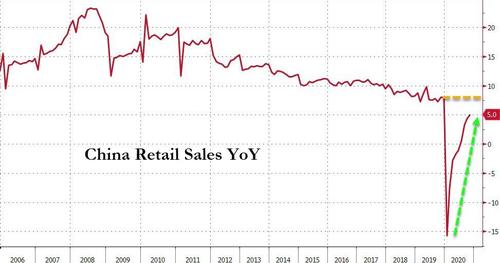 Source: Bloomberg
But, looking through the detail on retail sales, as Bloomberg's Enda Curran points out, it looks like there was some big gains in demand for communication appliances, cosmetics, beverages and jewelry.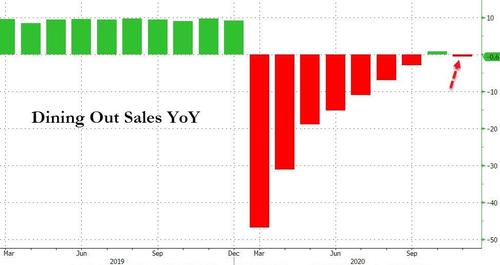 Still, restaurant and catering actually declined by 0.6% suggesting perhaps that consumers are still nervous about eating out even with the virus under control.
Given China's complete crushing of the virus, the residual anxiety over dining-out should be a rather ominous forewarning for American bars and restaurants… masked or not.