Chinese Grads Are Paying Up To $12,000 For An Inside Track At Wall Street Jobs
Chinese Grads Are Paying Up To $12,000 For An Inside Track At Wall Street Jobs
Getting a job on Wall Street is still so coveted in China that potential candidates are shelling out well in excess of $10,000 for their chance in at a company like Goldman Sachs or Citigroup.
So called "career consulting firms", which employ "thousands" of finance professionals to help open doors for job-seekers, are now big money in China, according to Bloomberg. These firms can charge up to $12,000 per candidate to help student to and win internships and entry level positions at world famous Wall Street names. 
The firms try to pair candidates with bankers to help them develop an inside track on strategy, networking, drafting letters and seeking out internal referrals. 
The firms have garnered criticism who question whether or not its "fair" to give the well off an inside track to certain jobs. It also raises ethical questions for the bankers who moonlight for these consulting firms on the side. 
At the same time, the firms are rising in popularity while names like Goldman Sachs, UBS Group AG and Credit Suisse Group AG are seeking to double or triple their workforces in Asia. This belies the overall hit the job market in China took – openings fell 12% in 2020 due to the pandemic. The job market is saturated with candidates. On top of 9.1 million Chinese graduates this year, there was an influx 
Sean Wang, a senior banker and author, commented: "It opens wide the question of fairness. If you pay to have someone else to write your cover letter, or get a first round interview, is it fair to those job seekers who don't have or can't afford such packages?"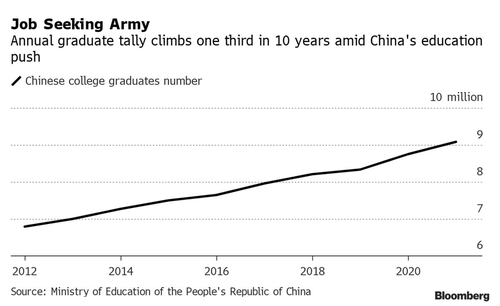 Chengdu-based DreambigCareer had 4,000 clients last year, which marks a 4x increase over the past 4 years. It has enlisted more than 3,000 bankers and consultants to help its clients. 
Sessions between clients and consultants are usually online, and DreambigCareer's rates can range up to $10,000. Its COO, Joseph Guo, says his service actually levels the playing field for Chinese students that want to break into foreign banking. While the service claims its mentors are "100% verified", employment information for consultants may not be up to date, Guo said. He also said that while most consultants get approval from their employers to act as consultants, some "might not have notified their companies". 
Mentors can make about $100 per hour for their efforts. 
Another company, Breadoffer, charges $12,000 "for a shot at a Goldman job" but said its packages don't guarantee a full time offer from any firm. Another shop, called Wall Street Tequila, charges the highest fees. Based in Shanghai, it has helped more than 3,000 students obtain high-paid offers over the last 7 years, it says. Its founder, a former JP Morgan analyst, said the firm trained "more than half of the Chinese that made it to a top nine global bank during 2015 to 2017."
But the firms don't seem like an absolute necessity. 
Isabel Xu, a 24-year-old graduate from Johns Hopkins University was lucky enough to land an internship at a top Chinese brokerage last year. She did it without the help of a consulting firm. She said: "It would certainly have been a great help to get to know these bankers and finance guys early on and have internal referrals, but I don't think that's an absolute advantage. At the end of the day, it's down to fundamentals and if you don't have skills like financial modeling you won't survive the internship."
The larger job training and career counseling industry hit $16 billion last year. Companies like Wall Street Oasis in the United States provide similar services, though at a fraction of the cost. 
Tyler Durden
Fri, 04/16/2021 – 05:45