Chinese Soldiers Outfitted With Digital Combat Device That Has "Self-Destruction Mode"
Chinese Soldiers Outfitted With Digital Combat Device That Has "Self-Destruction Mode"
New Delhi Television has revealed that Chinese soldiers in the Tibet Military Region will soon be equipped with new digital systems embedded in their combat gear. 
Chinese soldiers will be outfitted with satellite antennas on the helmets, new night-vision goggles, and a digital control terminal on the arm. They will also receive advanced body armor, a new navigation device, personal radio, camera module, audio converter, information processing, and power supply module.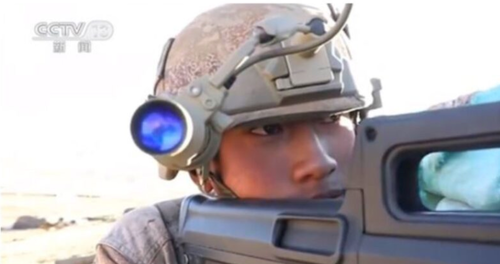 While the upgrades sound nothing out of the ordinary, there was mention that the new combat gear would be outfitted with "self-destruction mode." 
More importantly, this system is equipped with a self-destruction device. If a soldier is seriously injured but does not want to be captured, activating the self-destruction device will not only maintain the dignity of the soldier, but the enemy will not be able to obtain any information about this system. The Lu media report bluntly wrote, "Another self-destructive method is in the battalion-level command post. If the commander finds on the screen that the individual soldier is farther away from other troops, but the order cannot be contacted. If you're a soldier, it will also initiate self-destruction." -NDTV 
There was mention that self-destruction mode could even be triggered remotely by the commander, allowing the soldier to "maintain military dignity" and prevent information leakage.
Many netizens were outraged that soldiers would be outfitted with exploding bombs that could be donated by superiors. Some netizens said: "Isn't this stuff a human bomb?"
Netizens also said: "This is too ruthless. Keep away from the team and be detonated by the commander. This is a typical control technique for future operations. They are afraid of soldiers running away, pretending to be dead, and rebelling."
Another netizen said: "In the past, the Communist Army asked each soldier to keep a grenade for himself. Before he was captured, it sounded and died with the enemy. It was also called 'Glorious Bomb'".
Tyler Durden
Tue, 01/05/2021 – 22:25