CME To Launch Micro-Bitcoin Futures; Options Traders Betting On $80k By End-April
CME To Launch Micro-Bitcoin Futures; Options Traders Betting On $80k By End-April
While chaos reigns in various parts of the US equity and bond markets, bitcoin has been quietly surging higher in the last few days.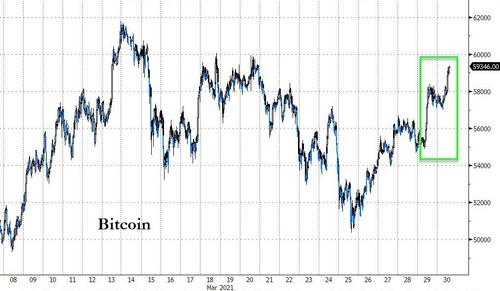 Source: Bloomberg
In fact, US rate forecast volatility is now higher than bitcoin's realized risk…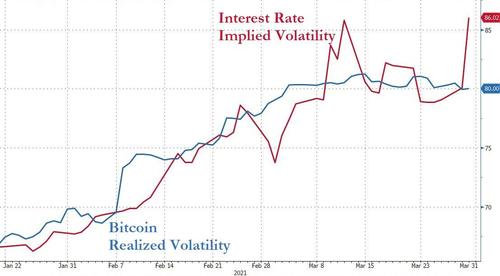 Source: Bloomberg
Ahead of President Biden's pitch tomorrow for another $3 trillion in spending, the crypto patch has been bid and helped today by the news that PayPal will launch "Checkout With Crypto" – a cryptocurrency service for merchants across the US.
"This is the first time you can seamlessly use cryptocurrencies in the same way as a credit card or a debit card inside your PayPal wallet," PayPal CEO Dan Schulman told Reuters.
Checkout With Crypto service will enable those holding cryptocurrencies on the platform to spend it with all of PayPal's merchants. Supported cryptocurrencies include Bitcoin, Bitcoin Cash, Ethereum, and Litecoin; the payments company will, however, convert the cryptocurrency to fiat money for the actual payment.
"We think it is a transitional point where cryptocurrencies move from being predominantly an asset class that you buy, hold and or sell to now becoming a legitimate funding source to make transactions in the real world at millions of merchants," Schulman added.
Also buoying bitcoin prices is the news that the Chicago Mercantile Exchange (CME) has unveiled plans to launch a new Bitcoin derivatives product that will enable traders to speculate on fractional units of the flagship digital currency.
CoinTelegraph reports that CME Group's Micro Bitcoin futures contract, which is set to launch May 3 pending regulatory approval, will be worth 0.1 BTC. The smaller contract size provides market participants with an additional tool to hedge their Bitcoin price risk, CME said Tuesday. CME's current Bitcoin contract unit is 5 BTC.
Tim McCourt, CME Group's global head of equity index and alternative investment products, explaine:
"The introduction of Micro Bitcoin futures responds directly to demand for smaller-sized contracts from a broad array of clients and will offer even more choice and precision in how participants can trade regulated Bitcoin futures in a transparent and efficient manner at CME Group."
CME launched its Bitcoin futures contract in December 2017. The Chicago Board Options Exchange, Its larger crosstown rival, was the first to introduce the derivatives contract during the same month but has since abandoned Bitcoin futures altogether.
CME has noted a steady uptick in crypto derivatives trading since the first Bitcoin futures contract launched more than three years ago.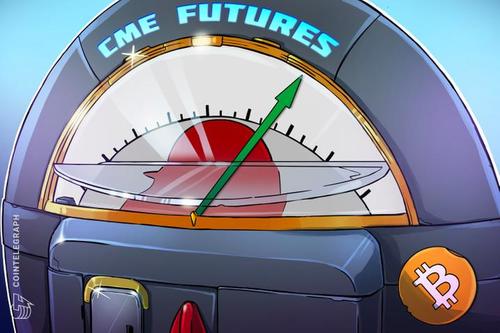 image courtesy of CoinTelegraph
Perhaps that is one reason why bitcoin options traders have started to build a sizable position in call options (levered bets on higher prices), betting on prices above $80,000 by the end of April.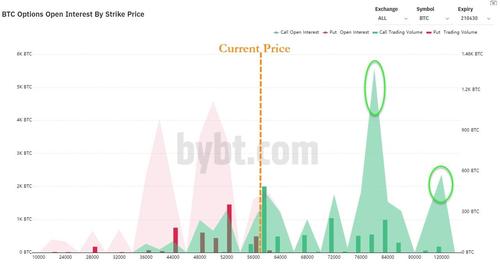 According to the latest data, 5,580 bitcoin (around $330 mm notional) of contracts are outstanding in $80,000 strike April Calls.
Notably, as CoinMinks reports, significant volume has also accumulated around contracts with a strike price of $120,000.
This means that some traders believe the bitcoin price will more than double in the next five weeks.
According to data aggregator Skew, probability estimates based on market data for the April 30 contract suggest that options traders may be a bit too optimistic. The analytics platform gives it a probability of just 6.19% that bitcoin will top $80,000 (and only a 2.15% chance that the bitcoin price will even reach $100,000 by the April 30 expiration date).
The upcoming Coinbase IPO may also be a catalyst for the upside call-buying.
Tyler Durden
Tue, 03/30/2021 – 19:45