Coinbase Q1 Revenue Up 9x To $1.8BN Ahead Of Long-Awaited IPO
Coinbase Q1 Revenue Up 9x To $1.8BN Ahead Of Long-Awaited IPO
Pioneering cryptocurrency exchange Coinbase just blew away already lofty expectations Tuesday when it released quarterly financials and outlook for the first time, despite still being a private company, as the firm apparently sought to generate hype ahead of its IPO on the Nasdaq next week.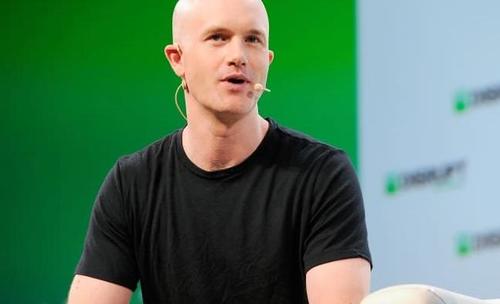 Coinbase co-founder and CEO Brian Armstrong
The firm reported about $1.8 billion in revenue, a 9x increase from the prior year, and a net income of $730M to $800M on an adjusted EBITDA of about $1.1 billion. In addition, the company boasted 56M verified users (13M of them added in Q1 alone) and 6.1M monthly transacting users (+3.3M in Q1). Revenue growth over the last quarter was 207.6%, net income was up 312.9% and volume traded was up 272%.
Here's a breakdown of the main figures from the company's press release:
Verified Users of 56 million
Monthly Transacting Users (MTUs) of 6.1 million
Assets on Platform of $223 billion, representing 11.3% crypto asset market share
Includes $122 billion of Assets on Platform from Institutions
Trading Volume of $335 billion
Total Revenue of approximately $1.8 billion
Net Income of approximately $730 million to $800 million
Adjusted EBITDA of approximately $1.1 billion
According to these figures, Coinbase booked more revenue in Q1 than it did during the entirety of 2020.
Assets on Platform are ~$223B and $122B of that is coming directly from institutions.
As for its outlook, the company said it expects meaningful growth this year driven by increased institutional interest but admits that its insti revenue is inherently unpredictable.
Trading on the private market has valued the company at $68 billion, a valuation that swells to about $100 billion when accounting for complete dilution. Coinbase said last week that the SEC had approved its direct listing, which is set for April 14. The company plans to register nearly 115MM shares of Class A common stock, which will trade under ticker symbol COIN.
As CNBC pointed out, Coinbase is unique because the surge in its valuation (not to mention its revenues) has mirrored the trajectory of bitcoin, which is up about 700% in the past year, and ethereum, which has soared by more than 1,100%.
Read the rest of the press release below:
Coinbase Global, Inc. (the "Company") today issued estimated results for its first quarter ended March 31, 2021 and an outlook for the full year ending December 31, 2021.
[…]
Crypto price cycle overview
Crypto markets have observed four major price cycles since 2010 which have typically had durations ranging from two to four years. On average, these price cycles have increased the overall crypto market capitalization significantly from the prior cycle and attracted new users into the cryptoeconomy. These cycles can be highly volatile, and as a result, we measure our performance over price cycles in lieu of quarterly results. We believe that we can create long-term value throughout these price cycles.
Impact of crypto prices on Coinbase's results
MTUs, Trading Volume, and therefore transaction revenue currently fluctuate, potentially materially, with Bitcoin price and crypto asset volatility. This revenue unpredictability, in turn, impacts our profitability on a quarter-to-quarter basis. In terms of expenses, we intend to prioritize investment, including in periods where we may see a decrease in Bitcoin price. This is because we believe that scale is central to achieving our mission and it is still early in the development of this industry.
Full-Year 2021 Outlook
Our approach to public outlooks will be to provide transparency consistent with the internal plans we use to manage our business. Given the inherent unpredictability of our business mentioned above, we are providing a range of possible scenarios for full-year 2021:
2021 Annual Average MTU possible scenarios
Our transaction revenue is currently highly correlated to MTUs. Looking to full year 2021, we present three possible scenarios for annual average MTU:
•High: Average 2021 MTUs of 7.0 million. This scenario assumes an increase in crypto market capitalization and moderate-to-high crypto asset price volatility. In this scenario, we expect that MTUs continue to grow for the remainder of 2021.
•Mid: Average 2021 MTUs of 5.5 million. This scenario assumes flat crypto market capitalization and low-to-moderate crypto asset price volatility. This scenario assumes a modest decline in MTUs from Q1 2021.
•Low: Average 2021 MTUs of 4.0 million. This scenario assumes a significant decrease in crypto market capitalization, similar to the decrease observed in 2018, and low levels of crypto asset price volatility thereafter. In this scenario, we assume MTUs will decrease in a corresponding manner and end 2021 at similar levels to Q4 2020.
Institutional Revenue
We expect meaningful growth in 2021 driven by transaction and custody revenue given the increased institutional interest in the crypto asset class. However, our institutional revenue is inherently unpredictable given the factors listed above.
Expenses
In the second quarter of 2021, we expect approximately $35 million of one-time expenses related to the Company's direct listing. Looking to full year 2021, in order to scale our operations and to continue to drive product innovation, we expect our technology and development expenses and our general and administrative expenses to be between $1.3 billion to $1.6 billion, excluding stock-based compensation, in 2021. Additionally, we plan to augment our historically strong organic growth with customer acquisition and engagement by meaningfully increasing our investment in sales and marketing. We plan for sales and marketing to be between 12% and 15% of net revenue in 2021. Lastly, we anticipate transaction expenses will be in the low-to-mid teens as a percent of net revenue in 2021.
Tyler Durden
Tue, 04/06/2021 – 16:28