Coinbase Sets Reference Price At $250, Well Below Last Private Market Trade
Coinbase Sets Reference Price At $250, Well Below Last Private Market Trade
Ahead of tomorrow's much-anticipated direct listing of massive crypto-exchange Coinbase, Nasdaq has just announced the company's so-called Reference Price at $250.
On April 14, 2021, the Class A common stock of Coinbase Global, Inc. is expected to list on Nasdaq through a Direct Listing using the ticker "COIN".

Because this security has not previously traded on any listing market and has no prior day's closing price, Regulation SHO Rule 201 will not apply to the security until its second day of trading on Nasdaq.

As a Direct Listing, COIN will be in a regulatory halt until Nasdaq opens trading pursuant to the procedures described in Rules 4120(c)(8) and (9) and 4753. Because COIN has not had recent sustained trading in a private placement market, Nasdaq is required to determine the price to use for purposes of Rule 4753(a)(3)(A)(iv)(b) and 4753(b)(2)(D)(ii). That reference price is $250.00.
Unlike the share price in a standard IPO, it isn't a direct indicator of the company's potential market capitalization. However, given the 261.3 fully diluted shares outstanding, that implies a market capitalization of $65 billion, well below the $90 billion value ($350 per share) from early March when Coinbase shares changed hands on the Nasdaq Private Market auction.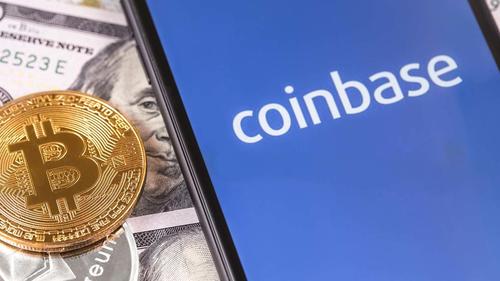 Of course, it is possible that the price is set purposefully low to spark buying interest and to push it substantially higher after the break for trading, with some predicting the stock could rise as high as $750.
To be sure, earlier today MoffettNathanson's Lisa Ellis became the first analyst to initiate coverage of Coinbase with a buy rating and a $600 price target, calling the company a leader in the cryptocurrency ecosystem even as it sees 2021 as the peak year of the current cryptocurrency cycle, with COIN rev. $4.6b, up 260% y/y.
"We believe cryptocurrencies are one of the most innovative technologies in decades and will succeed, and Coinbase offers a pure expression of this trend," Ellis wrote in a note titled "Be Bloody, Bold, and Resolute," a quote from Shakespeare's Macbeth.
According to Ellis, the COIN price target is justified because it is comparable to companies in "hyper-growth" stages like Adyen, Shopify, Afterpay, Square; is also tracking crypto ETFs, which may dampen retail demand for standalone cryptocurrency brokerages like COIN.
The offering will be the first major direct listing, an alternative to a traditional IPO, to take place on the Nasdaq.
Notably, while the Reference Price seems low, CNBC notes that in the five significant direct listings that have taken place on the New York Stock Exchange – Spotify, Slack, Palantir, Asana and Roblox – the opening price was on average about 37% above the reference price.
Tyler Durden
Tue, 04/13/2021 – 17:15