Consumer Confidence Crashes In December As Labor Market Lurches Lower
Consumer Confidence Crashes In December As Labor Market Lurches Lower
Despite a plague of lockdowns as COVID's casedemic re-emerged, analysts believed that consumer confidence would rebound modestly in December after 'hope' dragged it down in November, but instead it collapsed.
Headline Conference Board Confidence plunged from 96.1 (which was downwardly revised to 92.9) to 88.6 (a big miss from the 97.0 exp).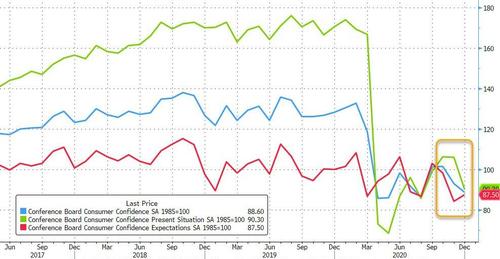 Source: Bloomberg
Hope improved very marginally (but only because October's data saw a huge downward revision) while Current Conditions plunged from 105.9 to 90.3.
"Consumers' assessment of current conditions deteriorated sharply in December, as the resurgence of COVID-19 remains a drag on confidence," said Lynn Franco, Senior Director of Economic Indicators at The Conference Board.

"As a result, consumers' vacation intentions, which had notably improved in October, have retreated. On the flip side, as consumers continue to hunker down at home, intentions to purchase appliances have risen. Overall, it appears that growth has weakened further in Q4, and consumers do not foresee the economy gaining any significant momentum in early 2021."
Most worrisome is the the fact that the labor differential index tumbled back into the red (indicating jobs are harder to get)…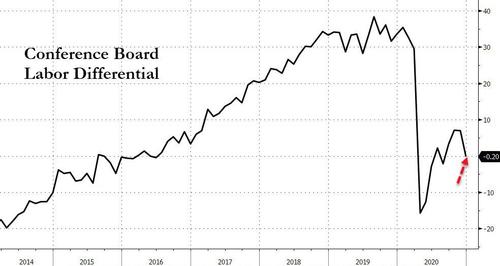 And that is impacting spending expectations as vacation plans are abandoned…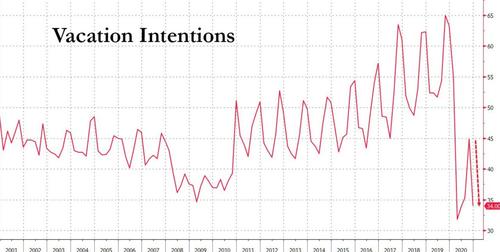 Will the $600 checks make a difference? Or are the lockdowns catalyzing permanent change?
Tyler Durden
Tue, 12/22/2020 – 10:08