Crypto Flash-Crashes Overnight, Goldman Joins Morgan Stanley On Bitcoin Bandwagon
Crypto Flash-Crashes Overnight, Goldman Joins Morgan Stanley On Bitcoin Bandwagon
Against a background of options traders betting on $80,000 bitcoin (or higher) by the end of April, crypto markets suffered a disturbance in the force overnight as bitcoin puked $3,000 in minutes around 0345ET.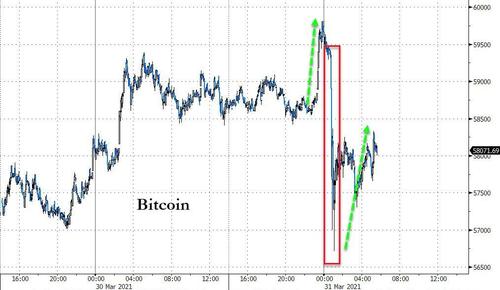 Source: Bloomberg
As CoinTelegraph reports, for quant analyst PlanB, their demise was nonetheless beneficial, helping to rid the market of unwanted leverage and ensure more organic future rises. Similar events have occurred with both long and short positions in recent months.
"Beautiful stop loss hunting .. again," he commented on Twitter.
Beautiful stop loss hunting .. again. Now that all leveraged longs are liquidated, we finally have room for breaking $60K in April. pic.twitter.com/PgSVXUSAuA

— PlanB (@100trillionUSD) March 31, 2021
As BTC crashed, so did the rest of the crypto space with ETH plunging around $100 before bouncing back…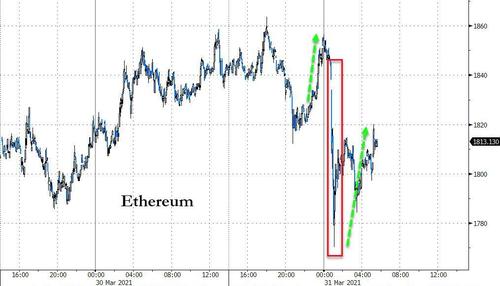 Source: Bloomberg
The bitcoin puke came after 5 straight days higher and a push back towards $60k (the drop started at around $59,800), but the bounce back after the plunge is being supported by headlines suggesting institutional adoption is once again on the rise.
Two weeks after Morgan Stanley became the first big bank  to offer crypto investments to its clients, CNBC is reporting that Goldman Sachs is close to offering its first investment vehicles for bitcoin and other digital assets to clients of its private wealth management group.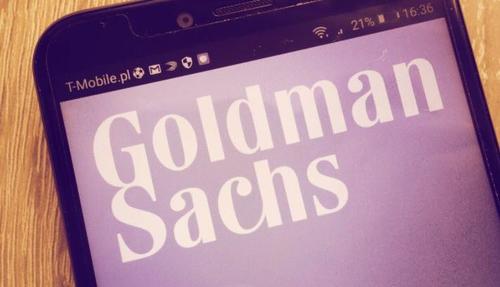 The bank aims to begin offering investments in the emerging asset class in the second quarter, according to Mary Rich, who was recently named global head of digital assets for Goldman's private wealth management division.
Her promotion was scheduled to be announced Wednesday in an internal company memo seen by CNBC.
″We are working closely with teams across the firm to explore ways to offer thoughtful and appropriate access to the ecosystem for private wealth clients, and that is something we expect to offer in the near-term," Rich said this week in an interview.
Goldman is looking at ultimately offering a "full spectrum" of investments in bitcoin and digital assets, "whether that's through the physical bitcoin, derivatives or traditional investment vehicles," she said.
As Joseph Young (@iamjosephyoung) noted so succinctly, "Financial institutions are FOMOing to support Bitcoin… 3 years ago, banks didn't want to support accounts dealing with crypto…36 months is all it took."
Finally, we note that alternative.me's Crypto Fear & Greed Index currently sits at 76 (extreme greed), indicating buyers are still hungry for further growth.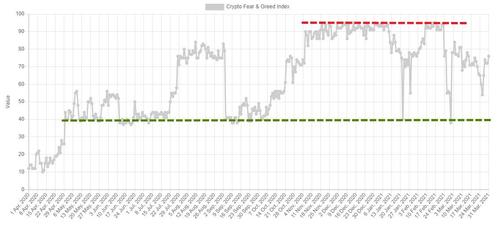 Despite today's sudden sell-off, Decrypt notes that the overall cryptocurrency market is at close to its highest-ever market value. Just hours ago, the total market capitalization of all cryptocurrencies reached $1.89 trillion—more than ten times its value ($179 million) exactly one year ago.
Tyler Durden
Wed, 03/31/2021 – 08:58