Cryptos Are Crashing Amid Bitcoin 'Ban' Fears & Record Options Expiration
Cryptos Are Crashing Amid Bitcoin 'Ban' Fears & Record Options Expiration
Crypto markets are crashing this morning, down for the 4th straight day…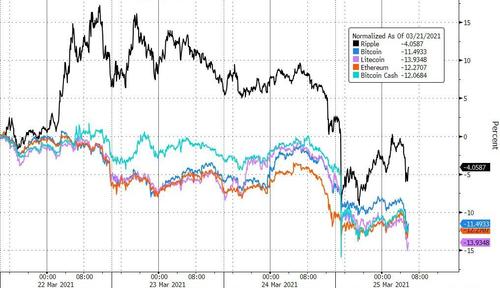 Source: Bloomberg
Bitcoin is back below $1 trillion…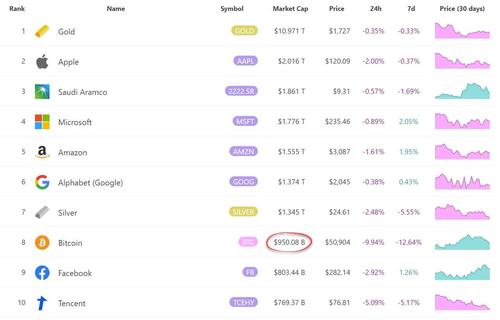 …as it plunges back towards $50,000…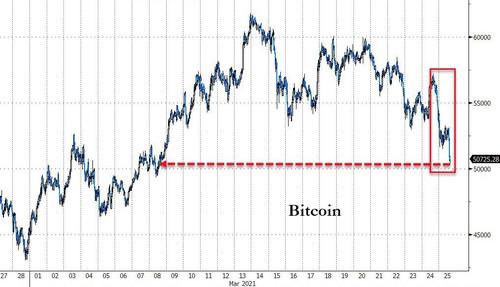 Source: Bloomberg
Ethereum is also down but is outperforming Bitcoin today, finding support relative to the biggest crypto…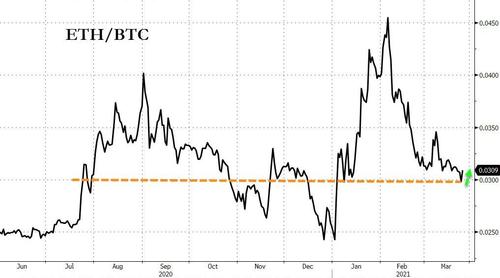 Source: Bloomberg
While immediate catalysts are unclear, traders are suggesting four general themes: Recent NFT artist 'winners' cashing out their gains, Ray Dalio warning of the potential for US to 'ban' bitcoin, some waning institutional interest, and most immediately prescient, a record size options expiration could be impacting the underlying price..
Around 105,000 options contracts, worth over $5 billion notional, are set to expire this week…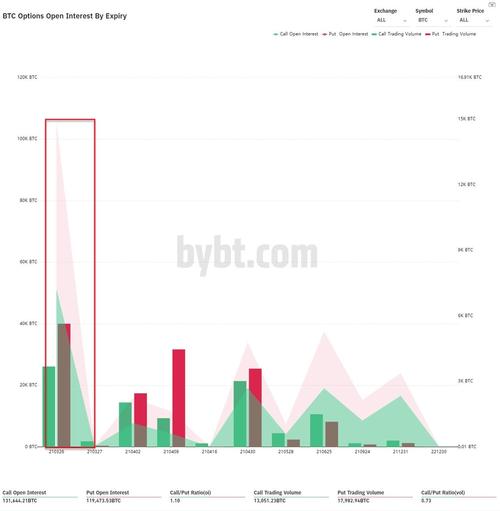 …with a notable bias toward puts…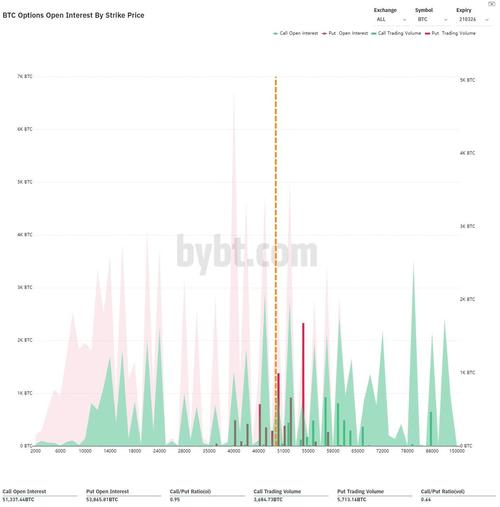 We would also note that it is quite common for the market's momentum to shift once the options expiration date comes and goes.
Powell and Yellen did not help this week (well are we really surprised that the very establishment that crypto would disrupt would push back?) and that prompted Bridgewater's Ray Dalio to reiterate his previous warning that while he sees Bitcoin as a "storehold of wealth" and protection against the folly of policymakers, he warns that there is a "good probability" that the U.S. government could ban Bitcoin just as it did with gold ownership in the 1930s.
"They don't want other monies to be operating or competing because things can get out of control. So I think that it would be very likely that you will have it, under a certain set of circumstances, outlawed the way gold was outlawed."
On March 16, Dalio stated that the U.S. government could target those ditching the dollar for Bitcoin as it becomes "inhospitable to capitalism" in preparation for "shocking" tax changes to tackle the national debt crisis.
Finally, Justin d'Anethan, head of exchange sales at Nasdaq-listed crypto firm Diginex, told Insider the recent sell-off in the stock market had likely spread to cryptocurrencies too.
"With concerns around the economic recovery, doubts about recent employment data and infection rates ticking up, investors seem to have transferred some of their equities holdings into cash. Crypto investors likely did the same," he said.
However, many bitcoin advocates have pointed to growing institutional interest as a reason bitcoin is unlikely to crash, as it has in the past. Visa, Morgan Stanley, and JPMorgan are some of the latest big names to get involved.
Tyler Durden
Thu, 03/25/2021 – 09:05