DB Sees "The Next 5%-10% Pullback" Some Time In Q2
DB Sees "The Next 5%-10% Pullback" Some Time In Q2
Last summer when US equity markets had already recovered more than 90% of the pandemic slump, DB's chief credit strategist Jim Reid says that it "instinctively felt" to him that the S&P 500 being within 5-10% of its all-time highs was "madness while the pandemic was raging on in Southern States and with the global economy still on financial life support." However, he then concedes that he "became far more relaxed" when he saw the latest equity positioning data from DB's derivatives team which showed that even with the huge recovery, consolidated institutional positioning in the US equity market was in the lowest 6th percentile over the last decade.
Not anymore, because fast forward to today and institutional positioning is now at around the 92nd percentile, Reid warns in his latest Chart of the Day note, a sign that a rollover is likely as almost all institutional investors are now "in".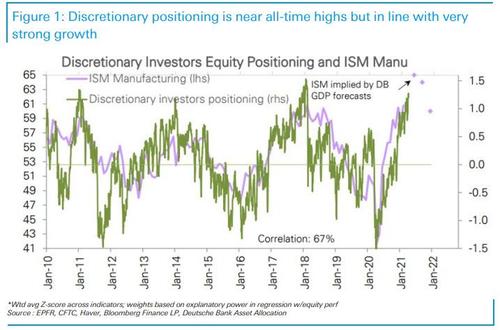 So now what?
Well, in the near term, Reid, who cites the bank's equity team, thinks that equity positioning is likely to remain well supported, as growth picks up even further. However, he – like BofA's CIO Michael Hartnett – thinks growth should peak some time in Q2, potentially coinciding with a broader re-opening, warmer weather and an increased return to work at the office, arguably shifting retail investor attention away from markets as they find something else to do.
That's the point where Deutsche Bank expects a "likely 5-10% pullback in the S&P 500" before it reverses on the way to ending the year at 4100. 
Tyler Durden
Thu, 03/25/2021 – 13:45