Despite Small Tail, Demand Jumps For Record $58 Billion In 3 Year Notes
Despite Small Tail, Demand Jumps For Record $58 Billion In 3 Year Notes
Another month, another record large Treasury auction. Moments ago the US sold $58 billion in 3 Year paper – the largest ever auction in this tenor – and up $2 billion from December's $56BN.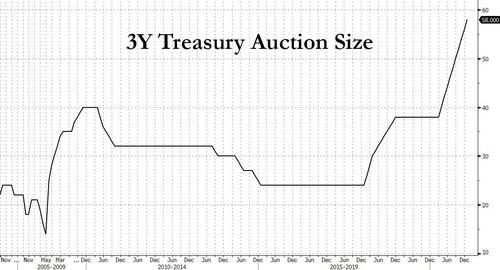 The record amount of debt for sale, however, did not prove to be too challenging, with the paper finding willing buyers at a yield of 0.234%, a modest increase from last month's 0.211% and a slight tail to the 0.231% When Issued.
Perhaps because of the lightly higher yield demand for today's (tailing) paper rose across the board, with the Bid to Cover jumping from 2.28 in December to 2.52 in January; this was not only higher than the 6-auction average but also the highest since June 2020.
The internals  were also solid, with Indirects taking down 52.2%, up from 49.3% and the highest since October. And with Directs taking down 14.6%, or slightly above the recent average of 13.6%, Dealers were left holding to just 33.2% of the final allotment, the lowest number since October's 31.7%
Overall, a solid auction despite the tail, and one which positions the market well ahead of tomorrow's benchmark sale of 10Y notes which however could be far more exciting with 10Y yields rising to a session high of 1.134% following the 3Y auction.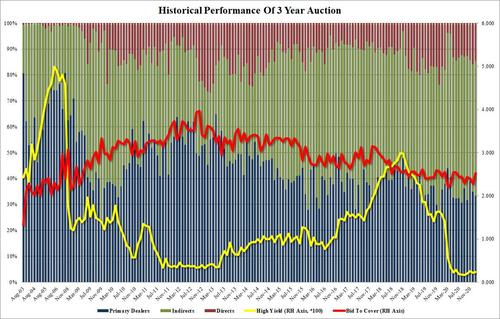 Tyler Durden
Mon, 01/11/2021 – 13:13