Detroit's Westin Book Cadillac Hotel Heading For Foreclosure
Detroit's Westin Book Cadillac Hotel Heading For Foreclosure
Just when you thought things couldn't get worse for Detroit, the city's iconic Westin Book Cadillac hotel looks like it's heading for foreclosure.
The 33 story hotel had undergone a $180 million renovation in 2008, but has suffered mightily as a result of the pandemic. The hotel's owner owes $77 million in commercial mortgage backed securities debt which has been delinquent since last May, Deadline Detroit writes. 
Owner John Ferchill said he hasn't been able to come to an agreement with his lender: "We are not unique. We have tried everything to work with a lender who won't work with us, which quite frankly is a testament to how good of a property we created. They would rather take it for themselves than work it out with the borrower. We have not received one concession."
Ferchill said "the state's 'draconian COVID rules'" also contributed to the decline in revenue. 
The loan's special servicer, CWC Capital Asset Management LLC, didn't comment. 
Justin Winslow, president of the Michigan Restaurant and Lodging Association, told Yahoo News: "This is a flagship hotel in the city of Detroit, and I think the frustrating reality is we're only a couple months away it feels like at this point from demand coming back in very large numbers. To get this close to what feels like a finish line and to not be able to see it through is unfortunately, and to me, an avoidable outcome for the Book Cadillac."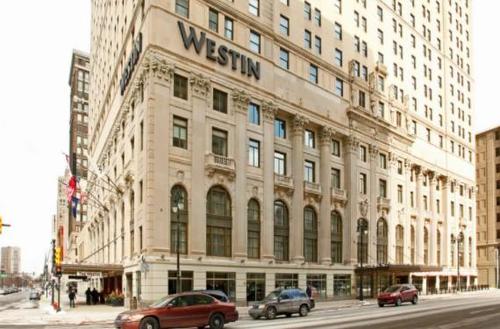 Detroit was experiencing a boom in downtown hotels prior to the pandemic. Names like the Shinola Hotel on Woodward, the Element Detroit in the old Metropolitan Building on John R and the Detroit Foundation Hotel on Larned St. were all experiencing success prior to Covid provisions kicking in. 
The Westin Book Cadillac was valued at $136 million in late 2019, but as of December 2021 is being valued at $74.6 million, slightly below the loan balance owed on the property. 
Winslow blames the "inflexible nature" of commercial mortgage-backed securities loans: "This was a hotel that was very profitable many years in a row and can be again once the general public feels the immediate threat is gone. I think that with (the) vaccine that is a short-term horizon before that willingness comes."
Meanwhile, despite petitioning local government to help, Gov. Gretchen Whitmer vetoed recent legislation that Winslow said would have helped the industry in Michigan. 
Winslow concluded: "That is not something I put exclusively or only at the governor's feet because I think this is a process that requires the legislature to engage in honest negotiation to get something to the finish line that can actual help the industry. But vetoing legislation that would have had $300 million in property tax relief would have been direct relief to hotels and restaurants."
Tyler Durden
Wed, 03/17/2021 – 20:40