Dimon, Fink And Other CEOs Beg New York Lawmakers Not To Raise Taxes
Dimon, Fink And Other CEOs Beg New York Lawmakers Not To Raise Taxes
Wall Street executives and other New York employers have begged Governor Andrew Cuomo (D) and other state lawmakers not to raise taxes, warning that they could cause high-income earners who left the state during the COVID-19 pandemic to stay away permanently, according to the Wall Street Journal.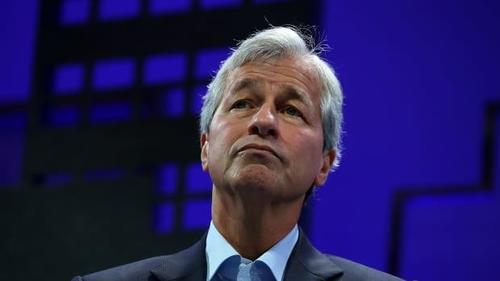 At least 250 business leaders were joined by JPMorgan's Jamie Dimon, Citigroup's Jame Fraser, Morgan Stanley's James Gorman and BlackRock's Larry Fink in a letter to Cuomo and other lawmakers, which argues that a series of tax increases proposed by Democratic leaders in the state Assembly would "jeopardize New York's recovery from the economic crisis inflicted by COVID-19," and were rendered moot by the $1.9 trillion federal relief bill passed earlier this month, according to the letter.
New York State is slated to receive $12.5 billion in unrestricted payments under the new stimulus package, as well as billions more for health and education programs, and a boost in revenue payments which would allow the state to avoid planned spending reductions of $3.7 billion.
The proposed package would increase income taxes and levying a new surcharge on capital gains.
The highest-earning 5% of tax filers in the state account for more than 60% of the roughly $50 billion that New York raises each year in state income taxes. The executives said remote-working patterns during the pandemic meant many of the financial, real estate and legal professionals in this group may permanently leave the tax base if proposed taxes are approved. -WSJ
"Many members of our workforce have resettled their families in other locations, generally with far lower taxes than New York, and the proposed tax increases will make it harder to get them to return," wrote the executives. "This is not about companies threatening to leave the state; this is simply about our people voting with their feet."
According to Kathryn Wylde, president of Partnerrship for New York City and a signatory to the letter, said that Cuomo has been a force of 'fiscal moderation' during his time in office.
"It's obvious that there's great concern among business leadership that the governor is in a weakened state because of the supermajorities that Democrats have in both houses of the Legislature," Wylde told the Journal.
The letter comes amid crisis for Cuomo, who is currently under an impeachment investigation into accusations that he sexually harassed a slew of women – which comes on top of a scandal over how his administration stuck COVID-positive patients in nursing homes, where the most vulnerable population lives.
According to Freeman Klopott, spokesman for the state budget office, the Cuomo administration is focused on the economy and "putting out the welcome mat for the New Yorkers who left during the pandemic."
On Monday, Cuomo and state Budget Director Robert Mujica said that budget negotiations were ongoing between executive and legislative aides, with Mujica notably vague on how the state's improving fiscal picture – and federal stimulus windfall – would affect taxation.
In January, Cuomo proposed a $193 billion budget which raises $1.5 billion through a temporary tax-surcharge on those who make over $5 million in income.
"As of right now we have the resources necessary so that there would be no cuts in the governor's budget, so you wouldn't require any significant level of tax increases to pay for the restorations," Mujica said Monday.
Tyler Durden
Tue, 03/23/2021 – 15:40