Disgraced Credit Suisse CEO, ICE-Backed Crypto Firm Cash In On "Reprehensible" SPAC Trend
Disgraced Credit Suisse CEO, ICE-Backed Crypto Firm Cash In On "Reprehensible" SPAC Trend
Even as traditional Wall Street dealmaking tumbled last year as stocks went haywire and COVID-19 hammered the economy in ways anticipated by almost nobody (except, oddly, by Bill Gates), a frenzy gripped the buy-side, helping banks and dealmaking clients to cash in, while Robinhooders gobbled up shares priced at just $10 a pop (what a bargain!).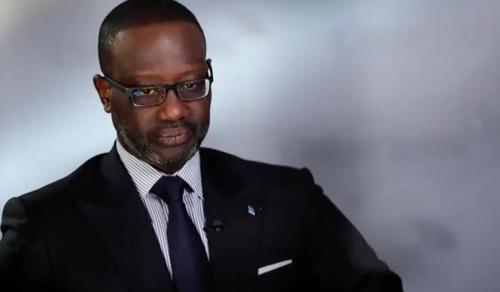 In terms of both money raised and the sheer number of deals, 2020 was the biggest year for SPACS ever, with more activity than the prior ten years combined.
And with big-name investors like Bill Ackman and Chamath Palihapitiya announcing new SPAC deals for 2021, analysts across Wall Street have suggested that the trend shows no signs of letting up for the net 16 month.
Last year, SPACs made up almost $76BN of the $159BN raised by IPOs in the US, outpacing traditional listings since August.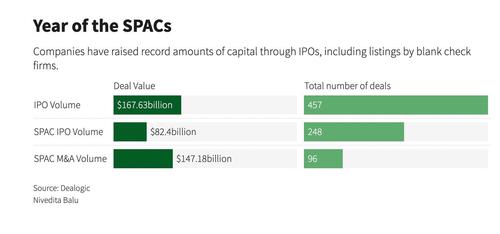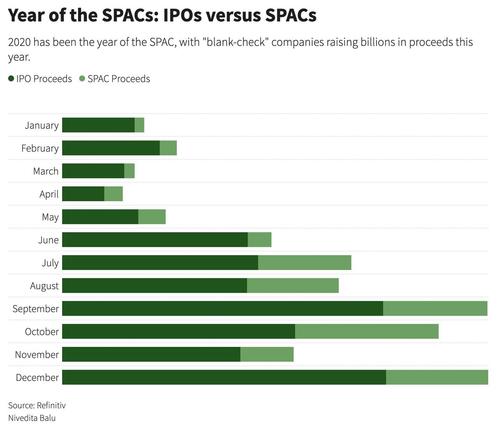 Fortunately, companies that went public through SPAC deals have (like pretty much everything else, these days) posted healthy gains, and investment bankers and capital markets lawyers.
We've already reported on Ackman's new SPAC project. And earlier today, EV startup Faraday found itself at the intersection of two of the market's hottest trends: the mass adoption of electric vehicles, and – of course – going public via the reverse IPO "blank check" approach, according to FT.
New York Stock Exchange parent ICE on Monday said Bakkt has agreed to combine with a SPAC sponsored by Chicago-based investment firm Victory Park Capital. Bakkt, which was formed by ICE in 2018, immediately making it one of the hottest industry-backed crypto startups, is planning to launch an app in March that will enable users to buy and sell cryptocurrencies and manage other digital assets such as loyalty points and gift cards. Its ambition is to reach more than 30MM customers by 2025, up from zero last year, it says in its regulatory filing. The app, currently accessible only by invitation, has garnered interest from about 400K people still seeking access. When listed on the NYSE, it will have an enterprise value of $2.1bn, ICE said.
Bakkt is floating its plans to go public not long after Coinbase, one of the most recognizable crypto firms, filed its prospectus with the SEC.
The crypto firm's plan offers a glimpse of how SPACs offer an easier route to public markets for companies with new technologies and earlier stage businesses, according to the FT.
On the more traditional end of the finance business, disgraced former Credit Suisse CEO Tidjane Thiam is reportedly leading a $250MM SPAC to "invest in financial services businesses in the developed and developing world," according to the FT, which cited anonymous sources familiar with Thiam's plans.
JPMorgan Chase is helping to raise the money after pitching the idea to Thiam (note: the former CS chief isn't the first former megabank chief to try and launch a new firm focused on frontier markets. Robert Diamond launched Atlas Merchant Global, which focused on investing in banks  serving the developing world).
The growing slate of credible investors has helped legitimize SPACs Hopefully, Thiam's project is scandal-free, unlike his last year at Credit Suisse.
But expanding the time frame that one uses to analyze the performance of SPACs reveals just how fraught the history of these special-purpose vehicles truly is. As II pointed out in a story published back in September, every single SPAC launched since 2015 that actually completed its merger led to average losses of nearly 20%. The 89 SPACs that completed mergers since 2015 have an average loss of 18.8% (and a median loss of 36.1%), compared with the average aftermarket gain of 37.2%for other IPOs through July 24.
My SPAC will sell credit default swaps on viatical settlements.

— Rudy Havenstein, F*** Your Censorship. (@RudyHavenstein) August 27, 2020
"Since 2015, the 89 SPACs that have completed mergers have an average loss of 18.8 percent (and a median loss of 36.1 percent), compared with the average aftermarket gain of 37.2 percent for other IPOs…Only 29 percent of the SPACs had positive returns."https://t.co/V2ZNFlDmmT pic.twitter.com/D4iFsezWus

— Rudy Havenstein, F*** Your Censorship. (@RudyHavenstein) September 22, 2020
"SPACs are a compensation scheme, like people used to say about hedge funds, but it's even worse" pic.twitter.com/hXo2AepDIO

— Rudy Havenstein, F*** Your Censorship. (@RudyHavenstein) September 22, 2020
Just like the ICOs of 2018 and 2019, when it comes to SPACs, the organizers typically walk away with the profits, while the public-market investors scooping up those $10+ shares on Robinhood get left holding the bag.
"promoters and insiders cash in" #SPACs pic.twitter.com/Y0A7oyN6VW

— Rudy Havenstein, F*** Your Censorship. (@RudyHavenstein) January 11, 2021
Despite having some success in the SPAC space, last month, veteran investor Jeremy Grantham issued a warning that the SPAC craze was already "reprehensible."
Tyler Durden
Tue, 01/12/2021 – 06:30