Dollar Dumps Amid COIN Carnage, Archegos Angst, & Ignited Inflation
Dollar Dumps Amid COIN Carnage, Archegos Angst, & Ignited Inflation
While soaring import and export price inflation was enough to spook some…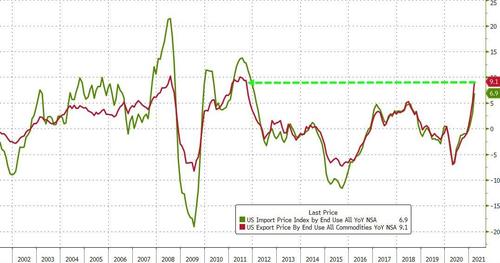 Source: Bloomberg
All eyes were on Coinbase's IPO (direct listing). The stock opened at $381, spiked to $429.54, then tumbled back below it's open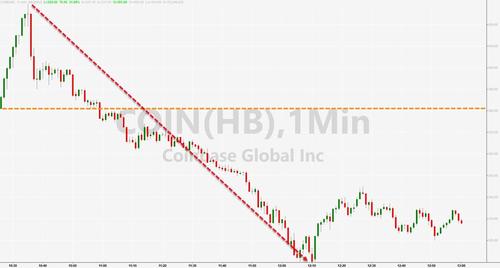 Still could have been worse, anyone else remember the BATS IPO in 2012?
Probably the most disastrous IPO of all time, BATS, an alternative stock exchange, was forced to pull out after a bizarre technological glitch in its own exchange! Trading was halted after the stock plunged to $.04 from an initial price of $15.25 just a few moments after it opened.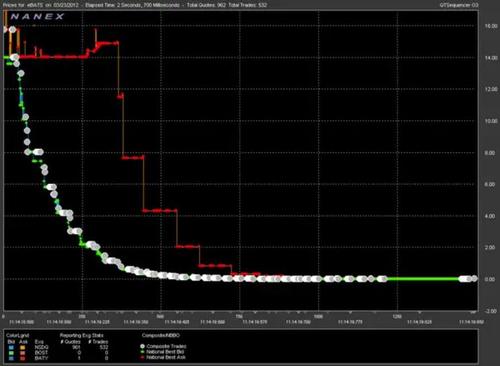 And as crypto stole the headlines, the dollar continued its recent demise…
Source: Bloomberg
The dollar ran the stops from early March and has tumbled back to what is a key level here…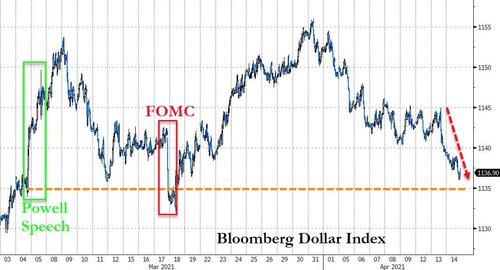 Source: Bloomberg
Does make you wonder if Washington has "meddled with the primal forces" one too many times?
Small Caps went vertical at the cash open in a haze of utter ridiculousness, but everything rolled over as COIN broke below its open level…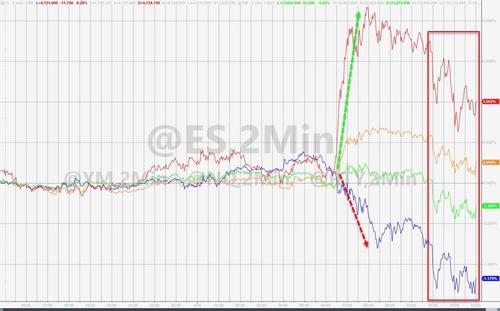 Anxiety over whether the Archegos debacle is over arose again last night as Credit Suisse dumped big blocks of Discovery and iQIYI…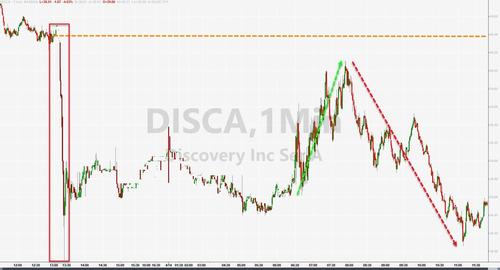 Bank stocks were mixed after earnings with JPM down, WFC and GS up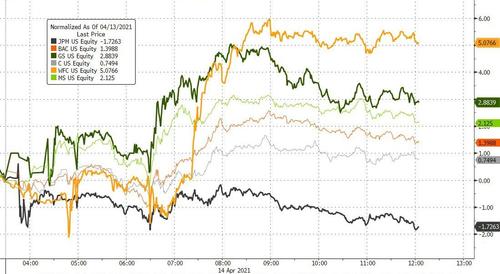 Source: Bloomberg
Notably, the Bitcoin-proxies all slid lower today also…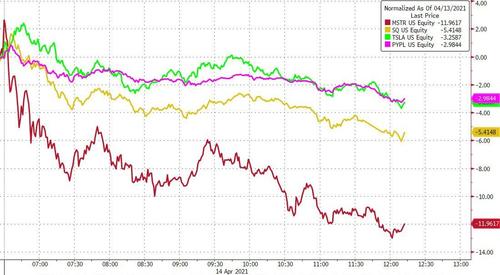 Source: Bloomberg
"Most Shorted" stocks were squeezed hard at the open (which probably explains the spike in Small Caps), but after Europe closed, the shorts started to slide and hedge-fund-faves were also dumped…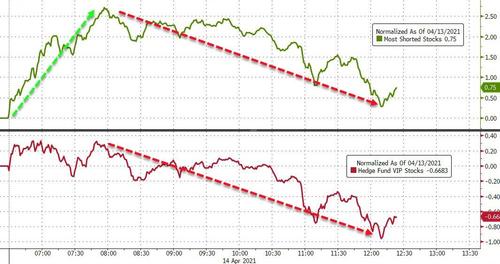 Source: Bloomberg
Bonds were sold today with yields in the belly and the long-end up around 2bps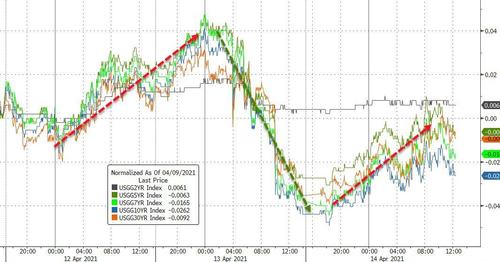 Source: Bloomberg
Amid the Coinbase excitement, cryptos were choppy today with bitcoin hitting a new record high near $65,000…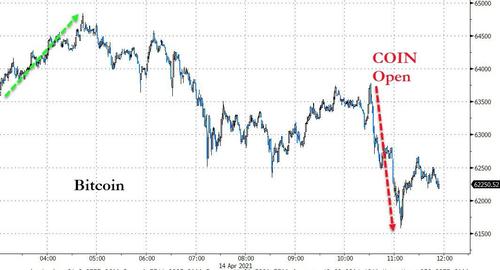 Source: Bloomberg
And Ethereum also hit a new record high above $2400 before fading…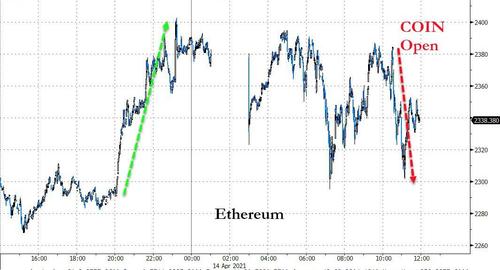 Source: Bloomberg
Ether is notably outperforming BTC in the last few days…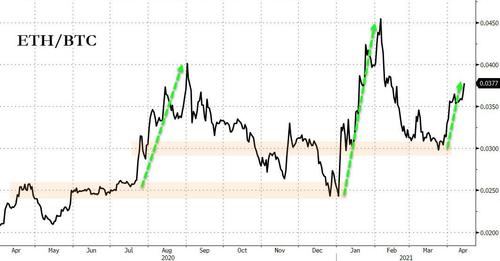 Source: Bloomberg
Despite the dollar weakness, gold was hit on the inflation data this morning and never bounced back…
Oil prices on the other hand were on fire, with WTI spiking above $63 after a surprisingly large crude draw…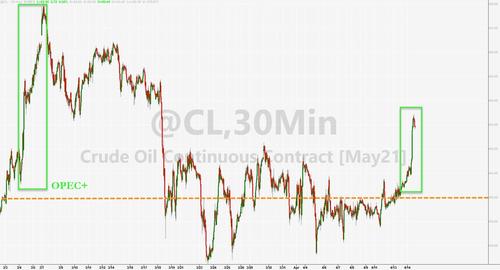 Finally, while EPS season commencement obviously matters from a sentiment-, vol-, dispersion- and gross / net leverage- impact; Nomura's Charlie McElligott warns that locally, Op-Ex cyclicality will likely matter the most for market prices over the next week + period:
The Vol crush into Op-Ex has meant ongoing supportive Vanna- and Charm- flow, while hedger Delta is covered in out of the money Calls and Puts.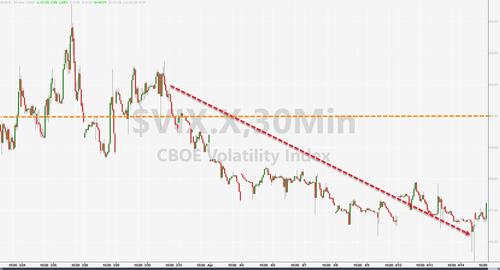 Yet analytics showing ~36% of SPX Gamma will be running-off after this Friday's upcoming expiration, with an even more eye-watering 55% reduction of QQQ Gamma, 64% (!) of IWM and 47% of EEM, sets us up for "freedom to move around the cabin" thereafter beginning Friday morning and into start of next wk, with the prior hedging buffers sharply lowered in both directions and allowing for much larger price ranges again both directions – especially with aforementioned massive $Deltas (SPX $Delta 96%ile, QQQ $Delta 100%ile) as source of potential de-risking.

In other words – brace!
Tyler Durden
Wed, 04/14/2021 – 16:01